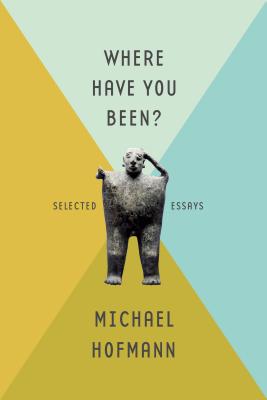 Where Have You Been?
Selected Essays
Hardcover

* Individual store prices may vary.
Description
An adventure with a roving genius of literary criticism

Michael Hofmann—poet, translator, and intellectual vagabond—has established himself as one of the keenest critics of contemporary literature. Safely nestled between the covers of Where Have You Been?, he offers a hand to guide us and an encouraging whisper in our ear, leading us on a trip through what to read, how to think, and why to like. And while these essays bear sharp insights that will help us revisit writers with a fresh eye, they are also a story of love between a reader and his treasured books.
In the thirty essays collected here, Hofmann brings his signature wit and sustained critical mastery to a poetic, penetrating, and candid discussion of the writers and artists of the last hundred years. Here are the indispensable poets without which contemporary poetry would be unimaginable—Elizabeth Bishop, "the poets' poets' poet," the "ghostly skill" of Robert Lowell, and the man he calls the greatest English poet since Shakespeare, Ted Hughes. But he also illumines the despair of John Berryman and the antics of poetry's bogeyman, Frederick Seidel.
In essays on art that are themselves works of art, Hofmann's agile and brilliant mind explores a panoply of subjects from the mastery of translation to the best day job for a poet. What these diverse gems share are the critic's insatiable curiosity and great charm. Where Have You Been? is an unmissable journey with literature's most irresistible flaneur.
Praise For Where Have You Been?: Selected Essays…
"A good critic, like a good editor, is rarer on these shores than an osprey. That's why the uplifting sight of Michael Hofmann gliding across our horizon - magesterial, languid (pre-swoop), unpredictable - is so welcome. Where Have You Been?, comprising his latest essays, is a bracingly intelligent book." —Nicholas Shakespeare, The Telegraph

"Admirers of Michael Hofmann's ironic and astute sensibility can renew their enjoyment with his collection of essays, Where Have You Been?" —Pankaj Mishra, The Guardian

"My reading has been various, but some fine books stick out at different angles. The most angular has been Michael Hofmann's Where Have You Been: Selected Essays, with its sharp take on prominent modern writers of verse and prose." —Chris Wallace-Crabbe, The Sydney Morning Herald

"An underused binary when it comes to taxonomizing literary critics is to distinguish between those who write best in hatred and those who write best in love. The translator, poet, and essayist Michael Hofmann belongs resolutely to the second category, and his latest collection shows that there is something noble about a critic who is most brilliant when being laudatory . . . his aim was 'to write with an homage (for the most part) to literature in something that itself approached the condition of literature.' And the 30 essays collected here . . . are a testament to that intention." —Alice Gregory, The New York Times Book Review

"The poets Hofmann admires spring to life on the page. The writing is high-spirited and exhilirating and generous . . . In this book, in which there seem to be all the different ways of being a poet, I see all the different ways of being a person, all the ways of living." —Susie Boyt, Financial Times

"The poet and translator Michael Hofmann is one of the most charismatic figures on the contemporary literary scene . . . Where Have You Been? is a stunning, endlessly surprising book of criticism." —Terry Kelly, The London Magazine

"*Starred Review* "Based on this collection, Hofmann deserves to be considered one of today's premier critics. " —Publishers Weekly

"In this vibrant collection of previously published essays, poet, critic and translator Hofmann elevates criticism to an art. He amply fulfills his aim to 'investigate and animate' his subjects, 'make them resonate, play with and in and over them' . . . As these passionate essays attest, Hofmann cares deeply: about writing, art and the creative possibilities of criticism. " —Kirkus Reviews
Farrar, Straus and Giroux, 9780374259969, 304pp.
Publication Date: December 2, 2014
About the Author
Michael Hofmann is a poet and frequent contributor to The New York Times Book Review, and is widely regarded as one of the world's foremost translators of works from German to English. His original poetry collections include One Lark, One Horse and Where Have You Been? He has translated Willy Peter Reese's A Stranger to Myself, Joseph Roth's The Tale of the 1002nd Night, Herta Muller's The Land of the Green Plums, and Gottfried Benn's Impromptus. Hofman lives in London.
or
Not Currently Available for Direct Purchase