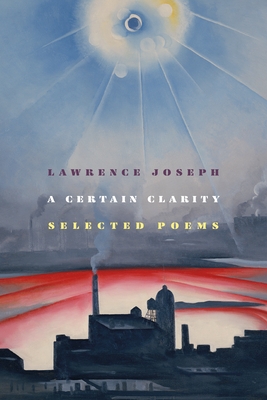 A Certain Clarity
Selected Poems
Hardcover

* Individual store prices may vary.
Other Editions of This Title:
Digital Audiobook (3/16/2020)
Paperback (3/23/2021)
Description
A selection of poems from the celebrated poet and lawyer

Drawing from his first book, Shouting at No One, from 1983, and continuing through to his most recent, So Where Are We?, from 2017, A Certain Clarity provides a generous selection of Lawrence Joseph's "poetry of great dignity, grace, and unrelenting persuasiveness" (John Ashbery), each poem "an inspired, made thing by a poet-advocate who has honed a timely song within an urgent testimony that embraces the complex density of truth" (Yusef Komunyakaa).

Joseph's poems constitute one of the most essential and visionary bodies of work in contemporary American poetry. No other American poet covers the territory Joseph does. His ever-new interactions of thoughts, voices, and languages—influenced by his Lebanese and Syrian Catholic heritage, his professional life as a lawyer and legal scholar, and the economies of the world of working-class labor from which he comes—bear witness, on multilayered spatial and temporal planes, to the velocities of global and historical change, and to power structures embodied in endless wars, unleashed capital, racism, and ecological destruction, presenting an ongoing chronicle of what it means to write poetry in the turbulent times in which we live. But also integral to Joseph's poetry is a sensual intimacy, passionately driven by an acute awareness of a deeper order in which beauty, love, and justice are indistinguishable.

Meticulously formed, emotionally fierce, intellectually challenging, Joseph's poems press back against the high-stakes pressures of our time with a moral and aesthetic intensity not easily forgotten.
Praise For A Certain Clarity: Selected Poems…
Named a Best Book of 2020 by Literary Hub

Praise for Lawrence Joseph

"[Joseph] builds a language that aspires to take in the complexity of the world, through both conscious explanation and self-suppressing, reverent looking . . . The anger that formed the voice to start with, amid the blood of the family grocery store in Detroit, has spent a lifetime finding ways to articulate itself with dignity against the many enemies of the self in this world. The bosses may have changed, the labor shifted, and the landscapes altered, but Joseph continues to dance before the machines, to work and remember in order to survive." —Declan Ryan, The New York Review of Books

"If ours in an age of anger, then Lawrence Joseph' is our acknowledged poet laurate . . . [S]ublimating his wrath into exquisite lyricism . . . [Joseph] is more than suited for the role, given that chroniclers of downfalls typically go unheeded in their own time . . . It is unsurprisingly pleasing in these politically disappointing times to read a poet who always knows exactly who to blame." —André Naffis-Sahely, Poetry

"No less than John Ashbery's, Joseph's poems soak up and savor common phrases . . . A poetry of force, and of statement, but somehow not always of forceful statement, Joseph's is one in which verbal extravagance . . . He is one who derives equal power from looking into violence's face and turning toward the beautiful as a compensatory violence of vivid sensations in which he rests his moral hope . . . A Certain Clarity is a major work of American art that lives up to its early promise." —Paul Franz, The New York Times

"Almost uniquely among contemporary American poets, Joseph doesn't retail privities, doesn't chase the minuscule scraps of sublimity left to us, doesn't retreat to his literal or figurative cabin in the woods . . . I remember saying to myself long ago that if you are looking for a poetry that lucidly and systematically offers a sense of this world as a place where things go continually wrong, there is no one but Lawrence Joseph." —Michael Hofmann, The London Review of Books

"Throughout his career (he published his first book in 1983) Joseph has synthesized the unlikeliest lexicons—from legalese and street slang to overheard speech and jargon—and created a taut, sinuous medium capable of handling modern life without sacrificing his ability to sing. His is a poetry of the immediate present built to outlast ephemerality." —Declan Ryan, Times Literary Supplement

"[O]ne of our most acute poetic chroniclers."—David Orr, The New York Times Book Review

"Joseph is a moralist, and the narrators of [his] poems . . . lash out at the violence of the contemporary world . . . But in his vision violence coexists with, and is occasionally transformed by, beauty and love . . . to create a mosaic that melds seeming opposites—violence and transcendence, ancient and contemporary themes, the quotidian and the exalted—into poems both relevant and lasting."—David Skeel, Wall Street Journal

"Joseph seems to be writing ahead of actual events, and that makes him one of the scariest writers I know."—David Kirby, The New York Times Book Review
Farrar, Straus and Giroux, 9780374261122, 208pp.
Publication Date: March 17, 2020
About the Author
Lawrence Joseph, the grandson of Lebanese and Syrian Catholic immigrants, was born and raised in Detroit. A graduate of the University of Michigan, University of Cambridge, and University of Michigan Law School, he is the author of several books of poetry, including So Where Are We?, and of the books of prose, Lawyerland, a non-fiction novel, and The Game Changed: Essays and Other Prose.

He is the Tinnelly Professor of Law at St. John's University School of Law and has also taught creative writing at Princeton. He lives in New York City.
or
Not Currently Available for Direct Purchase