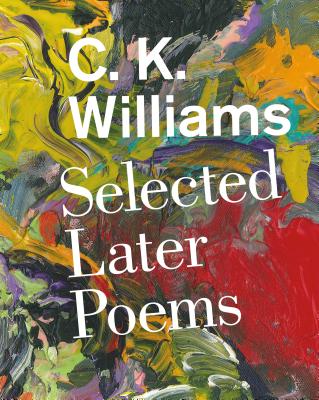 Selected Later Poems (Hardcover)
Selected Later Poems
Farrar, Straus and Giroux, 9780374261146, 272pp.
Publication Date: September 22, 2015
Other Editions of This Title:
Paperback (9/6/2016)
* Individual store prices may vary.
Description
A selection from the last twenty years of C. K. Williams's career, plus new work—proof of his enduring power

C. K. Williams's long career has been a catalog of surprises, of inventions and reinventions, of honors. His one constant is a remarkable degree of flexibility, a thrilling ability to shape-shift that goes hand in hand with an essential, enduring honesty. This rare, heady mix has ensured that William's verses have remained, from book to book, as fresh and vibrant as they were when he first burst onto the scene.
Selected Later Poems—a generous selection of the last two decades of Williams's poetry, capped by a gathering of new work—is a testament to that enduring vibrancy. Here are the passionate, searching, clear-eyed explorations of empathy in The Vigil; here is the candor and revelation of Repair; here is the agonizing morality of The Singing and Wait, and the unsparing reflections on aging of Writers Writing Dying; here are the poignant prose vignettes of All at Once.
Williams's poetry is essential because its lyric beauty, precise and revealing images, and elegant digressions are coupled to a conscience both uneasy and unflinching. Selected Later Poems is at once a celebration of Williams's career, an affirmation of his continued position in the pantheon of American poets, and a kind of reckoning—a reminder of the ways in which art can serve both beauty and justice.
About the Author
C. K. Williams (1936–2015) published twenty-two books of poetry including, Flesh and Blood, which won the National Book Critics Circle Award; Repair, which won the Pulitzer Prize in Poetry; and The Singing, winner of the National Book Award. Williams was awarded the Ruth Lilly Poetry Prize in 2005. He wrote a critical study, On Whitman; a memoir, Misgivings; and two books of essays, Poetry and Consciousness and In Time: Poets, Poems,and the Rest.

Jeff Clark was born in southern California in 1971. The author of three books of poems--The Little Door Slides Back, Arab Rab, and Sun on 6--he lives in Oakland.
Praise For Selected Later Poems: Selected Later Poems…
"As an artifact of [Williams's] life, the book is timely and essential, passionately elaborating on all the major themes of Williams's oeuvre: sex, death and dying; the loneliness of living on the earth without a present God; the disjunction between psyche and society. Williams was known for his insistently ethical approach to writing poems . . . and what is most powerful about these later poems is his willingness to follow through. There are poems of great beauty here . . ." —Katy Lederer, The New York Times
"One feels in the textures of Williams's writing a pure conviction and a commitment to seeing a higher dimension to poetry. When Williams writes of educating the soul and of the spiritually transforming power of beauty, he is convincing." —Ian Tromp, Poetry on C. K. Williams
"Among the most engaging new books I've perused in recent months are C.K. Williams's Selected Later Poems — beautifully intricate, contentious, strikingly ardent poems by one of our great contemporary poets" —Joyce Carol Oates, The Millions
"This collection chooses from the later work—1997 to 2014—of one of our best and most decorated poets. It's also an object lesson in what you might call 'the late-career introspective turn'—which Williams pulls off without forfeiting the clarity of his documentary vision." —Jonathan Sturgeon, Flavorwire