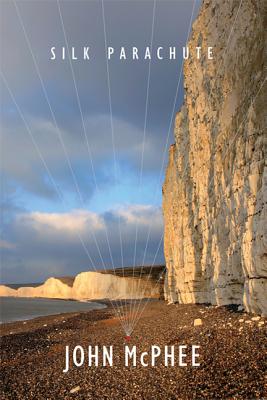 Silk Parachute
Hardcover

* Individual store prices may vary.
Description
A WONDROUS NEW BOOK OF MCPHEE'S PROSE PIECES—IN MANY ASPECTS HIS MOST PERSONAL IN FOUR DECADES

The brief, brilliant essay "Silk Parachute," which first appeared in The New Yorker a decade ago, has become John McPhee's most anthologized piece of writing. In the nine other pieces here— highly varied in length and theme—McPhee ranges with his characteristic humor and intensity through lacrosse, long-exposure view-camera photography, the weird foods he has sometimes been served in the course of his reportorial travels, a U.S. Open golf championship, and a season in Europe "on the chalk" from the downs and sea cliffs of England to the Maas valley in the Netherlands and the champagne country of northern France. Some of the pieces are wholly personal. In luminous recollections of his early years, for example, he goes on outings with his mother, deliberately overturns canoes in a learning process at a summer camp, and germinates a future book while riding on a jump seat to away games as a basketball player. But each piece—on whatever theme—contains somewhere a personal aspect in which McPhee suggests why he was attracted to write about the subject, and each opens like a silk parachute, lofted skyward and suddenly blossoming with color and form.
Praise For Silk Parachute…
"We marvel at the pains [McPhee] takes with structure, approaching his subject from oblique angles, slowly building tension, sometimes seeming to wander, but always propelling his narratives forward . . . In the age of blogging and tweeting, of writers' near-constant self-promotion, McPhee is an imperative counterweight, a paragon of both sense and civility." —Elizabeth Royte, The New York Times Book Review
"Reading McPhee's lucid descriptions of [lacrosse], with its lightning pace and nuanced skill levels, one wonders why Americans spend so much time watching football . . . We're fortunate McPhee has written as much--and as well--as he has. For readers who have always wanted a more personal glimpse, Silk Parachute should be floating your way." —Tim McNulty, The Seattle Times
"How long the McPhee tradition will endure is anyone's guess. But for now we have Silk Parachute, a testament to a kind of literary journalism that will, with any luck, have both its standards and its standard-bearer around for years to come." —Danny Heitman, The Christian Science Monitor
Farrar, Straus and Giroux, 9780374263737, 240pp.
Publication Date: March 2, 2010
About the Author
John McPhee was born in Princeton, New Jersey, and was educated at Princeton University and Cambridge University. His writing career began at Time magazine and led to his long association with The New Yorker, where he has been a staff writer since 1965. Also in 1965, he published his first book, A Sense of Where You Are, with Farrar, Straus and Giroux, and in the years since, he has written over 30 books, including Oranges (1967), Coming into the Country (1977), The Control of Nature (1989), The Founding Fish (2002), Uncommon Carriers (2007), and Silk Parachute (2011). Encounters with the Archdruid (1972) and The Curve of Binding Energy (1974) were nominated for National Book Awards in the category of science. McPhee received the Award in Literature from the Academy of Arts and Letters in 1977. In 1999, he was awarded the Pulitzer Prize for Annals of the Former World. He lives in Princeton, New Jersey.
or
Not Currently Available for Direct Purchase