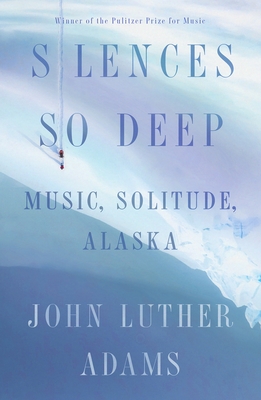 Silences So Deep
Music, Solitude, Alaska
Hardcover

* Individual store prices may vary.
Other Editions of This Title:
Digital Audiobook (12/21/2020)
Paperback (9/21/2021)
Compact Disc (12/22/2020)
MP3 CD (12/22/2020)
Description
"[An] illuminating memoir." —Corinna da Fonseca-Wollheim, The New York Times

The story of a composer's life in the Alaskan wilderness and a meditation on making art in a landscape acutely threatened by climate change

In the summer of 1975, the composer John Luther Adams, then a twenty-two-year-old graduate of CalArts, boarded a flight to Alaska. So began a journey into the mountains, forests, and tundra of the far north—and across distinctive mental and aural terrain—that would last for the next forty years.

Silences So Deep is Adams's account of these formative decades—and of what it's like to live alone in the frozen woods, composing music by day and spending one's evenings with a raucous crew of poets, philosophers, and fishermen. From adolescent loves—Edgard Varèse and Frank Zappa—to mature preoccupations with the natural world that inform such works as The Wind in High Places, Adams details the influences that have allowed him to emerge as one of the most celebrated and recognizable composers of our time. Silences So Deep is also a memoir of solitude enriched by friendships with the likes of the conductor Gordon Wright and the poet John Haines, both of whom had a singular impact on Adams's life. Whether describing the travails of environmental activism in the midst of an oil boom or midwinter conversations in a communal sauna, Adams writes with a voice both playful and meditative, one that evokes the particular beauty of the Alaskan landscape and the people who call it home.

Ultimately, this book is also the story of Adams's difficult decision to leave a rapidly warming Alaska and to strike out for new topographies and sources of inspiration. In its attentiveness to the challenges of life in the wilderness, to the demands of making art in an age of climate crisis, and to the pleasures of intellectual fellowship, Silences So Deep is a singularly rich account of a creative life.
Praise For Silences So Deep: Music, Solitude, Alaska…
"[An] illuminating memoir." —Corinna da Fonseca-Wollheim, The New York Times

"A generous work, full of wisdom about artistic vision and its association to place . . . The book's description of Mr. Adams's solitary cabin is worth the price of purchase. He took his inspiration from Thoreau's Walden, and it is hard to imagine another American creating art in a more romantic or challenging setting." —Michael O'Donnell, The Wall Street Journal

"The ruggedly soulful music of composer John Luther Adams has been intimately associated with the wide-open landscapes of Alaska, where he made his home for four decades. How this Mississippi-born composer navigated his own Thoreauvian journey toward solitude and wilderness, and how he became the poet of the sounds he hears in their conjoining, are the subjects of this compelling new memoir . . . [Adams's] writing style is free of artifice and disarmingly candid." —Jeremy Eichler, The Boston Globe

"[Silences So Deep] offers a . . . meditative treatment of [this] central concern: How can people best use their gifts, and what are their larger responsibilities in doing so? . . . The outside world has provided an unusual dramatic structure for [Adams's] study of art and activism . . . Adams bears witness as the very texture of life—air, light, seasons, fauna—warps in Alaska, ground zero for climate change." —Lidija Haas, Harper's

"Adams, winner of the Pulitzer Prize and a Grammy Award for his orchestral work, Become Ocean, has crafted a joyous paean to friendship and Alaska in this radiant memoir . . . An eclectic observer of both the natural and the philosophical, he writes as eloquently of the Aurora Borealis as of lively evenings as a member of the oddball Ace Lake Sauna Society. Witty and boisterous, yet also profoundly heartfelt and poignant, Adams's memoir is a record of great creativity and determined work that is bolstered by deep love of the wilderness." —Booklist (starred review)

"The personalities of major artists can diverge from their art in disconcerting ways. In rare instances, work and self are aligned in a way that erases the boundary between the two. Such is the case with the composer John Luther Adams, whose speaking and written voice—wise, clear, lyrical, empathetic—is at one with the luminous, spiritually charged spaces of his music. The far-roaming quest of Adams's life, into wildernesses both physical and musical, yields a book of singular beauty and intensity." —Alex Ross, author of Wagnerism and The Rest Is Noise

"John Luther Adams manages a mystic marriage to the world of wonder. This memoir is the work of an artist who is off the map but it leads to your soul. Read it and learn, as I did." —Iggy Pop

"John Luther Adams's quest for the ineffable in music, as he describes this process in Silences So Deep, is disarmingly unaffected. The lack of pretension and Adams's capacity for vulnerable self-reflection make this story of his years in Alaska utterly charming and poignantly human." —Barry Lopez, author of Horizon and Arctic Dreams

"John Luther Adams has created a unique musical universe of sound in space, inspired by the rhythms and processes of nature and the particularity of place. In Silences So Deep, Adams traces the trajectory of his life in art with self-effacing humor, elegance, and clarity. This book is an illuminating account of a life dedicated to the mystery and joy of creation, and the power of music to heal." —Meredith Monk, composer, director, performer

"I learned so much from this wonderful and tender book. I also relearned things that I had already deduced, or somehow suspected, from listening to John Luther Adams's music. I agree with John that political art can be the worst of both possible worlds, and that all art, in aspiring 'to the condition of music,' is a mysterious mixture of math and magic: the number series that produces a Brooklyn Bridge could just as well build a fern or a Bach cantata, a snowflake or a soufflé. In Silences So Deep, both the man and the music are soft and hard, ice and smoke, silent and raucous. It is a generous book, wise and well-earned." —Mark Morris, choreographer/artistic director, Mark Morris Dance Group
Farrar, Straus and Giroux, 9780374264628, 208pp.
Publication Date: September 22, 2020
About the Author
John Luther Adams was born in Meridian, Mississippi, and attended the California Institute of the Arts before moving to Alaska in 1978, where he lived until 2014. He was awarded the Pulitzer Prize for Music and a Grammy Award for his orchestral composition Become Ocean, which was premiered by the Seattle Symphony Orchestra in 2013. He is also the author of Winter Music: Composing the North and The Place Where You Go to Listen: In Search of an Ecology of Music. Since leaving Alaska, Adams has lived in New York City and in the deserts of Chile, Mexico, and the Southwestern United States.
or
Not Currently Available for Direct Purchase