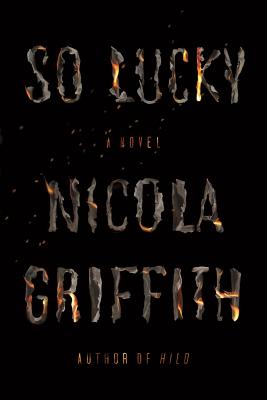 So Lucky
A Novel
Paperback

* Individual store prices may vary.
Other Editions of This Title:
Digital Audiobook (5/14/2018)
CD-Audio (5/15/2018)
Description
From the author of Hild, a fierce and urgent autobiographical novel about a woman facing down a formidable foe

So Lucky is the sharp, surprising new novel by Nicola Griffith—the profoundly personal and emphatically political story of a confident woman forced to confront an unnerving new reality when in the space of a single week her wife leaves her and she is diagnosed with multiple sclerosis.

Mara Tagarelli is, professionally, the head of a multimillion-dollar AIDS foundation; personally, she is a committed martial artist. But her life has turned inside out like a sock. She can't rely on family, her body is letting her down, and friends and colleagues are turning away—they treat her like a victim. She needs to break that narrative: build her own community, learn new strengths, and fight. But what do you do when you find out that the story you've been told, the story you've told yourself, is not true? How can you fight if you can't trust your body? Who can you rely on if those around you don't have your best interests at heart, and the systems designed to help do more harm than good? Mara makes a decision and acts, but her actions unleash monsters aimed squarely at the heart of her new community.

This is fiction from the front lines, incandescent and urgent, a narrative juggernaut that rips through sentiment to expose the savagery of America's treatment of the disabled and chronically ill. But So Lucky also blazes with hope and a ferocious love of self, of the life that becomes possible when we stop believing lies.
Praise For So Lucky: A Novel…
"A compact, brutal story of losing power and creating community . . . So Lucky is beautifully written, with a flexible, efficient precision that embodies the protagonist's voice and character." —Amal El-Mohtar, The New York Times Book Review

"A short, fast-paced whirlwind of a novel . . . Spine-tingling and in places downright terrifying" —The Independent (UK)

"A narrative that at once informs, confronts, puzzles and engages. I have little doubt that readers who take it up will be rewarded." —Lambda Literary

"This book is a body-slam of empowerment, a roar of frustration so sustained and compelling that it cannot be ignored... a tough, accomplished novel, a book that readers didn't know they needed." —The Arts Fuse

"A fresh and powerful novel and antidote to the sense of victimhood." —Booklist

"So Lucky is somehow both a tense psychological thriller and a subtle character portrait, packed full of pleasure (so closely observed) and pain (so deep, so real). Nicola Griffith is an essential writer, and with this book she's given us something personal, political, and totally unputdownable." —Robin Sloan, author of Sourdough

"All too often, stories glide past issues of the body, as if our minds operated suspended in air above us, as if everything we experience doesn't come through our physical selves. But what happens when our relation to our own body turns adversarial Successfully disguised as a page-turning thriller, So Lucky is also a deep meditation on marginalization, vulnerability, and resistance." —Karen Joy Fowler, author of The Jane Austen Book Club

"In So Lucky, Nicola Griffith replicates the actual experience of becoming disabled. This genre-violating story begins straightforwardly then slides into a hallucinatory exploration of the body, reality, and identity. It is disorienting, destabilizing, and game-changing. I have never read anything like it." —Riva Lehrer, artist and curator

"Nicola Griffith is a brilliant creator of fierce female protagonists. With So Lucky, she fires a gritty, scary, wrathful, sometimes blisteringly funny broadside at the monsters of ableist culture." —Maria Dahvana Headley, author of The Mere Wife

"In Nicola Griffith's So Lucky, Mara is a vibrant, active, social justice minded woman stalked by a phantom. The phantom threatens her work, her relationships—nothing less than her identity. This angry, funny, cleverly-written piece about the onset of disability in a world that values fitness above all ushers in a new wave of disability story. Or let's hope so." —Susan Nussbaum, author of Good Kings Bad Kings

"Nicola Griffith's So Lucky is compelling reading, a tour de force of the onset of disability. This is the first novel I have read that describes an autobiographical experience of disability from Day One with a relentlessness that can parallel disability itself. It is intense, sad, and dramatic, combining mystery, romance, terror (internal and external), and hope. Just like life itself." —Steven E. Brown, Co-Founder of the Institute on Disability Culture
MCD x FSG Originals, 9780374265922, 192pp.
Publication Date: May 15, 2018
About the Author
Nicola Griffith (she/her) is a dual UK/US citizen living in Seattle. She is the author of seven award-winning novels, including Hild and Ammonite, and her shorter work has appeared in Nature, New Scientist, New York Times, etc. She is the founder and co-host of #CripLit, holds a PhD from Anglia Ruskin University, and enjoys a ferocious bout of wheelchair boxing. She is married to novelist and screenwriter Kelley Eskridge.