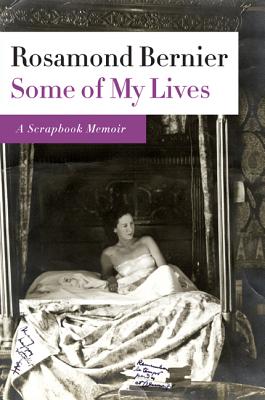 Some of My Lives
A Scrapbook Memoir
Hardcover

* Individual store prices may vary.
Other Editions of This Title:
Paperback (11/27/2012)
Description
Rosamond Bernier has lived an unusually full life remarkable for its vividness and diversity of experience and she has known many (one is tempted to say all) of the greatest artists and composers of the twentieth century.
In "Some of My Lives," Bernier has made a kind of literary scrapbook from an extraordinary array of writings, ranging from diary entries to her many contributions to the art journal "L'OEIL," which she cofounded in 1955. The result is a multifaceted self-portrait of a life informed and surrounded by the arts.
Through the stories of her encounters with some of the twentieth century's great artists and composers including Pablo Picasso, Leonard Bernstein, Max Ernst, Aaron Copeland, Malcolm Lowry, and Karl Lagerfeld we come to understand the sheer richness of Bernier's experiences, interactions, and memories. The result is pithy, hilarious, and wise a richly rewarding chronicle of many lives fully lived.
Praise For Some of My Lives: A Scrapbook Memoir…
"In Paris, she had Picasso's ear, and Matisse's, too. Back when blue laws shut Philadelphia down on Sundays, Stokowski came over to her house for dinner. Her long marriage to the art critic John Russell counts as one of the great love stories of our era. Rosamond Bernier, storyteller extraordinaire, friend and confidante to countless of the twentieth century's cultural icons, has written a remarkable memoir of a remarkable life. Intimate, winning, sunny, and smart, Some of My Lives has a voice not unlike the one in Diana Vreeland's autobiography—only here, all of it is true." —Michael Kimmelman
"Wonders never cease in the life of Rosamond Bernier. As the Paris-based European editor of Vogue, she saw the world through the chiffon trenches of haute couture. As the cofounding editor of L'OEIL, the most influential art magazine of her time, she befriended artists like Picasso, Miró, and Matisse (who suggested she wear a yellow scarf with her orange Balenciaga coat). Some of My Lives is a delicious mosaic of a life elegantly, enchantingly lived." —André Leon Talley
"Rosamond Bernier's new memoir moves with the unflagging brio, wit, and style of her public lectures and her private conversation. The effect is pure pleasure—a brilliant life, beautifully evoked." —Calvin Tomkins
"Rosamond Bernier's gorgeous 'scrapbook' of a memoir is an exhilarating hopscotch through twentieth-century art that had me careening from the middle to the beginning to the back, delighting in her encounters with everyone who mattered. Bernier makes me believe in string theory. She just might be the unifying force behind everything." —John Guare
Farrar Straus Giroux, 9780374266615, 292pp.
Publication Date: October 11, 2011
About the Author
Rosamond Bernier was born in Philadelphia and was educated in France, England, and America. In 1955, she cofounded the influential art magazine L'OEIL, which featured the works of the masters of the School of Paris. A renowned lecturer at the Metropolitan Museum of Art, Rosamond Bernier was named for life to the International Best-Dressed List.
or
Not Currently Available for Direct Purchase