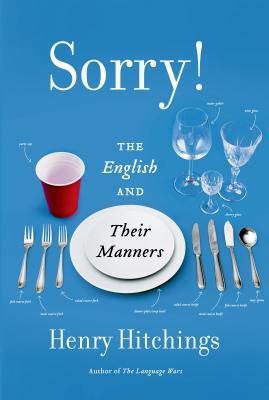 Sorry! (Hardcover)
The English and Their Manners
Farrar Straus Giroux, 9780374266752, 392pp.
Publication Date: November 5, 2013
* Individual store prices may vary.
Description
A humorous and charming investigation into what it really means to have proper manners
Most of us know a bit about what passes for good manners holding doors open, sending thank-you notes, no elbows on the table and we certainly know bad manners when we see them. But where has this patchwork of beliefs and behaviors come from? How did manners develop? How do they change? And why do they matter so much? In examining English manners, Henry Hitchings delves into the English character and investigates what it means to be English.
"Sorry " presents an amusing, illuminating, and quirky audit of British manners. From basic table manners to appropriate sexual conduct, via hospitality, chivalry, faux pas, and online etiquette, Hitchings traces the history of England's customs and courtesies. Putting some of the most astute observers of humanity including Jane Austen and Samuel Pepys under the microscope, he uses their lives and writings to pry open the often downright peculiar secrets of the English character. Hitchings's blend of history, anthropology, and personal journey helps us understand the bizarre and contested cultural baggage that goes along with our understanding of what it means to have good manners.
About the Author
Henry Hitchings was born in 1974. He is the author of The Language Wars, The Secret Life of Words, Who's Afraid of Jane Austen?, and Defining the World. He has contributed to many newspapers and magazines and is the theater critic for the London Evening Standard. He lives in London.
Praise For Sorry!: The English and Their Manners…
Praise for Sorry!:
"Henry Hitchings, the author of
Sorry! The English and Their Manners
has his work cut out for him. Thankfully, he seems to relish ripping the vanities and entitlements of self-proclaimed behavioral experts to shreds. Hitchings . . . has earned a reputation as that rare nonfiction author who suffuses his rigorous (and at times slightly eccentric) scholarly research with enough wit and lively skepticism to render otherwise dull passages entertaining. This reputation proves accurate: as the author embarks on his colorful, rambling, and critically exacting exploration of the evolution of English rules of behavior, it becomes obvious that he could make a detailed history of the canned food industry sing like a coloratura . . . He comes across more as a scattered but lovable history professor whose classes are legendarily entertaining . . . Not only does Hitchings charm us with illustrative details straight out of the gate, but, as he advances from medieval mores through the Renaissance and on to the Victorian era, he never loses sight of the conflicts inherent in the regulation of human behavior . . . The sharpness of Hitchings's analysis and the intensity of his passion for his subject shine through on every page." —Heather Havrilesky,
The Barnes and Noble Review
"In this terrifically entertaining, surprisingly thoughtful book about manners and Englishness, Hitchings describes his own country's culture as a paradox: simultaneously rude and polite . . . Like a good conversation, [Sorry!] allows for many fruitful digressions . . . Hitchings is a lively guide through these thickets, pointing out the bizarre while inviting us to take another look at just how our conventional manners, so inevitable to us now, arose from history, circumstance, and luck." —Kate Tuttle, The Boston Globe
"[
Sorry!
is an] entertaining and informative survey of English manners past and present." —Jonathan Yardley,
The Washington Post
"Part social history, part cultural critique, the book moves humorously from the ancient to the modern with pithy anecdotes and amusing factoids. In the medieval court of Henry II, 'One shouldn't attack an enemy while he is defecating, should avoid sharing secrets with one's wife, and ought to look towards the ceiling when belching.' . . . This seriously amusing and illuminating book goes a long way toward explaining to Anglophobe, Anglophile, and the just plain puzzled why 'the average Briton says "Sorry" eight times a day.'" —Publishers Weekly
"Hitchings clearly has fun with his subject(s), both the English themselves and the code of conduct that has evolved since the Middle Ages—when, he notes, someone commodiously counseled that 'one should not attack an enemy while he is at stool.' Evolve is a useful term here, since, as Hitchings notes, manners are not static . . . Hitchings' book . . . [is] a pleasure to read." —Kirkus
Praise for The Language Wars

"Mr. Hitchings's trenchant prose is irresistible." —The Baltimore Sun

"Extraordinary . . . Chock-full of historical and literary references, The Language Wars is a fascinating, eye-opening look at the evolution of the English language." —The Huffington Post

"Crisply written, amusing, informative, and thought-provoking. Anyone interested in the English language and its history should read it." —The Sunday Telegraph (London)

"Hitchings has prepared a turducken of language-history entrées. Consuming one layer, we discover another, and another. And we feast." —The Cleveland Plain Dealer

"Thoroughly charming . . . A rich history of English and the shifting rule books for its correctness…Hitchings cautions readers to take care, not in the way of the 'grumblers, fault-finders, quibblers and mud-slingers,' but following the example of Orwell, in using language to be clear, to be honest, to connect with each other." —The Boston Globe

"Hitchings has earned a place at the head table of contemporary linguists." —The Denver Post
or
Not Currently Available for Direct Purchase