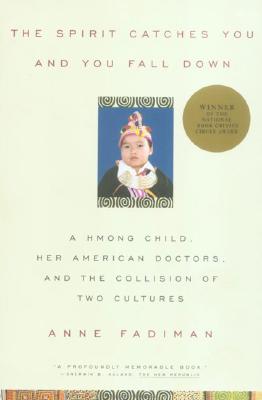 The Spirit Catches You and You Fall Down
A Hmong Child, Her American Doctors, and the Collision of Two Cultures
Hardcover

* Individual store prices may vary.
Other Editions of This Title:
Paperback (4/24/2012)
Paperback, Chinese (2/3/2016)
MP3 CD (5/3/2016)
Paperback (1/1/1997)
Description
Winner of the National Book Critics Circle Award for Nonfiction

When three-month-old Lia Lee Arrived at the county hospital emergency room in Merced, California, a chain of events was set in motion from which neither she nor her parents nor her doctors would ever recover. Lia's parents, Foua and Nao Kao, were part of a large Hmong community in Merced, refugees from the CIA-run "Quiet War" in Laos. The Hmong, traditionally a close-knit and fiercely people, have been less amenable to assimilation than most immigrants, adhering steadfastly to the rituals and beliefs of their ancestors. Lia's pediatricians, Neil Ernst and his wife, Peggy Philip, cleaved just as strongly to another tradition: that of Western medicine. When Lia Lee Entered the American medical system, diagnosed as an epileptic, her story became a tragic case history of cultural miscommunication.

Parents and doctors both wanted the best for Lia, but their ideas about the causes of her illness and its treatment could hardly have been more different. The Hmong see illness aand healing as spiritual matters linked to virtually everything in the universe, while medical community marks a division between body and soul, and concerns itself almost exclusively with the former. Lia's doctors ascribed her seizures to the misfiring of her cerebral neurons; her parents called her illness, qaug dab peg--the spirit catches you and you fall down--and ascribed it to the wandering of her soul. The doctors prescribed anticonvulsants; her parents preferred animal sacrifices.
Praise For The Spirit Catches You and You Fall Down: A Hmong Child, Her American Doctors, and the Collision of Two Cultures…
"Ms. Fadiman tells her story with a novelist's grace, playing the role of cultural broker, comprehending those who do not comprehend each other and perceiving what might have been done or said to make the outcome different."--Richard Berstein, The New York Times

"So good I want to somehow make it required reading...The Spirit Catches You and You Fall Down explores issues of culture, immigration, medicine, and the war in [Laos] with such skill that it's nearly impossible to put down."--Linnea Lannon, The Detroit Free Press

"This is a captivating riveting book--a must-read not only for medical professionals, anthropologists, and journalists, but for anyone interested in how to negotiate cultural difference in a shrinking world. Fadiman's ability to empathize with the resolutely independent Hmong as well as with the remarkable doctors, caseworkers, and officials of Merced County makes her narrative both richly textured and deeply illuminating. Sometimes the stakes here are multicultural harmony and understanding; sometimes they're literally life and death--whether in wartime Laos or in American emergency rooms. But whatever the stakes and wherever the setting, Fadiman's reporting is meticulous, and prose is a delight. From start to finish, a truly impressive achievement."--Michael Berube, author of Life As We Know It
Farrar, Straus and Giroux, 9780374267810, 352pp.
Publication Date: September 1, 1997
About the Author
Anne Fadiman's compassionate account of this cultural impasse is literary journalism at its finest. "The Spirit Catches You and You Fall Down "moves from hospital corridors to healing cereomies, and from the hill country of Laos to the living rooms of Merced, uncovering in its path the complex sources and implications of two dramatically clashing worldviews.
or
Not Currently Available for Direct Purchase