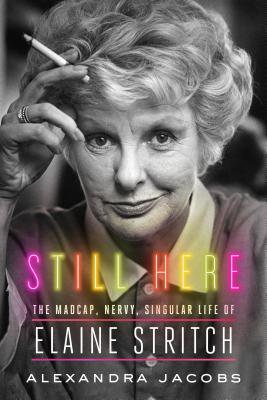 Still Here
The Madcap, Nervy, Singular Life of Elaine Stritch
Hardcover

* Individual store prices may vary.
Other Editions of This Title:
Digital Audiobook (10/21/2019)
Paperback (11/10/2020)
Description
One of The New Yorker's favorite nonfiction book of 2019 | A New York Times Book Review Editors' Choice
Named one of Vogue's "17 Books We Can't Wait to Read This Fall"

"Compulsively readable . . . ravenously consuming . . . manna from heaven . . . If ever someone knew how to put a genuinely irresistible book together, it's Jacobs in Still Here." —Jeff Simon, The Buffalo News

Still Here is the first full telling of Elaine Stritch's life. Rollicking but intimate, it tracks one of Broadway's great personalities from her upbringing in Detroit during the Great Depression to her fateful move to New York City, where she studied alongside Marlon Brando, Bea Arthur, and Harry Belafonte. We accompany Elaine through her jagged rise to fame, to Hollywood and London, and across her later years, when she enjoyed a stunning renaissance, punctuated by a turn on the popular television show 30 Rock. We explore the influential—and often fraught—collaborations she developed with Noël Coward, Tennessee Williams, and above all Stephen Sondheim, as well as her courageous yet flawed attempts to control a serious drinking problem. And we see the entertainer triumphing over personal turmoil with the development of her Tony Award–winning one-woman show, Elaine Stritch at Liberty, which established her as an emblem of spiky independence and Manhattan life for an entirely new generation of admirers.

In Still Here, Alexandra Jacobs conveys the full force of Stritch's sardonic wit and brassy charm while acknowledging her many dark complexities. Following years of meticulous research and interviews, this is a portrait of a powerful, vulnerable, honest, and humorous figure who continues to reverberate in the public consciousness.
Praise For Still Here: The Madcap, Nervy, Singular Life of Elaine Stritch…
"Sparkling details . . . clink around Jacobs's biography, Still Here, like ice in a rocks glass. Stritch, who died in 2014, was a true character, "full of piss and vinegar," as Gleason said. It would be possible to write a serviceable book about her life by simply quoting her many one-liners, or by describing her habit of wearing only tights on stage . . . [b]ut Jacobs, an editor of the Styles section of The New York Times, doesn't rely on Stritch's charm to fuel the narrative." —Rachel Syme, The New Yorker

"[A] meticulously researched biography, which uses Stritch's struggles with alcoholism as a window into her work and her life . . . as a chronicle of one impossible brilliant actor and the community around her, this biography provides a thoroughly entertaining and vividly drawn picture of show business in the 20th century." —Jason Robert Brown, The New York Times Book Review

"Fun . . . hits all the marks . . . Elaine would have loved Jacobs's bio. It's the picture she wanted to leave behind." —John Guare, Book Post

"Alexandra Jacobs's Still Here: The Madcap, Nervy, Singular Life of Elaine Stritch is, like all good biographies, sympathetic to its subject yet unsparing in its analysis of her flaws. It also provides a marvelous trip back in time to a Broadway that's gone forever: a Broadway before the advent of megamusicals, of body-miking, of the Disneyfication of Times Square . . . compulsively readable." —Brooke Allen, The Wall Street Journal

"Is it worth reading a 352-page biography of an actress whose most famous moment rests on singing one song, 'I'm Still Here?' . . . Let us put it this way: we could happily read 500 pages if they were written by Alexandra Jacobs. It helps, of course, that Stritch was such a character, that Jacobs was granted access to Stritch's archives and family, and that candor comes easily to anyone Jacobs interviews." —Air Mail

"Compulsively readable . . . ravenously consuming . . . manna from heaven . . . If ever someone knew how to put a genuinely irresistible book together, it's Jacobs in Still Here." —Jeff Simon, The Buffalo News

"Stritch famously loved a good time and a good story, so she probably would have enjoyed Jacobs's gossipy text, studded with juicy anecdotes . . . an absorbing story." —Wendy Smith, The Washington Post

"A fab read . . . Still Here will make you feel as if Stritch, brought back to life, is looking into your eyes and singing just for you." —Kathi Wolfe, Washington Blade

"[Still Here is] meticulously researched (supported by extensive interview and archival records), gossipy, vivid in period detail and atmosphere, and even analytical, guided by a central attempt to come to grips with Stritch's onstage luminosity and offstage behavior . . . Highly enjoyable and full of personality." —Matt Windman, Theater News Online

"This book, lush with detail and heavy on Broadway history, will appeal to Stritch fans and theater geeks everywhere." —Publishers Weekly

"Alexandra Jacobs incorporates an astonishing amount of research, including countless personal interviews . . . her portrayal of Stritch is wholly fleshed out, from the actor's earliest days as a socialite in Detroit to her time as the reigning grand dame of Broadway . . . Still Here will be a boon to those who revel in hearing about short-lived plays and musicals like Time Of The Barracudas and Goldilocks . . . This biography expertly sketches out the vast other hours of her life, painting a thorough picture of a woman who lived life on her own terms—in an age when it was exceedingly difficult to do so." —Gwen Ihnat, The A.V. Club

"Jacobs utilizes the massive cache of information [Stritch] left in her wake, including copious interviews and her archives. This meticulous research allows for the conjuring of a surprising and complex realness that serves as a deep and resounding undercurrent to the public persona so widely known . . . The power of Jacobs' biography is the way she sets Stritch's story against the canvas of a shifting century, allowing us to watch as the world expands beyond these limiting boxes for female performers, and cheer as Stritch was able to expand herself." —Kelly McMasters, Newsday

"Alexandra Jacobs's engaging new biography, Still Here, fleshes out our picture of the raspy-voiced actress and singer . . . Written with the cooperation of the estate, clear-eyed affection, and considerable stylistic flair, "Still Here," offers an intimate, somewhat open-ended portrait of Stritch that leaves intact, perhaps inevitably, the mysteries of her personality." —Julia M. Klein, The Boston Globe

"So engrossing an exploration of [Elaine Stritch] that to call it a 'biography' feels somehow inadequate . . . Jacobs thankfully leaves no stone unturned, making herself a warm and welcoming guide for strangers to Stritch while also diving with fervor into the moments devotees think they know inside and out. It is a meticulously researched romp, a harrowing excavation, an emotional séance, and a glittering family reunion." —Natalie Walker, Bookforum

"The Stritch presented here is a study in contrasts: she came off as a brassy freewheeler, but she was naïve enough to think Rock Hudson had a crush on her; she was a self-described strong woman, yet the women's movement didn't dent her staunch apoliticality . . . This was the key to her long-lasting appeal: she had an uncanny ability to play to an audience. This dishy biography will be a ride for the theatrically inclined as Stritch's 70-year career crosses those of Marlon Brando, Ethel Merman, Noël Coward, Angela Lansbury, Bea Arthur, and, of course, Hal Prince and Stephen Sondheim." —Booklist

"One of the more surreal, gratifying, and wonderful experiences of my career was when Elaine Stritch played my mother on 30 Rock. An acting lesson, a therapy session, a chance to know the great La Stritch. This book is your chance." —Alec Baldwin

"Elaine Stritch brought a raw truth to musical theater that had rarely been seen before or since. Her whole self—warts, drinks, and all. In this biography, Alexandra Jacobs shows Stritch's every pore, and we are all better for it." —Sarah Silverman

I laughed. I cried. Alexandra Jacobs lovingly pulls back the curtain on "Stritchy," a sacred cow of American showbiz, revealing her to be as talented, reckless, flawed and fabulous as I always hoped she was.
—Simon Doonan, author of Drag and Wacky Chicks

"Alexandra Jacobs's Still Here is a delicious, page-turning, and meticulous romp through the distinctive life of a feminist icon. The talented, urbane, smoking-and-drinking queen of Broadway's tough dames lived a life of accomplishment, boldly frank opinions, and just as bold-faced names that defined the Great White Way (and Hollywood) of recent yore. Elaine Stritch balanced theatrical perfectionism, glamorous Manhattan evenings, and behavioral brinksmanship with the never-quite-dismissed lessons of her Catholic background in the Midwest. I learned as much as I was entertained and left smitten: my idea of a pretty terrific book." —Sheila Weller, New York Times–bestselling author of Girls Like Us: Carole King, Joni Mitchell, Carly Simon—and the Journey of a Generation and Carrie Fisher: A Life On The Edge
Farrar, Straus and Giroux, 9780374268091, 352pp.
Publication Date: October 22, 2019
About the Author
Alexandra Jacobs is a longtime features writer, cultural critic, and editor who has worked at The New York Times since 2010. She has contributed to many other publications, including The New Yorker, The New York Observer, and Entertainment Weekly.
or
Not Currently Available for Direct Purchase