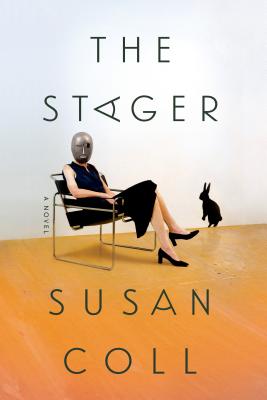 The Stager
A Novel
Hardcover

* Individual store prices may vary.
Other Editions of This Title:
Paperback (7/7/2015)
Description
The Stager is a comedy of rabbits and real estate in the D.C. suburbs from Susan Coll, the author of Acceptance and Beach Week
Dominique is one very bitter rabbit. His owner, Lars Jorgenson, is a former tennis pro who has blown out both knees, become obese, and is now addicted to a cocktail of prescription drugs containing the letters X and Z, one weird side-effect of which is that he has developed an omniscient point of view. Both Dominique and Lars are going crazy in the affluent Maryland suburbs where their faux Tudor home is up for sale. Idle on the market for months, the home is now being staged: A professional has come in to redecorate and depersonalize the house so that others can imagine themselves living there. Into the messy personal life of Lars and his beautiful wife Bella comes Eve, an unemployed journalist-turned stager who immediately realizes, as she steps into the foyer, that she is in the home of her former best friend. Eve knows way too much about Bella, including the questionable paternity of the meddling young child who lives in this house. Questions of friendship, loyalty, fidelity, sobriety, and sanity are raised to hilarious effect in this dark comedy of how we live now in the age of planned communities, cookie-cutter mansions, and cutthroat careerism.
Praise For The Stager: A Novel…
"Acerbic--and sometimes deliciously acidic. . . The Stager is great fun, and Coll proves herself as shrewd a social anthropologist as she is a buoyant writer." —Meghan Daum, The New York Times Book Review (Editor's Choice)
"In The Stager, Susan Coll writes about her home town with an insider's hilarious, mocking affection… satirical [and] also touching…" —Julie Klam, The Washington Post
"Already the viciously funny book… is being categorized alongside Maria Semple's 2012 bestseller, Where'd You Go, Bernadette?" —Ellen McCarthy, The Washington Post
"Susan Coll is so slyly perceptive, so attentive to nuanced relationships between people that she gets at how we conform life to the stories we tell ourselves." —Chicago Tribune (Editor's Choice)
"Wry metaphors of suburban rot abound…. [this is] the work of a very good comic novelist. . . .[C]huck your attachment to rationality and cheerfully follow Coll down the rabbit hole." —The Washingtonian
"Overgrown houses, failed planned communities, and a consumerist culture contrast with the stager's efforts to declutter and sterilize in this offbeat social satire. Coll takes on marriage, friendship, and fidelity to dark-comic effect. " —Booklist
"Coll (Beach Week, 2010, etc.) ratchets up the level of wit and mean edginess in her newest satire. . . Coll's vicious depiction of upper-upper-middle-class suburbia is often excruciatingly funny." —Kirkus Reviews
"[Coll] mines a darker brand of humor." —Publishers Weekly
"Funny and biting suburban farce" —Library Journal
"Sometimes a book just takes you by the hand and swings you deliriously in a new dance--that is The Stager, Susan Coll's brilliant comic novel. Peopled by rabbits and woefully wise little girls, by adulterers and other unfortunate adults, this is a world sharp with secrets, grudges, mania, odors, and profound sweetness. I loved it." —Cathleen Schine, author of Fin & Lady and The Three Weissmanns of Westport
"What a delight to follow Susan Coll on her tour of one family's surreal unraveling. Sly and wise, Coll is a stager extraordinaire, allowing us to peer behind the curtain of suburban success and excess. I loved this novel's wild wit. Now I want to adopt the Jorgenson family's precocious kid--and their stoned rabbit." —Lisa Zeidner, author of Love Bomb
"Dark, luminous, and hilarious, The Stager draws its radiant power from the great time-tested themes: love, betrayal, and the redemptive power of rabbits. At the height of her powers, Susan Coll reveals her mastery of the wry and delicious line, of the bizarre and tender moment--and of hope." —Dylan Landis, author of Normal People Don't Live Like This
Sarah Crichton Books, 9780374268817, 288pp.
Publication Date: July 8, 2014
About the Author
Susan Coll is the Events and Programs Director at Politics & Prose Bookstore in Washington, D.C. She is the author of the novels Beach Week, Acceptance, Rockville Pike, and karlmarx.com. Acceptance was made into a television movie starring Joan Cusack in 2009. She lives in Washington, D.C.
or
Not Currently Available for Direct Purchase