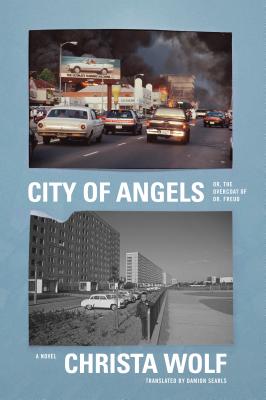 City of Angels
Or, the Overcoat of Dr. Freud
Hardcover

* Individual store prices may vary.
Other Editions of This Title:
Paperback (2/18/2014)
Description
The stunning final novel from East Germany's most acclaimed writer


Three years after the fall of the Berlin Wall, the writer Christa Wolf was granted access to her newly declassified Stasi files. Known for her defiance and outspokenness, Wolf was not especially surprised to discover forty-two volumes of documents produced by the East German secret police. But what was surprising was a thin green folder whose contents told an unfamiliar and disturbing story: in the early 1960s, Wolf herself had been an informant for the Communist government. And yet, thirty years on, she had absolutely no recollection of it.
Wolf's extraordinary autobiographical final novel is an account of what it was like to reckon with such a shocking discovery. Based on the year she spent in Los Angeles after these explosive revelations, City of Angels is at once a powerful examination of memory and a surprisingly funny and touching exploration of L.A., a city strikingly different from any Wolf had ever visited.
Even as she reflects on the burdens of twentieth-century history, Wolf describes the pleasures of driving a Geo Metro down Wilshire Boulevard and watching episodes of Star Trek late at night. Rich with philosophical insights, personal revelations, and vivid descriptions of a diverse city and its citizens, City of Angels is a profoundly humane and disarmingly honest novel and a powerful conclusion to a remarkable career in letters.
Praise For City of Angels: Or, the Overcoat of Dr. Freud…
"Wolf's ability to create layers of meaning in a peripatetic structure across three, sometimes four, different time periods is astounding . . . Damion Searls has done a knockout job here. The prose is lovely but invisible in the reading, which is exactly what it should be."—Sarah Gerard, Three Percent
"[Wolf's] quest for personal integrity within a flawed system, and the honesty of her prose, cannot help but impress."—The Economist
"Engrossing . . . the book aptly captures Wolf's tortured state of mind at a critical juncture — the moment she is forced to ponder her complicity, albeit largely harmless, with a criminal regime and the collapse of everything she once believed in." —Joshua Hammer, The New York Times
"A moving melancholic remembrance by writer who—one final time—attempts to make sense of an historical and personal past, for herself and for her readers . . . In Searls's professional hands, City of Angels is a fine valedictory."—Kevin Nolan, The Rumpus
"Explaining without accusing, City of Angels is a profound book, even a heroic one."—Todd Gitlin, The New Republic
"Searls's excellent translation effectively conveys Wolf's wordplay."—The New Yorker
"Defying superlatives and superbly translated . . . In her final novel, Wolf . . . outdid herself."—Booklist (starred review)
" . . . there's an odd fascination in watching Wolf navigate depression, guilt, anger, and Los Angeles . . . It's worth it to see Wolf grappling with a past that, far from being dead, is live — like ammunition."— Publishers' Weekly
"[A] fascinating book."—Kirkus Reviews
"Finishing [Christa Wolf's books], the reader is covered by a sense of completeness, of having been taken on a journey in the company of a seer who has stared, with attention, mercy, and courage, into the world's heart." —Mary Gordon, The New York Times Book Review 
Farrar Straus Giroux, 9780374269357, 315pp.
Publication Date: February 5, 2013
About the Author
Christa Wolf (1921-2011) was one of the most celebrated German writers of the postwar era. A central figure in East German literature and politics, she was arguably the foremost German-German writer, awarded major literature prizes in East, West, and reunified Germany. Her wide-ranging work nonfiction, fiction, and hybrids of the two is marked throughout by rigorous self-examination, political engagement, and committed feminism. Her most important reexaminations of the cultural past and personal memory include Cassandra, a crucial text for Western feminists and a secret social critique for her readers in the East; Patterns of Childhood, a groundbreaking reflection on growing up in Nazi Germany; and City of Angels, a sequel of sorts to Patterns of Childhood that takes place after the fall of the Berlin Wall."
or
Not Currently Available for Direct Purchase