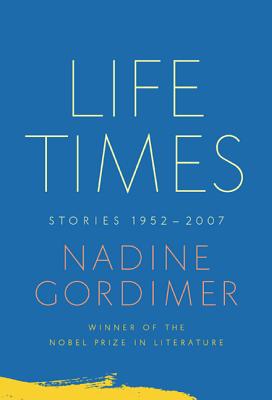 Life Times (Hardcover)
Stories, 1952-2007
Farrar, Straus and Giroux, 9780374270537, 560pp.
Publication Date: November 9, 2010
Other Editions of This Title:
Paperback (10/25/2011)
Paperback (11/1/2011)
* Individual store prices may vary.
Description
A stunning selection of the best short fiction from the recipient of the Nobel Prize in Literature
This collection of Nadine Gordimer's short fiction demonstrates her rich use of language and her unsparing vision of politics, sexuality, and race. Whether writing about lovers, parents and children, or married couples, Gordimer maps out the terrain of human relationships with razor-sharp psychological insight and a stunning lack of sentimentality. The selection, which spans the course of Gordimer's career to date, presents the range of her storytelling abilities and her brilliant insight into human nature. From such epics as "Friday's Footprint" and "Something Out There" to her shorter, more experimental stories, Gordimer's work is unfailingly nuanced and complex. Time and again, it forces us to examine how our stated intentions come into conflict with our unspoken desires.
This definitive volume, which includes four new stories from the Nobel laureate, is a testament to the power, force, and ongoing relevance of Gordimer's vision.
About the Author
Nadine Gordimer (1923-2014), the recipient of the 1991 Nobel Prize in Literature, was born in a small South African town. Her first book, a collection of stories, was published when she was in her early twenties. Her ten books of stories include Something Out There (1984), and Jump and Other Stories (1991). Her novels include The Lying Days (1953), A World of Strangers (1958), Occasion for Loving (1963), The Late Bourgeois World (1966), A Guest of Honour (1971), The Conservationist (1975), Burger's Daughter (1979), July's People (1981), A Sport of Nature (1987), My Son's Story (1990), None to Accompany Me (1994), The House Gun (1998), The Pickup (2001), Get a Life (2005), and No Time Like the Present (2012). A World of Strangers, The Late Bourgeois World, and Burger's Daughter were originally banned in South Africa. She published three books of literary and political essays: The Essential Gesture (1988); Writing and Being (1995), the Charles Eliot Norton Lectures she gave at Harvard in 1994; and Living in Hope and History (1999).
Ms. Gordimer was a vice president of PEN International and an executive member of the Congress of South African Writers. She was a fellow of the Royal Society of Literature in Great Britain and an honorary member of both the American Academy of Arts and Letters and the American Academy of Arts and Sciences. She was also a Commandeur de'Ordre des Arts et des Lettres (France). She held fourteen honorary degrees from universities including Harvard, Yale, Smith College, the New School for Social Research, City College of New York, the University of Leuven in Belgium, Oxford University, and Cambridge University.
Ms. Gordimer won numerous literary awards, including the Booker Prize for The Conservationist, both internationally and in South Africa.
Praise For Life Times: Stories, 1952-2007…
"[A] sterling collection of short stories, 38 in all, by the South African novelist . . . A welcome collection by a master of English prose--lucid and precisely written, if often bringing news only of disappointment, fear and loss." —Kirkus Reviews
"Life Times indeed . . . This grand gathering . . . showcases Gordimer's gift for concentrating the many forms of suffering humankind instigates and endures within calamitous and transforming moments. Her cutting stories dramatize with fluent specificity the evolution of liberation in South Africa. But they are also headline-fresh and timelessly universal as Gordimer, skeptical and compassionate, reveals how intimately entwined politics and private lives are, and how there is no such thing as apartness." —Donna Seaman, Booklist
"Gordimer's characters and situations are complex and multifaceted, and it is a testament to her literary skill that she can pack so much depth of meaning into each story. Highly recommended; these powerful and serious stories span the career to date of a critically acclaimed, prize-winning author." —Sarah Conrad Weisman, Corning Community College, New York, Library Journal
or
Not Currently Available for Direct Purchase