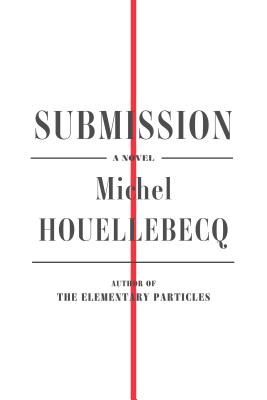 Submission (Hardcover)
A Novel
Farrar, Straus and Giroux, 9780374271572, 256pp.
Publication Date: October 20, 2015
Other Editions of This Title:
Paperback (10/25/2016)
Paperback, French (1/7/2015)
* Individual store prices may vary.
Description
A controversial, intelligent, and mordantly funny new novel from France's most famous living literary figure

It's 2022. François is bored. He's a middle-aged lecturer at the New Sorbonne University and an expert on J. K. Huysmans, the famous nineteenth-century Decadent author. But François's own decadence is considerably smaller in scale. He sleeps with his students, eats microwave dinners, rereads Huysmans, queues up YouPorn.

Meanwhile, it's election season. And although Francois feels "about as political as a bath towel," things are getting pretty interesting. In an alliance with the Socialists, France's new Islamic party sweeps to power. Islamic law comes into force. Women are veiled, polygamy is encouraged, and François is offered an irresistible academic advancement--on the condition that he convert to Islam.

Adam Gopnik in The New Yorker has said of Submission that "Houellebecq is not merely a satirist but--more unusually--a sincere satirist, genuinely saddened by the absurdities of history and the madnesses of mankind." Michel Houellebecq's new book may be satirical and melancholic, but it is also hilarious, a comic masterpiece by one of France's great novelists.
About the Author
Michel Houellebecq is a French novelist, poet, and literary critic. His novels include the international bestseller The Elementary Particles and The Map and the Territory, which won the 2010 Prix Goncourt. He lives in France.
Praise For Submission: A Novel…
"Submission may be the most relevant book of the year." —Daniel D'Addario, Time

"Houellebecq is considered a great contemporary author, and one cannot be said to be keeping abreast of contemporary literature without reading his work . . . What prevents me from reading Houellebecq and watching von Trier is a kind of envy — not that I begrudge them success, but by reading the books and watching the films I would be reminded of how excellent a work of art can be, and of how far beneath that level my own work is." —Karl Ove Knausgaard, The New York Times Book Review

"The political elements of Submission are so comically exaggerated that it's hard to take them very seriously . . . This is the novel's big joke. It's designed to agitate the right by suggesting the right may have a point about the erosion of France's national culture, and to tweak the left by lending ironic credence to the right's fears . . . The only time Houellebecq seems not to be joking is when Francois speaks about literature . . . Whatever it says or doesn't say about Europe and Islam, Submission is a love letter to the novel itself." —Christian Lorentzen, New York Magazine

"Houellebecq's recent work—especially The Map and the Territory, one of the finest novels of the 21st century—is elegant, sad, all the more discomfiting in that we never quite know how much subtlety to credit the author with. Houellebecq writes on shifting sands. But I think he might just be permanent." —Michael Robbins, The Chicago Tribune

"In Submission, Houellebecq is no less afraid to foment than in previous works, but his audacity serves a purpose that may not be immediately evident. His goal in this quasi-dystopian novel is to cast a light on contemporary French society and the deficiencies he perceives and to suggest that the future he predicts isn't wholly beyond the realm of possibility . . . A challenging satire that, at its best, is subtler than its author's reputation might lead you to expect." —Michael Margas, The San Francisco Chronicle

"Houellebec's deadpan comedic edge . . . defies the reader to find the line between parody and philosophy . . . What Houellebecq has done in Submission is hold up a mirror to his readers. The charge is that he inflames animosity by depicting a Muslim-influenced France as something of which Europeans should be frightened. But he puts readers and critics in the position of having to specify what exactly is frightening about this France." —S. Mark Heim, The Christian Century

"Michel Houellebecq: butcher. Messy slaughterer of sacred cows. Disembowler of all modes of political correctness, from the myth of the modern male's respect for women to the laughable fiction of the liberal Westerner's respect for non-Western cultures. That's the story, anyway. Like most good stories, it isn't true, for the most part . . . [Submission] is a work of genius, sure—with Houellebecq that goes without saying. But it's not a slaughterhouse. It's a upper-middle-class supermarket, brightly but not harshly lit, stocked with sushi, expensive cheeses, organic vegetables, olive oils, and honeys. It's not food for thought. It's an empty stomach. It's heartbreaking. It's utopia." —Micaela Morrissette, Bomb

"The prose, which never fails to be consistent and accessible, continued to impress page after page . . . Perhaps the highest achievement of [Submission] is the way it manages to be a satire with a core of deep humanism running through it." —Popmatters


"Extraordinary . . . if there is anyone in literature today, not just in French but worldwide, who is thinking about the sort of enormous shifts we all feel are happening, it's [Houellebecq]." —Emmanuel Carrere, Le Monde

"A work of real literary distinction . . . [Houellebecq] has been the novelist who has most fearlessly and presciently tackled the rise of Islamic extremism in recent years . . . He is a writer with a gift for telling the truth, unlike any other in our time – I've been consistently saying he is the writer who matters most to me for many years now. I've read Submission twice in the last week with ever growing admiration and enjoyment. There's been no English-language novel this good lately. With Submission Houellebecq has inserted himself right into the centre of the intellectual debate that was already raging in France about Islam and identity politics . . . There is nobody else writing now more worth reading." —David Sexton, Evening Standard

"Houellebecq has an unerring, Balzacian flair for detail, and his novels provide an acute, disenchanted anatomy of French middle-class life . . . Houellebecq writes about Islam with curiosity, fascination, even a hint of envy." —Adam Shatz, London Review of Books

"[Submission's] moral complexity, concerned above all with how politics shape-or annihilate-personal ethics, is singular and brilliant . . . This novel is not a paranoid political fantasy; it merely contains one. Houellebecq's argument becomes an investigation of the content of ideology, and he has written an indispensable, serious book that returns a long-eroded sense of consequence, immediacy, and force to contemporary literature." —Publishers Weekly (starred review)
or
Not Currently Available for Direct Purchase