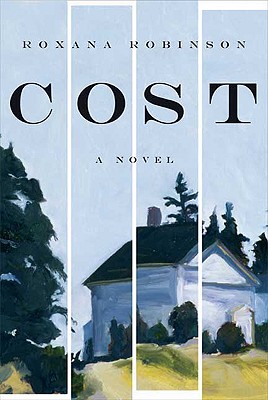 Cost
Hardcover

* Individual store prices may vary.
Other Editions of This Title:
Paperback (5/26/2009)
Hardcover, Large Print, Large Print (1/1/2009)
Description
THE LUMINOUS AND GRIPPING NEW NOVEL FROM "ONE OF OUR BEST WRITERS" (JONATHAN YARDLEY, THE WASHINGTON POST)
When Julia Lambert, an art professor, settles into her idyllic Maine house for the summer, she plans to spend the time tending her fragile relationships with her father, a repressive neurosurgeon, and her gentle mother, who is descending into Alzheimer's. But a shattering revelation intrudes: Julia's son Jack has spiraled into heroin addiction. In an attempt to save him, Julia marshals help from her looseknit clan: elderly parents; remarried ex-husband; removed sister; and combative eldest son. Ultimately, heroin courses through the characters' lives with an impersonal and devastating energy, sweeping the family into a world in which deceit, crime, and fear are part of daily life. Roxana Robinson is the author of
Sweetwater
, which
Booklist
called a "hold-your-breath novel of loss and love." Billy Collins praised Robinson as "a master at moving from the art of description to the work of excavating the truths about ourselves." In
Cost
, Robinson tackles addiction and explores its effects on the bonds of family, dazzling us with her hallmark subtlety and precision in evoking the emotional interiors of her characters. The result is a work in which the reader's sense of discovery and compassion for every character remains unflagging to the end, even as the reader, like the characters, is caught up in
Cost
's breathtaking pace.
Praise For Cost…
"Scarily good. . . what gives the story such emotional depth is Robinson's astute portrayal of the private anxieties that each family member harbors—anxieties that often have little to do with Jack and the addiction that's killing him. Robinson has perfected a kind of rotating point of view that allows her to move gracefully, seamlessly from character to character so that we're privy to each person's thoughts, one after another. I've never read such a spot-on description of the mingled feelings of affection and frustration one feels for one's parents as Robinson spins out here with sometimes comic effect. . . . With such fierce moments of anxiety and grief, this is, frankly, a challenging novel to read, but Robinson's insight makes it impossible to break away. She has crept into corners of human experience each of us is terrified to approach: the loss of our children, our parents, our minds, the implacable tragedies that shred our sense of how the world should work. Toward the end, Robinson writes, 'There was now a great silent ringing where the sky had been.' Like every moment in this novel, that sounds chillingly right." —The Washington Post
"'Cost' is unsparing but not bleak. There is urgency in the narrative; you keep hoping for a rescue and you care about these complex people even when you want to shake them for behaving badly. There is bitter humor in the family's uneasy alliance with the rehab counselor. You could learn a lot from this novel about the family dynamics of addiction. But what makes Ms. Robinson much more than a very good reporter is her searching compassion for these flawed people. . . . 'Cost' is both lyrical and unsentimental, richly honest and humane—summer reading of uncommon stature." —The Wall Street Journal
"'Cost' is unusual for being as plot-driven as it is character-driven, and the assured manner in which Robinson builds toward the inevitable train wreck is matched by her acuity in bringing us inside the characters' minds. . . .[Julia] gains the strength not only to bear a grievous separation from her younger son but, more significant, to question the separations she has imposed on the most intimate relationships in her life. Why, she wonders, has she done this? . . . Robinson has already shown us why, having exhumed the many reasons in the preceding pages. But the question remains worth asking, not only by Julia but by any of these characters—by anyone, period, still struggling to connect. With the novel's final words, which made me catch my breath, Robinson suggests the enormous stakes involved in pursuing the answer." —The New York Times Book Review
"Gripping . . . Robinson paints a chilling portrait of addiction, depicting heroin junkies in particular as ruthless in pursuit of their highs and rehab as hardly more than a crapshoot. There's little solace here, except in the accumulation of wisdom and softening of old resentments at the book's appealing, astutely drawn characters come together. We can't always save each other, but there's a kind of redemption in the fight." —People
"Roxana Robinson's latest novel, Cost, is an emotionally incisive story about change—the permeable bonds between family members and an individual's fluctuating sense of self. The book gets at these themes by dwelling on its characters' shifting roles, from child to parent, from friend to lover, from nurtured to nurturer and back again. . . . Robinson avoids cliché with her twisted characters and detailed, sometimes scathing observations. . . . And while her focus is on the family, she captures what drives them apart just as well as what holds them together. The language is strong—occasionally lyrical but always tight—and Robinson's penchant for detail eventually pushes this messy family drama to a succinct point: Relationships define who we are, whether we like it or not." —Chelsea Bauch, Time Out New York
"Loss, grief and regret are the central subjects of Roxana Robinson's harrowing new novel, which applies the writer's trademark gifts as an intelligent, sensitive analyst of family life to the darkest subject matter she has tackled to date. . . . Robinson achieves a truly Shakespearean breadth of vision in this final scene, acknowledging that suffering can sharpen our understanding without minimizing the lasting damage it inflicts. Bleak though it undeniably is, "Cost" is also a warmly human and deeply satisfying book, marking a new level of ambition and achievement for this talented author." —Chicago Tribune
"In her forceful and gripping new novel, "Cost," Roxana Robinson creates a psychologically mesmerizing family dynamic in the vortex of one son's drug addiction. . . . "Cost" alternates close-up third-person points-of-view with ease and fluidity. Certain shifts of as many as three perspectives on a single page can be jarring, but mostly the technique works brilliantly to reveal the startlingly different accounts of what is happening inside the same small house." —Hartford Courant
"A novelist drawn to the emotional dynamics inside families, Robinson here depicts the crisis unleashed by one parent's discovery of her child's self-destructive secret."
—Good Housekeeping, June
"Roxana Robinson's novel Cost artfully portrays a family transformed by the far-reaching consequences of a son's heroin addiction." —Vanity Fair, June
"Cost is a gritty portrait of the havoc wreaked upon a family by one member's drug addiction. Roxana Robinson's vivid, sensuous prose moves effortlessly among relationships and points of view, evoking a brutal war between familial love—in its infinite power and mystery—and the mechanical devastations of pathology."
—Jennifer Egan, author of The Keep
"Cost is stunning. Each of the characters is so perfectly realized, each is made known to us with such heart and intelligence. This is a very big book: the territory of family is more fragile and dangerous than any geography we know, and Roxana Robinson has made life of that. I loved, admired, and was frankly undone by every minute of it."
—Susan Richards Shreve, author of A Student of Living Things
"With passion, feeling and a keen eye for detail, Roxana Robinson brings chillingly to life a family and a family tragedy, showing us how—like a luminous yet ominous landscape—their tangible visible world can coincide with the invisible tumultuous world of their emotions."
—Lily Tuck, author of The News from Paraguay
"Roxana Robinson is surely one of the most graceful stylists and psychologically perceptive writers working . . . Cost approaches the subject of drugs' impact from an original and very significant angle. This book shows further the extent of Robinson's insights into the whirl, the generational ironies at work, and desperate indulgences to which we turn in our confusion. Cost is an important timely book that furthers insight into our preset fortunes and dilemmas."
—Robert Stone, author of Prime Green: Remembering the Sixties
Farrar, Straus and Giroux, 9780374271879, 432pp.
Publication Date: June 10, 2008
or
Not Currently Available for Direct Purchase