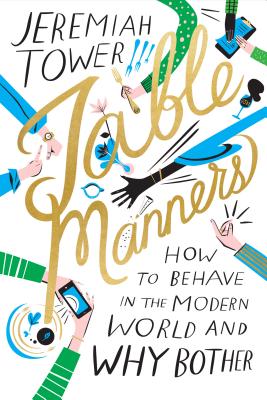 Table Manners (Hardcover)
How to Behave in the Modern World and Why Bother
Farrar, Straus and Giroux, 9780374272340, 160pp.
Publication Date: October 25, 2016
* Individual store prices may vary.
Description
An authoritative and witty guide to modern table manners for all occasions by one of the world's most acclaimed chefs and restaurateurs
When can you photograph your food?
What do you do when you're running late?
What can you eat with your hands?
Are you the guest who runs late and texts real-time updates? The diner with allergies or the host trying to accommodate them? The social media addict who can't put your phone down at the restaurant? Whether your manners are a disaster or you simply need some fine-tuning, here is an authoritative and witty guide to table manners for everyone and every occasion.
About the Author
Jeremiah Tower is the forefather of California cuisine and the author of the James Beard Award–winning cookbook Jeremiah Tower's New American Classics. He began his culinary career in 1972 as the co-owner and executive chef of Chez Panisse, and has opened numerous highly acclaimed restaurants in San Francisco and around the world. He is the subject of the documentary Jeremiah Tower: The Last Magnificent. He lives in Mexico.
Libby VanderPloeg lives in Brooklyn, New York. Her work comes out of her deep affinity for storytelling, music, letterforms, printed ephemera, and wildlife. None of these works could have been made without the world's finest brioche and several good, strong cups of coffee.
Praise For Table Manners: How to Behave in the Modern World and Why Bother…
"Table Manners becomes an amiable and frequently witty guide to dining room etiquette as it stands in the waning days of the Obama era." —Dwight Garner, NYT Book Review
"James Beard Award–winning author and chef Tower offers a smorgasbord of tips for negotiating human decency in social situations in an increasingly complex and technologically connected world...This lively and helpful book offers the last line of defense against social barbarity and self-referential boorishness." —Publishers Weekly
"Tower, a celebrated chef and the co-owner of Chez Panisse, wittily guides readers through best practices in formal, casual, and unusual dining situations alike and gives gentle reminders on how to subtly keep the peace around the dinner table...Tower has succeeded in bringing an entirely modern spin to the question of etiquette, and it feels effortless." —Booklist
"This book is as witty, charming, and knowledgeable as the author himself, which is no mean feat. A must-read for every man, woman, and child in our increasingly barbarous country, Table Manners is also a reminder that it's never too late to up your game." —Julia Reed
"It is the perfect gift for every young person and every world traveler. As someone lucky enough to have grown up eating a home-cooked meal every night of the week—and who has carried on the tradition with my own family—I'm delighted that Jeremiah is standing up for the values implicit in this most basic of civilized rituals. Table manners, after all, aren't just about what happens at the table, but about how we navigate the modern world. (Texting at the dinner table? Really?) His book couldn't have arrived at a better moment."
—Sara Moulton, host of Sara's Weeknight Meals on public TV and author of Home Cooking 101
"Table Manners is the antidote to the tidal wave of vulgarity threatening to drown us all—a last stand of civility. And the elegant Jeremiah Tower is the perfect guide." —Anthony Bourdain
"Jeremiah Tower is quite possibly the most perfect gentleman I have ever met. In the 30 plus years i have known him, he has always exuded the calm and supreme excellence of a man completely in his element whether in a packed boite, at a fancy dinner or just slurping a few oysters with champagne. This tasty little handbook is the guide our gen x, y and z'ers need to navigate the practical world in every situation, and I am betting that their parents and many of my peers might benefit from a quick and effective tune up on the best way to present themselves in our increasingly complex and ambiguous world of social interaction as well." - Mario Batali
"A witty guide for how to behave in every situation. I love everything Jeremiah Tower says in Table Manners and the way he says it. You're hungover, you ate a whole cold pizza for breakfast, there's a button missing on your shirt, and now you're drinking warm champagne and olives with pits and whole lobsters at an exclusive party with a fussy host. This book will make sure you get asked back. I'm giving it to my teenager right now." - Cecily von Ziegesar, author of the Gossip Girl novels
"Who better than Jeremiah Tower to update Emily Post by teaching the iPhone generation all about modern table manners and proper behavior in restaurants, private homes, and even while on the go? Whether he's dealing with dress codes, appropriate dining conversation, food allergies, tipping, exotic menus, or doggie bags, Tower's worldly experience, savvy (and timeless) advice, gracious style, and often hilarious anecdotes make this compact manual not only a practical, no-nonsense guide but also delightful entertainment in itself." —James Villas, author of Between Bites: Confessions of a Hungry Hedonist
"Jeremiah Tower's Table Manners is irresistibly erudite, humorous and a wonderful addicting read. His observations are as spot on as is the man himself. I plan to buy loads of the book as gifts for friends. I know they will appreciate it as much as I have!" —Ken Hom OBE, BBC TV presenter and author
"In crisp, delightfully wry prose, Jeremiah Tower makes it clear that the true point of manners isn't stodgy propriety but instead to help you make the most of every meal and party life has to offer." —Emily Gould, author of Friendship
"Tower successfully narrates the dos and don'ts of entertaining for all partygoers and planners."
—Susan B. Hagloch, Library Journal Reviews
"'The Father of Modern American Cuisine.' An American treasure, who found more language and grace to describe the hamburger as being noble and who in his own nobility and pure genius, rose above – the snarky noise – and simply produced a wake of excellence."
—Frank Flynn, Creative & Strategy at Powerhaus LLC