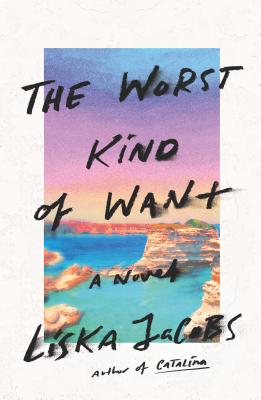 The Worst Kind of Want
A Novel
Hardcover

* Individual store prices may vary.
Other Editions of This Title:
Digital Audiobook (11/4/2019)
Paperback (7/20/2021)
MP3 CD (11/5/2019)
Compact Disc (11/5/2019)
Description
"Dark, seductive . . . Noirish and sexy, this provocative novel explores what it's like to be a woman on the edge." —Adrienne Westenfeld, Esquire

"[A] crispy biscotti of a novel . . . You'll feel indecent reading it in public." —Molly Young, Vulture

A trip to Italy reignites a woman's desires to disastrous effect in this dark ode to womanhood, death, and sex

To cool-headed, fastidious Pricilla Messing, Italy will be an escape, a brief glimpse of freedom from a life that's starting to feel like one long decline.

Rescued from the bedside of her difficult mother, forty-something Cilla finds herself called away to Rome to keep an eye on her wayward teenage niece, Hannah. But after years of caregiving, babysitting is the last thing Cilla wants to do. Instead she throws herself into Hannah's youthful, heedless world—drinking, dancing, smoking—relishing the heady atmosphere of the Italian summer. After years of feeling used up and overlooked, Cilla feels like she's coming back to life. But being so close to Hannah brings up complicated memories, making Cilla restless and increasingly reckless, and a dangerous flirtation with a teenage boy soon threatens to send her into a tailspin.

With the sharp-edged insight of Ottessa Moshfegh and the taut seduction of Patricia Highsmith, The Worst Kind of Want is a dark exploration of the inherent dangers of being a woman. In her unsettling follow-up to Catalina, Liska Jacobs again delivers hypnotic literary noir about a woman whose unruly desires and troubled past push her to the brink of disaster.
Praise For The Worst Kind of Want: A Novel…
A Best Book of Fall at Esquire, Vulture, Pop Sugar, CrimeReads, Alta, and Cosmopolitan
Longlisted for the 2020 Simpson / Joyce Carol Oates Literary Prize
Most Anticipated at CrimeReads, The Millions, The Palm Beach Post, and Lit Hub
A Best Book of the Week at New York Post

"This crispy biscotti of a novel is about a producer who goes to Italy, has a scandalous relationship, and decodes not just the meaning of life but also the meaning of death, sex, dance clubs, and emoji. You'll feel indecent reading it in public."
—Molly Young, Vulture

"Dark, seductive . . . Noirish and sexy, this provocative novel explores what it's like to be a woman on the edge, and what happens when dreams are deferred for too long."
—Adrienne Westenfeld, Esquire

"Womanhood. Death. Sex. A risky flirtation with a teenage boy. In Jacobs's latest novel, she weaves together desire and disaster as a burned-out 40-something throws herself into the nightlife of teenagers in the heat of the Italian summer. Sounds like . . . she predicted my future?"
—Cosmopolitan

"Jacobs nails the slow burn as tension builds first between the lovers and then between the lovers and the world. Their forbidden, sexy rendezvous make for a gripping arc . . . Jacobs is adept at guiding us through a pungent, breathtaking Italy, as seen by Cilla, who's romanticizing all of it . . . Masterfully constructed."
—Swan Huntley, Los Angeles Review of Books

"An unconventional—and disastrous—love story, as death-steeped, sultry, and delicious as the ancient Italian cities in which it's set."
—Emily Temple, Lit Hub

"It's absurd. It's alarming. It's also a vivid, female mirroring of men's more socially tolerated pursuit of girls young enough to be their daughters."
—Laura Collins-Hughes, The Boston Globe

"The Worst Kind of Want parodies comfy carbo-loads like Eat, Pray, Love. Jacobs uses, to interesting effect, backdrops that threaten to become cliché, fashioning them into the book's central conceit: that beauty can be a distraction, a mask we use to obscure trauma . . . Ultimately, The Worst Kind of Want presents Jacobs at her best: thinking through the fraught ethical problems and pitfalls of desire . . . Jacobs is establishing herself as a novelist who can probe what it means to be both selfish and vulnerable, asking with bald-faced earnestness: What, in 2019, are adult women allowed to want—and at what cost?"
—Bryn Lovitt, The Believer

"At its heart, a good melodrama pulls heartstrings while pushing readers to choose sides, not unlike medieval morality plays. Really good melodrama, the kind modern readers relish, reminds us that any side you choose has disadvantages. The Worst Kind of Want, Liska Jacobs' second novel, is really good melodrama—not least because it's filled with characters behaving badly. . .[a] smart, sad story."
—The Washington Post

"Liska Jacobs's work captivates in the present because it reflects the trauma of the past. . . Jacobs takes us on a wrenching journey into the catacombs."
—Julia Ingalls, Alta

"Jacobs's intoxicating second novel is a love letter to Italy and an evocative study of grief and desire . . . Jacobs's haunting portrait of one woman's transformative and, ultimately, tragic summer will linger with readers."
—Publishers Weekly

"As in her stylish debut, Catalina, Jacobs sets her narrator on a dark psychological journey in sweltering, sun-bleached locales . . . Darkly compelling."
—Annie Bostrom, Booklist

"Liska Jacobs's psychologically tense novel The Worst Kind of Want deftly explores matters of age and aging, of modernity and women, as seen through the lens of forty-something Cilla's propulsive desires. In this sharply written feminist noir, Jacobs takes readers on a thrillingly doomed journey amid the simmering heat of an Italian landscape—a captivating portrayal of self and want."
—Christine Mangan, author of Tangerine

"The Worst Kind of Want is a devilish, devious, and sultry psychological thrill ride. Each page overflows with disquieting passion and sumptuous detail. Jacobs is an archaeologist who dives deep into her characters' illicit desires and reveals them with unnerving and unflinching honesty."
—Ivy Pochoda, author of Wonder Valley

"The Worst Kind of Want transported me to Rome and blessed me with an addictive, sexy story about a woman who tries to turn her pain into a fleeting, forgettable recklessness. If only that were possible. Liska Jacobs has written a smart, emotionally resonant, delicious novel about a complicated woman, her complicated family, and her complicated past. I couldn't put it down even if I tried."
—Edan Lepucki, author of Woman No. 17

"Liska Jacobs's dangerous psychological novel, about a woman caught up in the unnerving throes of middle age desire, plays out like a house on fire against its luscious Italian background. The perfect vacation read, like Under the Tuscan Sun gone darkly, desperately wrong.
—Janet Fitch, author of Chimes of a Lost Cathedral

"Embrace your sensual cougar energy with this crispy sharp Italian biscotti of a novel"
—Molly Young, Read Like the Wind
MCD, 9780374272661, 224pp.
Publication Date: November 5, 2019
About the Author
Liska Jacobs is the author of the novels Catalina and The Worst Kind of Want. She holds an MFA from the University of California, Riverside, and lives in Los Angeles.
or
Not Currently Available for Direct Purchase