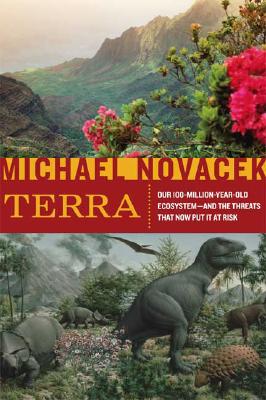 Terra
Our 100-Million-Year-Old Ecosystem--and the Threats That Now Put It at Risk
Hardcover

* Individual store prices may vary.
Description
A paleontologist awakens us to the "extinction event" that human activity is bringing about today The natural world as humans have always known it evolved close to 100 million years ago, with the appearance of flowering plants and pollinating insects during the age of the dinosaurs. Its tremendous history is now in danger of profound, catastrophic disruption. In Terra, a brilliant synthesis of evolutionary biology, paleontology, and modern environmental science, Michael Novacek shows how all three can help us understand and prevent what he (and others) call today's "mass extinction event." Humanity's use of land, our consumption, the pollution we create, and our contributions to global warming are causing this crisis. True, the fossil record of hundreds of millions of years reveals that wild and bounteous nature has always evolved not quietly but thunderously, as species arise, flourish, die off, and are replaced by new species. We learn from paleontology and archaeology that for 50,000 years, human hunting, mining, and agriculture have changed many localities, sometimes irrevocably. But today, Novacek insists, our behavior endangers the entire global ecosystem. And if we disregard--through ignorance, antipathy, or apathy--the theory of evolution that developed with our modern understanding of the Earth's past, we not only impede enlightenment but threaten any practical strategy for our own survival. The evolutionary future of the entire living planet depends on our understanding this.
Praise For Terra: Our 100-Million-Year-Old Ecosystem--and the Threats That Now Put It at Risk…
"This beautifully written volume draws on a lifetime of experience with fossil organisms to place the challenges of the present in context. Clearly written, and filled with wisdom and hope for the future, Terra should be read by everyone who cares about the future of our planet and wants to do something about it." --Peter H. Raven, President, Missouri Botanical Garden and George Engelmann Professor of Botany, Washington University in St. Louis
"This is a great read. Michael Novacek's book vividly portrays the human folly and cavalier disregard for Terra, our only home, and he puts the environmental crisis in its most profound context. This is a masterful hundred-million-year biography of our unique planet of life—how it came to be, how it works." —Thomas Lovejoy, President, The Heinz Center for Science, Economics and the Environment
Terra is a much needed book on the human condition that could have been written only by a paleontologist with a thorough, field-based knowledge of evolutionary and environmental biology. Starting with the birth of Earth's modern ecosystems, in the Age of Dinosaurs, Novacek explains how the living environment came together in a way that yielded humanity, and why our careless destruction of it is a profound and eternal loss. —Edward O. Wilson, Harvard University
"Terra is one of the important books of our time—and it will change the way you think about the world around you. Novacek's coup is that he not only brings the past to life but shows how it holds the keys to our future. The extraordinary breadth of his accomplishments as a scientist gives his book a powerful combination of authority, wit, and humanity. Reading Terra, it is hard not to feel humbled being a steward of a planet so ancient, wondrous, and fragile as our own." —Neil Shubin, Provost, Field Museum of Natural History, Chicago
Farrar, Straus and Giroux, 9780374273255, 480pp.
Publication Date: November 13, 2007
or
Not Currently Available for Direct Purchase