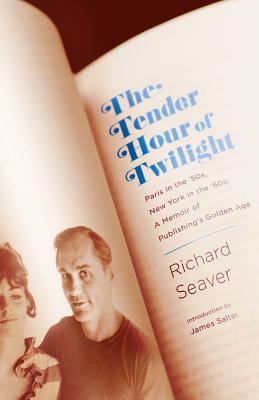 The Tender Hour of Twilight
Paris in the '50s, New York in the '60s: A Memoir of Publishing's Golden Age
Hardcover

* Individual store prices may vary.
Description
From Beckett to Burroughs, The Story of O to The Autobiography of Malcolm X, an iconic literary troublemaker tells the colorful stories behind the stories

Richard Seaver came to Paris in 1950 seeking Hemingway's moveable feast. Paris had become a different city, traumatized by World War II, yet the red wine still flowed, the cafés bustled, and the Parisian women found American men exotic and heroic. There was an Irishman in Paris writing plays and novels unlike anything anyone had ever read—but hardly anyone was reading them. There were others, too, doing equivalently groundbreaking work for equivalently small audiences. So when his friends launched a literary magazine, Merlin, Seaver knew this was his calling: to bring the work of the likes of Samuel Beckett, Eugene Ionesco, and Jean Genet to the world. The Korean War ended all that—the navy had paid for college and it was time to pay them back. After two years at sea, Seaver washed ashore in New York City with a beautiful French wife and a wider sense of the world than his compatriots. The only young literary man with the audacity to match Seaver's own was Barney Rosset of Grove Press. A remarkable partnership was born, one that would demolish U.S. censorship laws with inimitable joie de vivre as Seaver and Rosset introduced American readers to Lady Chatterly's Lover, Henry Miller, Story of O, William Burroughs, The Autobiography of Malcolm X, and more. As publishing hurtles into its uncertain future, The Tender Hour of Twilight is a stirring reminder of the passion, the vitality, and even the glamour of a true life in literature.
Praise For The Tender Hour of Twilight: Paris in the '50s, New York in the '60s: A Memoir of Publishing's Golden Age…
"I knew Dick Seaver as a friend and fellow wrestler; he was later my publisher at Arcade. As a wrestler, Dick had strong hands. I didn't know him in the '50s, when he was a young editor in Paris, where he read (and first wrote about) Beckett, or in the '60s, when he published Burroughs's Naked Lunch at Grove Press in New York. But some of the stories in this memoir are the ones Dick told over dinner--falling in love with his wife, Jeannette, on New Year's Eve, 1953; meeting Robbe-Grillet, who was 'charming and witty, with a soupçon of malice lurking not far from the surface'; taking Beckett to a Mets doubleheader in New York; correcting a flawed English translation of Genet's Our Lady of the Flowers in Paris; even escorting Genet through the hazards of the '68 Democratic Convention in Chicago. It was only after Seaver's death that he was revealed to be Sabine D'Estrée, the translator of the 'infamous' Story of O, though many of his friends knew--or we had guessed. (The 'infamous' word, said with a smile, is Seaver's.) Dick was loved for his exemplary life in literature and envied for his remarkable and cherished family--I mean both his actual family and the extended family of fiercely beloved writers Dick Seaver so passionately looked after. I remember and miss those strong hands." —John Irving
"Richard Seaver was a glamorous and cultured publisher who lived in Paris in the 1950s, where he befriended Samuel Beckett and Eugene Ionesco, and in New York in the 1960s, where he led the fight against censorship and championed William Burroughs, Henry Miller, and D.H. Lawrence. Fluent in French and Spanish, he acted as an important conduit between European and American literature. He was what every writer would want his editor to be: urbane, loyal, sensitive to aesthetic values, and fierce in his defense of freedom of speech. This honest, companionable book is an eloquent testament to his exciting life." —Edmund White
"Richard Seaver played a vital role in America's discovery of France and vice versa in the years after World War II. This fascinating memoir of his career as an editor is crammed with unexpected appearances of such notables as Ionesco, Genet, William Burroughs, Buster Keaton, and Henry Miller. Who knew that Samuel Beckett once played tennis with Barney Rosset in East Hampton? Edited by Seaver's widow Jeannette, The Tender Hour of Twilight finally brings into focus the career of this much-loved and influential impresario." —John Ashbery
"Dick Seaver's career as a legendary editor and can only be enhanced by this wonderful memoir, which begins in Paris in the fifties with his exciting pursuit of the elusive and as yet unknown Samuel Beckett and would prosper with distinction for another half-century in New York City. A very valuable contribution to the history of American literary publishing by a great editor who turns out to be an excellent writer, as well." —Peter Matthiessen
"How much to be learned! Publishing can sweep everything into its net: wife and children, house and home, fame and fortune, not only the attentions but the minds and hearts of the very monsters who wrote the books. The all-consuming powers of Print became young Seaver's lens on the human race, identical with his ambitions, longings, disgusts, even, surprisingly, his fulfillments. No relief, no reward: the editorial conscience its own Reckoning. The story, the drama told better here than any version I know: funnier, sadder, truer." —Richard Howard
"Seaver's memoir is a captivating read. It takes courage to remain creative in an increasingly problematic and vulnerable industry. I, along with so many others, am grateful for Seaver's life-long faith in literature. His commitment to authors has my deepest admiration." —George Soros
"A fantastic read! In his memoir, Seaver displays a remarkable recollection of important moments both in Paris and New York. His discernment in discovering new literary voices in both continents afforded us here, in America, the opportunity to read what otherwise we would have missed." —Ellsworth Kelly
"This book reminds us how much Dick Seaver is missed, and how lucky we--publishers, writers, readers, literature itself--were to have had him in our lives. The Tender Hour of Twilight is as fascinating, as insightful, and as generous as the man himself." —Daniel Okrent
"For those of us who treasure fresh modern writing, Richard Seaver's memoir gives us a portrait of the passion, adventure, and care that resulted in one of America's great publishing houses--Arcade Publishing. Along the way he creates snapshots of Samuel Beckett, Jean Genet, Jean-Paul Sartre and William Burroughs, among others. A graphic, riveting book." —Daniel Talbot
"This is a riveting memoir, perhaps because not even the generosity and grace with which Dick Seaver wrote it can obscure the enormous part that he himself played in--not to mention the courage of an unerring appreciation he brought to--the fight to open America's censorious gates to a brave new universe of post-war writers. It was Seaver, more than anyone I knew, who manned the barricades so that the rest of us could read. He was the translator who gave us Becket; the editor who gave us William Burroughs and Jean Genet; the warrior who gave us Henry Miller and Sade and The Story of O. As often as not, he was all three. He was also, as anyone who reads The Tender Hour of Twilight will discover, quite a formidable writer himself. I was fortunate to have known him. I count myself even more fortunate now that I know him better." —Jane Kramer
"The Tender Hour of Twilight is a brilliant memoir--lucid, informative, funny and poignant. Dick's distinctive voice, his prodigious memory, his instinctive, visceral appreciation of avant garde literature, and his contributions to our literary culture are on rich display. It's a pleasure and a privilege to read his invaluable recollections of two decades of publishing on both sides of the Atlantic. Certainly twentieth-century literature would not have been the same without his editorial acumen." —Sybil Steinberg
"Richard Seaver was a remarkable man and a supremely important and courageous publisher in the post-world war period of international publishing. Most publishers are grounded in their own culture, not Dick. As this book shows, he has left a big mark on modern publishing." —Matthew Evans, Baron Evans of Temple Guiting, former publisher of Faber and Faber, Ltd.
"Richard Seaver's memoir reminds us of the days when publishing was an adventure, when editors committed themselves to writers as writers rather than as products. Seaver lived the magic of Paris--the Paris of the garret, the public baths, the all-night cafes, of Beckett, Ionesco, and Sartre. He introduced American readers to a European literature that has now become our canon. He writes quietly, with humor, and through the telling detail, creating a nostalgia for a world which we may not have known but which most of us would surely want to have experienced." —Vincent Crapanzano
"Being with Richard Seaver in Paris and New York, in company with Beckett, Burroughs, Genet, Sartre, Henry Miller, and so many more renegades, is a giddy trip. Seaver, the legendary publisher and translator, a scholar and daring enemy of censorship, takes you to the barricades of literature. His story is incredible." —Arthur Kopit
Farrar, Straus and Giroux, 9780374273781, 480pp.
Publication Date: January 3, 2012
About the Author
Richard Seaver was an editor, publisher, and translator who became legendary for championing unconventional writers in the face of censorship and cultural prudishness. He was the editor in chief of Grove Press in the 1960s, started his own imprint at Viking in 1971, and served as publisher of Holt, Rinehart & Winston until he founded Arcade Publishing in 1988, which he ran with his wife, Jeannette, until his death in 2009. He was the author of The Tender Hour of Twilight: Paris in the '50s, New York in the '60s: A Memoir of Publishing's Golden Age.

James Salter was the celebrated author of six novels (The Hunters, 1957; The Arm of Flesh, 1961; A Sport and a Pastime, 1967; Light Years, 1975; Solo Faces, 1979; and All That Is, 2013) and three books of stories (Dusk and Other Stories, 1988; Last Night, 2005; and Collected Stories, 2013), as well a memoir, Burning the Days (1997). He also had a successful Hollywood career, most notably as the screenwriter of Downhill Racer (1969). Born in New Jersey in 1926 and raised in New York City, he attended West Point during World War II and served as an officer and a fighter pilot in the U.S. Air Force from 1945 to 1957. He drew on his combat experiences in Korea for his first two novels, though it was not until the controversial but now-classic A Sport and a Pastime that he considered that he had come close to measuring up to his own standards. He was a recipient of the 1989 PEN/Faulkner Award and the 2012 PEN/Malamud Award. He died in Sag Harbor, New York, in 2015.
or
Not Currently Available for Direct Purchase