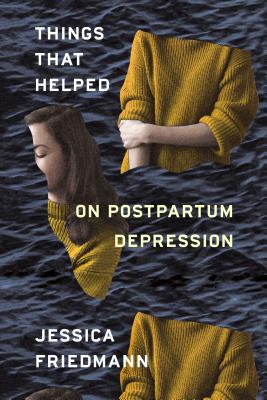 Things That Helped (Paperback)
On Postpartum Depression
FSG Originals, 9780374274801, 272pp.
Publication Date: April 10, 2018
Other Editions of This Title:
Compact Disc (4/10/2018)
* Individual store prices may vary.
Description
Jessica Friedmann navigates her recovery from postpartum depression in a wide-ranging collection of personal essays

Things That Helped is a memoir in essays, detailing the Australian writer Jessica Friedmann's recovery from postpartum depression. In each essay she focuses on a separate totemic object—from pho red lips to the musician Anohni—to tell a story that is both deeply personal and culturally resonant. Drawing on critical theory, popular culture, and her own experience, Friedmann's wide-ranging essays touch on class, race, gender, and sexuality, as well as motherhood, creativity, and mental illness. Occasionally confrontational, but always powerfully moving and beautifully observed, Things That Helped charts her return into the world: a slow and complex process of reassembling what depression fractured, and sometimes broke.
About the Author
Jessica Friedmann is a writer and editor living in Canberra, Australia, with her husband and small son. A graduate of the University of Melbourne with an honors thesis in creative writing, for which she won an R. G. Wilson Scholarship, her work has appeared in The Rumpus, The Lifted Brow, Smith Journal, Dumbo Feather,ArtsHub, The Age, and other publications.
Praise For Things That Helped: On Postpartum Depression…
Praise for Things That Helped
"A beautifully lyrical and intellectually complex series of essays . . . Jessica Friedmann is able to celebrate and interrogate the vivid, grotesque, and sublime tissues of the female body." —Erin Bartnett, Electric Literature
"A necessary and compelling collection of essays . . . In reading Friedmann, one thing is clear: she is an extraordinary thinker, a precise and complex writer, a tireless seeker of le mot juste. . . Watching a keen mind wrestle is one of the pleasures of reading nonfiction, and this book is a prime example . . . Despite the horror she narrates, her prose rarely strays from a calm, thoughtful tone. And this is the genius of Things That Helped: it's bringing light to an aspect of women's lives that publishing has thus far turned away from, and it's doing so with such beauty, with such precision and skill, that these struggles can no longer be ignored." —Katharine Coldiron, Proximity
"Exquisitely written . . . breathtaking . . . Wise, thoughtful, and provocative, Things That Helped raises important issues and asks important questions about white privilege, unequal access to medical care, cultural memory, and how best to navigate complex relationships with peers, family, employers, and acquaintances. The things that helped Friedmann may not help everyone suffering from postpartum depression, but as a testament to recovery, the text is sure to inspire, uplift, and educate." —Eleanor J. Bader, Rewire.News
"[Friedmann] never succumbs to sentimentality in these pages even when it's obvious how much she loves (or has learned to love) her son and how fortunate she feels for all that she has. Well-rendered essays that make readers think and feel deeply." —Kirkus
"By carefully and deliberately describing the pain, dissociation, discomfort, alienation, and other forms of havoc she experienced after birthing her son, Friedmann legitimates and recognizes the physical, psychological, and political features of postpartum depression." —Booklist
"[Friedmann] writes with brutal originality." —Terri Apter, The Times Literary Supplement
"To read these essays is to observe a keen intelligence at work both coolly analyzing the social forces and gender expectations that inform our understanding of this condition, while grappling with powerful feelings that bewilder and appall [Friedmann]." —Fiona Capp, Sydney Morning Herald
"[A] deeply affective debut . . . Friedmann's self-awareness is complemented by a grounding in psychoanalysis, but she strikes a good balance between memoir and theory and never lets the latter weigh down her essays . . . Her style of politicised personal writing is refreshing, and this book is further proof that these cultural institutions are vital in unearthing new, intellectually stimulating voices." —Emily Laidlaw, Weekend Australian
"An impressive book, lyrical and erudite even as some of the topics Friedmann broaches are disturbing . . . She effortlessly mixes the personal and the political in this memoir. Critical theory is blended into the book, but remains accessible and not intrusive. The intersection between selfhood, motherhood and womanhood are all written about with visceral candor, and she uses imagery to a startling effect." —Thuy On, The Big Issue
"While I'd recommend this book to almost anyone, I'd particularly recommend it to those who, like me, jumped on the Solnit train and are looking for some more discerning and beautifully executed feminist criticism to get excited about—not that there's any shortage. It's incredible to read Friedmann engaging with so many voices without having them, even for a minute, drown out her own." —Grace McCarter, Hot Chicks with Big Brains
"A brutally insightful and often heartbreaking study of the complexities of womanhood. Her transportive writing will break you open and fill you anew." —Anna Spargo-Ryan, author of The Paper House
"Jessica Friedmann has left safety behind and walked into something vast—a self,a world,on the verge of unravelling yet exhilarating and full of love. This book runs deep and wide. It's alive with arresting images, with thoughts too big,sometimes too dangerous,to pin down." —Maria Tumarkin