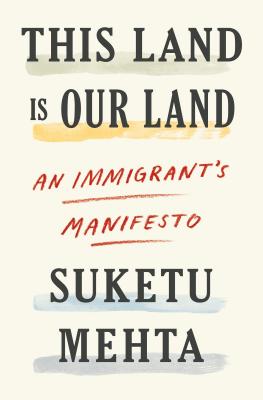 This Land Is Our Land
An Immigrant's Manifesto
Hardcover

* Individual store prices may vary.
Other Editions of This Title:
Digital Audiobook (6/3/2019)
Paperback (8/4/2020)
CD-Audio (6/25/2019)
Description
A 2019 NPR Staff Pick

"Written 'in sorrow and anger,' this is a brilliant and urgently necessary book, eloquently making the case against bigotry and for all of us migrants—what we are not, who we are, and why we deserve to be welcomed, not feared." —Salman Rushdie

A timely argument for why the United States and the West would benefit from accepting more immigrants

There are few subjects in American life that prompt more discussion and controversy than immigration. But do we really understand it? In This Land Is Our Land, the renowned author Suketu Mehta attacks the issue head-on. Drawing on his own experience as an Indian-born teenager growing up in New York City and on years of reporting around the world, Mehta subjects the worldwide anti-immigrant backlash to withering scrutiny. As he explains, the West is being destroyed not by immigrants but by the fear of immigrants. Mehta juxtaposes the phony narratives of populist ideologues with the ordinary heroism of laborers, nannies, and others, from Dubai to Queens, and explains why more people are on the move today than ever before. As civil strife and climate change reshape large parts of the planet, it is little surprise that borders have become so porous. But Mehta also stresses the destructive legacies of colonialism and global inequality on large swaths of the world: When today's immigrants are asked, "Why are you here?" they can justly respond, "We are here because you were there." And now that they are here, as Mehta demonstrates, immigrants bring great benefits, enabling countries and communities to flourish. Impassioned, rigorous, and richly stocked with memorable stories and characters, This Land Is Our Land is a timely and necessary intervention, and a literary polemic of the highest order.
Praise For This Land Is Our Land: An Immigrant's Manifesto…
"A meticulously researched and deeply felt corrective . . . laying bare the origins of mass migration in searing clarity . . . Well argued, cathartic." —Lauren Markham, The New York Times Book Review

"Urgent and impassioned . . . [written] with scathing wit . . . As the country heads into the 2020 presidential election, Mehta's moving, cogent book can help us find a way forward." —Vanessa Hua, San Francisco Chronicle

"There are many mic-drop moments and eminently quotable lines . . . [This Land Is Our Land] is a blistering argument that earns its place in this emotional debate. In a news climate dominated by opponents of immigration, Mehta brings personal, postcolonial, and global anguish to a broader American readership." —Bilal Qureshi, The Washington Post

"[Mehta] turns himself, in effect, into a one-man witness-bearing machine. It is harrowing, heartbreaking, detailed work that does what it sets out to do: illuminate the predicament of specific persons in a universal ethical light . . . Mehta's argument . . . is procedurally radical." —Joseph O'Neill, The New York Review of Books

"[This Land Is Our Land] is a book shaped by the nuances of borders: of who crosses them and why, who drew them and what that set into motion . . . As narrator, [Mehta] emerges as comprehensively analytical and trenchant, full of pointed epigrams" —Gaiutra Bahadur, The New Republic

"There are few literary voices today who explore the intricacies of human migration better than Suketu Mehta . . . Mehta delivers an emotional, timely polemic railing against this trend of fear, discrimination and hatred that has gripped so many countries, especially ours . . . Pulling from history, personal experiences and intimate profiles, Mehta examines the backlash to immigration, what's behind it and why we have good reasons to be hopeful about the future." —Sarojini Seupersad, BookPage

"[An] authoritative and undeniable argument . . . Mehta fills in the blanks. He tells a bloody, traumatic story, and one no Western reader will feel proud of, though there can also be a strange comfort in understanding the logic of the present. History might be the best weapon against fear." —Suzy Hansen, Bookforum

"Mehta condenses complicated histories to make the case that immigration is (and should be) a form of reparations for what has been wrought upon the Global South. The histories and numbers will enlighten and enrage but the personal stories Mehta collects will rip your heart out." —JR Ramakrishnan, Electric Literature

"Suketu Mehta's This Land is Our Land begins with an anecdote about his grandfather—an immigrant well-versed in Britain's colonial experiments—who, when confronted in London in the '80s by a fellow Briton asking 'Why are you in my country?' responds: 'Because we are the creditors. You took all our wealth. Now we have come to collect.' It's the thesis of the book but just the barest hint of the argument that Mehta will marshal by the time he's finished presenting his sweeping history of how solidly our world has been built by immigrants." —Ramtin Arablouei, NPR

"Pulitzer Prize–finalist Mehta (The Secret Life of Cities) displays his flair for evocative storytelling in this passionate argument for migration . . . Every scene is a joy to read, and Mehta's passion lights his prose throughout." —Publishers Weekly

"This heavily researched and passionately argued work deconstructs American misbeliefs about immigration . . . The result is a profound combination of disturbing, convincing, clear-eyed, and hopeful." —Booklist

"An intelligent, well-reasoned case for freedom of movement in an era of walls and fences" —Kirkus Reviews

"Suketu Mehta is one of our finest thinkers and writers on the subject of immigration. What begins as a journey that mixes just the right amount of humor, anger, and bewilderment at the state of our nation, ends up with a surprising double-shot of hope. This is the rare book that is pragmatic and unsentimental, and yet oddly uplifting." —Gary Shteyngart, author of Super Sad True Love Story and Lake Success

"A powerful, passionate, angry, and hopeful cry for sanity and justice by one of our finest writers. Mehta's heart-felt book is a much-needed and potent antidote to the anti-migrant rhetoric that has grown so threateningly loud of late. Let them come!" —Mohsin Hamid, author of Exit West and The Reluctant Fundamentalist

"Suketu Mehta has written a burning indictment of anti-immigrant hypocrisy, and an affirmation of hope in the real America—the America where we treat each other as human beings with a common future, and not a faceless problem to be solved by walls and barbed wire. Rousing and immensely readable, it is an anthem for all of us." —Jhumpa Lahiri, author of The Lowland

"This is a fierce and well-told story by a patriotic American about the value and challenges of our most inspiring heroes: our immigrants." —Bob Kerrey, thirty-fifth Governor of Nebraska and former United States Senator from Nebraska


"Mehta has written a compassionate and powerful plea on behalf of migrants that also reveals the deep forces that propel them on their journeys. He exposes the demeaning ways that migrants are treated around the world, and the very human aspirations that may lead them to accept this dehumanization. In so doing, he gives us a searing indictment of those like Donald Trump who do so much to make their plight even worse." —Joseph Stiglitz, Nobel Laureate in Economics

"A fearless and brutally honest look at the rise and inevitable fall of national borders and those who seek to enforce them. This Land is Our Land lays bare the structural inequalities forcing millions of migrants to flee their countries of origin, and persuasively contends that powerful nations have an obligation to welcome those they have uprooted." —Becca Heller, refugee rights lawyer and MacArthur fellow
Farrar, Straus and Giroux, 9780374276027, 320pp.
Publication Date: June 4, 2019
About the Author
Suketu Mehta is the author of Maximum City: Bombay Lost and Found, which was a finalist for the Pulitzer Prize, and won the Kiriyama Prize and the Hutch Crossword Award. His work has been published in The New Yorker, The New York Times Magazine, National Geographic, Granta, Harper's, Time, and GQ. He has won a Guggenheim Fellowship, the Whiting Writers' Award, and an O. Henry Prize. He was born in Calcutta and lives in New York City, where he is an associate professor of journalism at New York University.