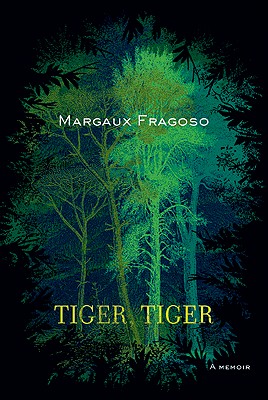 Tiger, Tiger (Hardcover)
A Memoir
Farrar, Straus and Giroux, 9780374277628, 336pp.
Publication Date: March 1, 2011
Other Editions of This Title:
Digital Audiobook (4/28/2011)
Paperback (1/31/2012)
Paperback (3/1/2011)
* Individual store prices may vary.
Description
A Washington Post Notable Nonfiction Book for 2011 A Globe and Mail Best Books of the Year 2011 Title
Tiger, Tiger is a Publishers Weekly Best Nonfiction title for 2011A Kirkus Reviews Best Nonfiction of 2011 title
One summer day, Margaux Fragoso meets Peter Curran at the neighborhood swimming pool, and they begin to play. She is seven; he is fifty-one. When Peter invites her and her mother to his house, the little girl finds a child's paradise of exotic pets and an elaborate backyard garden. Her mother, beset by mental illness and overwhelmed by caring for Margaux, is grateful for the attention Peter lavishes on her, and he creates an imaginative universe for her, much as Lewis Carroll did for his real-life Alice.

In time, he insidiously takes on the role of Margaux's playmate, father, and lover. Charming and manipulative, Peter burrows into every aspect of Margaux's life and transforms her from a child fizzing with imagination and affection into a brainwashed young woman on the verge of suicide. But when she is twenty-two, it is Peter—ill, and wracked with guilt—who kills himself, at the age of sixty-six.

Told with lyricism, depth, and mesmerizing clarity, Tiger, Tiger vividly illustrates the healing power of memory and disclosure. This extraordinary memoir is an unprecedented glimpse into the psyche of a young girl in free fall and conveys to readers—including parents and survivors of abuse—just how completely a pedophile enchants his victim and binds her to him.
About the Author
Margaux Fragoso recently completed a PhD in English and creative writing at Binghamton University. Her short stories and poems have appeared in "The Literary Review "and "Barrow Street," among other literary journals.
Praise For Tiger, Tiger: A Memoir…
Praise for Tiger, Tiger

"Tiger, Tiger will start a thousand conversations. Margaux Fragoso achieves the unthinkable with empathic clarity: she humanizes a pedophile. In doing so, she makes his crime unimaginably more frightening. Her portrayal of their relationship is shocking, revelatory, and fearless. As the story of a victim, it is gripping; as a work of literature, it's a triumph." —Alice Sebold, author of The Lovely Bones

"In this gut-wrenching memoir of sexual abuse, [Margaux Fragoso] explores with unflinching honesty the ways in which pedophiles can manipulate their ways into the lives of children . . . Fragoso's sense of alienation—Curran controlled her world for more than half her life—is palpable in her telling. Using her own diaries and the myriad letters, diaries, and photographs Curran left behind, Fragoso eloquently depicts psychological and sexual abuse in disturbing detail." —Publishers Weekly (starred review)

"Disqueting . . . Culled from the four diaries she kept during the ordeal, Fragoso writes with searing honesty about her serpentine entanglement and of Curran's calculated, menacing exploitation of her. Intensive psychotherapy and new motherhood provide a hopeful coda to her unspeakable experience. A gripping, tragic and unforgettable chronicle of lost innocence and abuse." —Kirkus Reviews (starred review)

"You may think you've already decided about a child's ordeal with a sexual predator, but under Margaux Fragoso's command you will consider the richest depths of experience, terrible, bright, and beautiful. Fragoso writes with unguarded grace and provides a voice—real and haunting—for those children, everywhere among us, who are deprived of theirs." —Susanna Sonnenberg, author of Her Last Death

"Tiger, Tiger is stunning, in all the possible manifestations of that word." —Nick Flynn, author of Another Bullshit Night in Suck City

"Once in a generation, an essential book—a necessary book—comes along and challenges our bedrock assumptions about life. Margaux Fragoso's Tiger, Tiger is that book. Family life, the corruption of innocence, sexual abuse, pedophilia—all are unflinchingly yet exquisitely rendered as Fragoso experienced them. You will never view childhood the same way after reading Fragoso's monumentally important book." —Louise DeSalvo, author of Writing as a Way of Healing
or
Not Currently Available for Direct Purchase