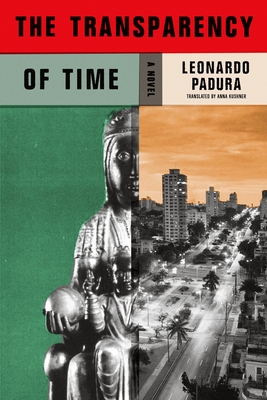 The Transparency of Time
A Novel (Mario Conde Investigates #9)
Hardcover

* Individual store prices may vary.
Other Editions of This Title:
Paperback (6/14/2022)
Description
From Leonardo Padura—whose crime novels featuring Detective Mario Conde form the basis of Netflix's Four Seasons in Havana—The Transparency of Time sees the Cuban investigator pursuing a mystery spanning centuries of occult history.

Mario Conde is facing down his sixtieth birthday. What does he have to show for his decades on the planet? A failing body, a slower mind, and a decrepit country, in which both the ideals and failures of the Cuban Revolution are being swept away in favor of a new and newly cosmopolitan worship of money.

Rescue comes in the form of a new case: an old Marxist turned flamboyant practitioner of Santería appears on the scene to engage Conde to track down a stolen statue of the Virgen de
Regla—a black Madonna. This sets Conde on a quest that spans twenty-first century Havana as well as the distant past, as he delves as far back as the Crusades in an attempt to uncover the true provenance of the statue.

Through vignettes from the life of a Catalan peasant named Antoni Barral, who appears throughout history in different guises—as a shepherd during the Spanish Civil War, as vassal to a feudal lord—we trace the Madonna to present-day Cuba. With Barral serving as Conde's alter ego, unstuck in time, and Conde serving as the author's, we are treated to a panorama of history, and reminded of the impossibility of ever remaining on its sidelines, no matter how obscure we may think our places in the action.

Equal parts The Name of the Rose and The Maltese Falcon, The Transparency of Time cements Leonardo Padura's position as the preeminent literary crime writer of our time.
Praise For The Transparency of Time: A Novel (Mario Conde Investigates #9)…
"Dressed in the grungy trappings of a crime drama, this literary tour-de-force from Padura offers a colorful cultural history of Cuba and the island's historical contact with Europe that helped to shape its people's religious beliefs . . . The author forges a wondrous connection between the past and present through his characters' faith in the statue's occult powers and through a vivid portrait of a decayed Havana, where vestiges of opulence glimmer in the ravages of time. Padura's novel will appeal equally to genre fans and lovers of literary thrillers."
—Publishers Weekly (starred review)

"The best detective novels, whether by Raymond Chandler or Henning Mankell, have long offered more about the societies that spawned them than casual readers digest (or possibly even care about), and Padura, by meticulous attention to detail and without preaching, is an expert in making the reader know what kind of life is possible in that bankrupt dictatorship . . . Padura reaches for an epic vision that transcends the mundane . . . Yet another rich novel by Cuba's master novelist." —J. Madison Davis, World Literature Today

"Padura, ably translated here by Anna Kushner, is successful sticking with Conde's hard-boiled, secretly terrified worldview . . . I admired the ambition."
—Sarah Weinman, New York Times
Farrar, Straus and Giroux, 9780374277956, 416pp.
Publication Date: June 15, 2021
About the Author
Leonardo Padura was born in Havana, Cuba, in 1955. A novelist, journalist, and critic, he is the author of several novels, two volumes of short stories, and several nonfiction collections. His novels featuring the detective Mario Conde have been translated into many languages and have won literary prizes around the world. The Man Who Loved Dogs was a finalist for the Book of the Year Award in Spain. Padura lives in Havana.

The daughter of Cuban exiles, Anna Kushner was born in Philadelphia and has been traveling to Cuba since 1999. In addition to The Black Cathedral and Call Me Cassandra, she has translated the novels of Norberto Fuentes, Leonardo Padura, Guillermo Rosales, and Gonçalo M. Tavares, as well as two collections of nonfiction by Mario Vargas Llosa.
or
Not Currently Available for Direct Purchase