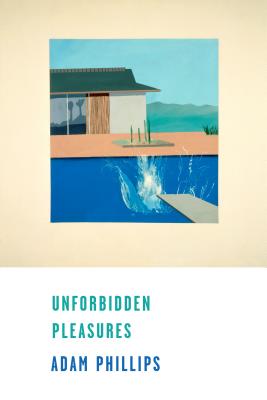 Unforbidden Pleasures
Rethinking Authority, Power, and Vitality
Hardcover

* Individual store prices may vary.
Other Editions of This Title:
Digital Audiobook (5/30/2016)
Paperback (5/9/2017)
MP3 CD (5/31/2016)
Compact Disc (5/31/2016)
MP3 CD (5/31/2016)
Compact Disc (5/31/2016)
Description
Much has been written of the forbidden pleasures. But what of the "unforbidden" pleasures?
Unforbidden Pleasures is the singular new book from Adam Phillips, the author of Missing Out, Going Sane, and On Balance. Here, with his signature insight and erudition, Phillips takes Oscar Wilde as a springboard for a deep dive into the meanings and importance of the unforbidden, from the fall of our "first parents," Adam and Eve, to the work of the great psychoanalytic thinkers.
Forbidden pleasures, he argues, are the ones we tend to think about, yet when you look into it, it is probable that we get as much pleasure, if not more, from unforbidden pleasures than from those that are taboo. And we may have underestimated just how restricted our restrictiveness, in thrall to the forbidden and its rules, may make us. An ambitious book that speaks to the precariousness of modern life, Unforbidden Pleasures explores the philosophical, psychological, and social dynamics that govern human desire and shape our everyday reality.
Praise For Unforbidden Pleasures: Rethinking Authority, Power, and Vitality…
"A dense, challenging, provocative meditation on morality and identity." —Kirkus Reviews
Phillips is . . . a bit like an Oliver Sacks of psychoanalysis, both affable and unalarmed. - Gail Caldwell, The Boston Sunday Globe
Phillips is one of the finest prose stylists in the language, an Emerson for our time. - John Banville
Britain's foremost psychoanalytic writer. - The New Yorker
"Phillips gives an illuminating account" --Catherine Humble, The Times Literary Supplement
"[Phillips] writes playfully and suggestively on a topic that tends to get written about in the most unliterary of languages. This attractive quality in his work—its inviting (and mildly paradoxical) combination of the provocative and the ambivalent—is evident from the very beginning of his new collection, Unforbidden Pleasures."---Mark O'Connell, New York Times Book Review
"This slim volume is rich in psychological, philosophical, and literary insight." —Publishers Weekly
"There is a prismatic quality to Adam Phillips's thought. Pour in some Oscar Wilde or Emerson, Kafka, or, most often, Freud, and watch the British writer and psychoanalyst's refractions multiply, mesh, and twist in kaleidescopic considerations"--Chris Wallace, Interview Magazine
"Curiously addictive" --The Millions
"It is a real pleasure to glide through philosophy, literature and psychoanalysis with Adam Phillips. Through his fine essays, one finds oneself paying attention to things that repay reflection without demanding allegiance to a new set of principles." —Michael S. Roth, The Washington Post


Farrar, Straus and Giroux, 9780374278021, 208pp.
Publication Date: May 17, 2016
About the Author
Adam Phillips is one of the foremost psychoanalysts practicing in the world today, and a visiting professor in the English department at the University of York. He is the author of many books, including On Kissing, Tickling, and Being Bored; and On Balance. He is also coauthor, with the historian Barbara Taylor, of On Kindness.
or
Not Currently Available for Direct Purchase