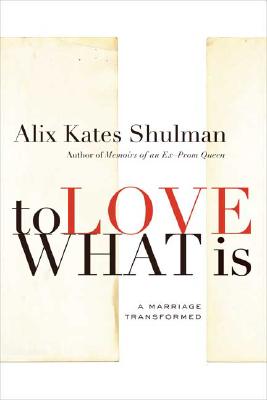 To Love What Is: A Marriage Transformed (Hardcover)
A Marriage Transformed
Farrar, Straus and Giroux, 9780374278151, 192pp.
Publication Date: September 16, 2008
* Individual store prices may vary.
or
Not Currently Available for Direct Purchase
Description
A personal story of crisis, commitment, and hope from the best-selling author of Memoirs of An Ex-Prom Queen One day it happens, the dreaded thing that will change your life forever, the more dreadful because, though you've half expected it, you don't know what form it will take or when it will come, and whether or not you will rise to the challenge. For Alix Kates Shulman, it happened on July 22, 2004, at two a.m. on a coastal Maine island in a remote seaside cabin with no electricity, running water, or road to reach it—where the very isolation that makes it a perfect artist's retreat renders it as risky as life itself. She woke to find that her beloved seventy-five-year-old husband had fallen the nine feet from their sleeping loft and was lying on the floor below, naked and deathly still. Though Scott would survive, he suffered an injury that left him seriously brain impaired. He was the same—but not the same. Each of us has imagined with dread the occurrence of just such an event outside our control that will permanently alter the course of our lives. In this elegant memoir, Shulman describes life on the other side: the ongoing anxieties and risks—and surprising rewards—she experiences as she reorganizes her world and her priorities to care for her husband and discovers that what might have seemed a grim life sentence to some has evolved into something unexpectedly rich.
Praise For To Love What Is: A Marriage Transformed…
"Alix Shulman's To Love What Is is a beautifully rendered portrait of a marriage and what happens when a freak accident leaves her husband impaired. Is it possible to make a medical nightmare exhilarating reading? Yes! Her story is by turns tender, wrenching and brutally honest as Shulman reflects on everything from the grim realities of hospital life to nurturing, to separation, to the exulting aspects of martial love. This is a brilliant book—a work of the mind and heart—a testimony to the resiliency of the human spirit." —Patricia Bosworth, author of Diane Arbus
"This remarkable book is both an elegy for a man who is gone--the Scott the author married—and a celebration of a man who exists--the Scott with whom she is left after he suffers a traumatic brain injury. It speaks openly and honestly and with exquisite poignancy about the durability of love, about how easy and how hard it is to compass a twilight passion."—Andrew Solomon, author of The Noonday Demon
"With the searing honesty and intelligence we've come to expect from Alix Kates Shulman,
To Love What Is
brings us into a new kind of love story, as moving as any I've ever read. I dare a reader not to have her knowledge of life deepened by this wonderful memoir." —Rebecca Goldstein, author of
Properties of Light
"Oh, how deeply I felt for this couple and this marriage, transformed in one devastating moment. Hope, fear, rage, guilt, the powerful endurance of love—it's all laid naked on the page, and every word rings true."—Martha Weinman Lear, author of
Heartsounds
"This is the story of great love forged when death almost parts you and then doesn't, a book that will take its place next to those slender volumes that become tattered and torn as I read and reread and reread, as if my own life depended on it.
To Love What Is
is Alix Kates Shulman's masterpiece."—Honor Moore, Author of
The Bishop's Daughter
"Alix Kates Shulman's
To Love What Is
is an extraordinary and important book, a unique love story as well as a moving and clear-eyed exploration of what it is like to live with a demented spouse. While there have been other remarkable accounts of life with a husband or wife who has Alzheimer's disease—a life which is never easy or predictable—these usually convey the tragic or elegiac sense of someone slipping away. But Shulman's husband, though he has lost so much of his memory and his once-brilliant intellectual powers, remains as loving, as empathic, as charming, as when they first met and fell in love, fifty years ago—for dementia and memory loss, which might seem so soul-destroying, can leave the
essential
person intact. Shulman, with elegance and deep insight, moves between the past and the present, which at first seem so painfully different, and magically unites them, reconciles them, bringing out the wholeness of the man and of the relationship between them, despite his losses.
To Love What Is
celebrates the deep resilience of self, and the power of a loving relationship, in the face of devastating brain damage." —Oliver Sacks
Advertisement