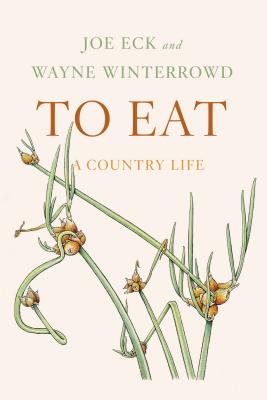 To Eat (Hardcover)
A Country Life
Farrar, Straus and Giroux, 9780374278328, 208pp.
Publication Date: June 11, 2013
Other Editions of This Title:
Paperback (6/10/2014)
* Individual store prices may vary.
Description
A memorable book about the path food travels from garden to table
A celebration of life together, a tribute to an utterly unique garden, a wonderfully idiosyncratic guide for cooks and gardeners interested in exploring the possibilities of farm-to-table living—To Eat is all of these things and more.
In 1974, Joe Eck and Wayne Winterrowd moved from Boston to southern Vermont, where they became the proprietors of a twenty-eight-acre patch of wilderness. The land was forested, overgrown, and wild, complete with a stream. Today, North Hill's seven carefully cultivated acres—open to visitors during the warmer months—are an internationally renowned garden.
In the intervening years, both the garden and the gardening books (A Year at North Hill, Living Seasonally, Our Life in Gardens) Eck and Winterrowd created together have been acclaimed in many forms, including in the pages of The New York Times. They were at work on To Eat—which also includes recipes from the renowned chef and restaurateur Beatrice Tosti di Valminuta and beautiful illustrations from their long-time collaborator Bobbi Angell—when Winterrowd passed away, in 2010.
Informative, funny, and moving, the delights within—a runaway bull; a recipe for crisp, fatty chicarrones; a personal history of the Egyptian onion; a hymn to the magic of lettuce—are sure to make To Eat a book readers return to again and again.
About the Author
Joe Eck, along with Wayne Winterrowd, is the co-author of The Year at North Hill: Four Seasons in a Vermont Garden and Living Seasonally: The Kitchen and the Table at North Hill. They are co-founders of the garden design firm North Hill, and live in Vermont.

Wayne Winterrowd was the author of books on gardening, including Roses: A Celebration, and a contributing editor of The Gardener. He also wrote frequently for Horticulture magazine. He and his partner, Joe Eck, were cofounders of the garden design firm North Hill, and together they wrote books including To Eat and Our Life in Gardens. Winterrowd died in 2010.

Bobbi Angell is the illustrator of To Eat.
Praise For To Eat: A Country Life…
"The vegetable garden at North Hill always enchants me, and therefore it is a particular pleasure to read of its bounty in this last collaboration between Joe and Wayne." —Page Dickey, author of Embroidered Ground
"To Eat: A Country Life, Joe Eck and Wayne Winterrowd's last book together (Winterrowd died in 2010), is an artful tribute to their 7-acre southern Vermont garden and their passion for raising, preparing and eating food together. Even lettuce becomes luxuriant in their exuberant and informative hands. Bobbi Angell's drawings and Beatrice Tosti di Valminuta's recipes, along with Eck and Winterrowd's elegant prose, take readers through the northern New England seasons, featuring one food per chapter. The book is seasoned with history, anecdotes and abundant practical advice, and with reverence for land and tradition: 'the deepest reward of a country life is that its deliberate embrace of a small conserving ethic opens one to the rhythms, values, habits and flavors of another time.' Whether or not you garden, To Eat is a vicarious pleasure." —Deb Baker, The Concord Monitor
"Part memoir, part cookbook, part gardening book, To Eat: A Country Life is a delight. Fans of the authors' previous books, among them A Year at North Hill: Four Seasons in a Vermont Garden and Our Life in Gardens, will find similar rewards in the latest offering in which educated musings on country life and growing tips are delivered in prose more akin to poetry and literature . . . They, and their writing, are to gardening what M.F.K. Fisher was to food: a revelation . . . The book brings both laughter and tears. The afterword is particularly solemn. Wayne Winterrowd died in 2010 in the middle of writing the book, and it will be the last joint effort by the pair. Loss, in life and in the garden, is a bitter truth." —Erinn Beth Langille, Macleans
"For foodies as much as for gardeners, this savory collection of anecdotes about farming is a testament to the joy and reward of labor and achievement … Authors Joe Eck and Wayne Winterrowd describe how they spent decades raising various crops in southern Vermont. They offer tips on soil as well as recipes for preparing fresh-grown food. It is hard not to appreciate beets or salivate over illustrator Bobbi Angell's descriptions of Winterrowd's blueberry pie." —Gary M. Kramer, Instinct Magazine
"These elegant reflections on gardening and the vegetables and fruits they grow, harvest, and eat over four seasons offer a joyous celebration of our connection to food and the Earth . . . Gardeners and cooks should have a copy of this book, beautifully illustrated by Bobbi Angell and with recipes by Beatrice Tosti de Valminuta, in their kitchens, next to their garden tools, or on their nightstands." —Publishers Weekly
"A pig named Morose, a bull called Hadrian, recipes for carrot cake and oxtail stew, the advantages of cold storage, and the appeal of cippolini onions. Such is the evidence of a life lived well and deliberately, a commitment Eck and his partner, Winterrowd, made early on in their 42-year personal and professional relationship. In this bittersweet memoir, Eck's preface reveals that Winterrowd died before the book was completed; the afterword should come complete with hankies. In between are endearing and educational glimpses into their gardening practices and gustatory preferences, their peripatetic journeys and permanent joys . . . Readers will delight in this exuberant paean to the pleasures and benefits of growing one's own food, elegiac homage to how Eck and Winterrowd celebrated the bounty such labors bestowed, and Eck's reflections on daily changes and seasonal challenges at Vermont's North Hill Farm. Eck and Winterrowd will inspire even the most reluctant gardeners to take steps to harvest a more rewarding life." —Carol Haggas, Booklist
"Here, the authors plant a lifetime of knowledge in this collection of short essays, each one focused on a different edible product of their land and labor. Far from the popular trend of urbanites-turned-farmers-turned-writers, however, Eck and Winterrowd bring more than 40 years of experience to the table, championing "the vital human need" to witness hard work and achievement united by dirt and patience. Unlike other textbook-dry treatises on the do's and don'ts of gardening, the writing here is as rich as dark soil. Mixed in with cultural and botanical histories of apples, asparagus and beets are practical tips and gardening secrets for the seasoned and beginner gardener alike. The authors colorfully render daily life with the companionship of pigs, hens and cows, and the home cook finds bounty here too; rare recipes, sourced from Italian grandmothers, first-century cookbooks and other corners of the authors' well-traveled lives, pepper the pages. Eck and Winterrowd celebrate good eating and good living with a kind of reverence reminiscent of Wendell Berry and a sensuality that evokes M.F.K. Fisher. Notably, Winterrowd died before the book's publication, and Eck's obvious grief and heartache strike a quiet but heavy chord. It's a memoir about falling in love continuously, season after season, and a lesson in caring tenderly for each other and the land. Full and fragrant, this book will satisfy the appetite of anyone with a taste for simple pleasures." —Kirkus
"A beautiful, passionately conceived memoir steeped in flora, fauna, and a cornucopia of fruits and vegetables, all cultivated with enduring love and tenderness." —Jim Piechota, The Bay Area Reporter
"An unusual and introspective guide to growing and cooking one's own food filled with anecdotes of [the authors'] remarkable journey back to the earth." —Amy J. Barry, The Day
"[To Eat is] a tribute to gardening and to knowing what's really on your plate . . . Partly a love letter to the earth, and partly a paean to good eating, To Eat is one of those delicious little books that, like a great meal, you'll want to savor. With the circumspection of veteran gardeners, New England authors Joe Eck and the late Wayne Winterrowd share their observations about growing plants, livestock, and together. I took great delight in their quietly humorous stories of being gentlemen farmers; if you're a gardener, you'll find solid tips in each quick-to-read chapter and if you're a gourmand, you'll drool at the recipes here, too. At just under two hundred pages, this book will last you through two or three quick lunches or meal-preps, and it may give you some new ideas. So grab To Eat and take a bite." —Terri Schlichenmeyer, Naples Daily News
"[To Eat is a] delightful discussion of various vegetables, poultry and animals on their North Hill Farm in Vermont. Included are several intriguing recipes. The book is filled with great advice--based on 30 years experience--for growing leeks, Meyer lemons, fingerling potatoes, Belgian endive, Egyptian onions and the more mundane but essential carrots, chard, radishes and cucumbers. It's a book you can savor chapter by chapter, visualizing a huge garden atop a Vermont hill nestled next to the chicken coop and the barn for the pigs and cattle." —Cheryl B. Wilson, Daily New Hampshire Gazette
or
Not Currently Available for Direct Purchase