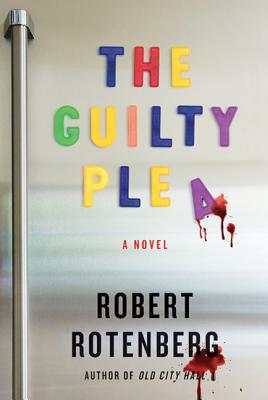 The Guilty Plea (Hardcover)
Farrar Straus Giroux, 9780374278496, 321pp.
Publication Date: July 5, 2011
* Individual store prices may vary.
or
Not Currently Available for Direct Purchase
Description
With "The Guilty Plea," a gripping sequel to the international bestseller "Old City Hall," Robert Rotenberg has delivered another sharp, suspenseful legal thriller with an explosive conclusion.
On the morning his high-profile divorce trial is set to begin, Terrance Wyler, the youngest son of Toronto's Wyler Food dynasty, is found stabbed to death in the kitchen of his luxurious home. Detective Ari Greene arrives minutes before the press and finds Wyler's four-year-old son asleep upstairs. Hours later, when Wyler's wife, Samantha, shows up at her lawyer's office with a bloody knife wrapped in a towel, the case looks like a straightforward guilty plea.
Instead, an open-and-shut case becomes a complex murder trial, full of spite and uncertainty. There's April Goodling, the Hollywood starlet with whom Terrance had a well-publicized dalliance, and Brandon Legacy, the teenage neighbor who was with Samantha the night of the murder. After a series of devastating cross-examinations, there's no telling where the jury's sympathies will lie.
As in "Old City Hall," Rotenberg's gift for twists and turns is always astonishing, but his true star remains the courtroom: the tension, disclosures, and machinations that drive this trial straight to its unpredictable verdict.
About the Author
Robert Rotenberg is the author of Old City Hall (Sarah Crichton Books, 2009). He is also one of Toronto's top lawyers, defending, as he likes to say, "everything from murder to shoplifting." He lives in Toronto with his wife and three children.
Praise For The Guilty Plea…
Praise for The Guilty Plea

"A few lawyers are really expert in managing cases—especially criminal cases—in the courtroom. A small percentage of these are very good at making trials come alive. Robert Rotenberg is one of the few, along with Scott Turow, David Baldacci, and John Lescroart. The Guilty Plea is a crackling good read. Plan to keep turning pages late into the night!" —F. Lee Bailey

"Smart and spellbinding. Puts you right in the shoes, and the lives, of lawyers caught up in a high-stakes murder trial. The best courtroom drama I've read, bar none, since Anatomy of a Murder." —Douglas Preston, coauthor of The Monster of Florence and Gideon's Sword

Praise for Old City Hall

"Old City Hall is a terrific look at contemporary Toronto." —Ian Rankin, author of The Complaints

"Breathtaking . . . A tightly woven spiderweb of plot and a rich cast of characters make this a truly gripping read. And of particular interest is the setting: Robert Rotenberg does for Toronto what Ian Rankin does for Edinburgh." —Jeffery Deaver, author of Edge

"The plot is chock full of atmospheric tension . . . Old City Hall has enough hidden motives and gumshoeing to make it a hard-boiled classic." —Nathaniel G. Moore, The Globe and Mail (Toronto)
Advertisement