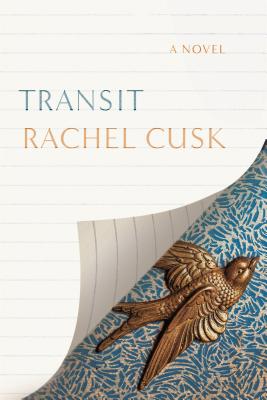 Transit
A Novel (Outline Trilogy #2)
Hardcover

* Individual store prices may vary.
Other Editions of This Title:
Paperback (12/19/2017)
Hardcover, Large Print (5/3/2017)
Compact Disc (5/2/2019)
MP3 CD (4/10/2018)
Description
National Bestseller • A Finalist for the Scotiabank Giller Prize • A Finalist for the Goldsmiths Prize • Longlisted for the International DUBLIN Literary Award • One of Time Magazine's Top 10 Fiction Books of the Year

A New York Times Book Review Notable Book • Named a Best Book of the Year by Time, The Guardian, BOMB Magazine, San Francisco Chronicle, Commonweal, Southern Living, NOW Magazine, The Washington Independent Review of Books, Book Depository, The Globe and Mail, and The National Post (Canada)

The stunning second novel of a trilogy that began with Outline, one of The New York Times Book Review's ten best books of 2015

In the wake of her family's collapse, a writer and her two young sons move to London. The process of this upheaval is the catalyst for a number of transitions—personal, moral, artistic, and practical—as she endeavors to construct a new reality for herself and her children. In the city, she is made to confront aspects of living that she has, until now, avoided, and to consider questions of vulnerability and power, death and renewal, in what becomes her struggle to reattach herself to, and believe in, life.

Filtered through the impersonal gaze of its keenly intelligent protagonist, Transit sees Rachel Cusk delve deeper into the themes first raised in her critically acclaimed novel Outline and offers up a penetrating and moving reflection on childhood and fate, the value of suffering, the moral problems of personal responsibility, and the mystery of change.

In this second book of a precise, short, yet epic cycle, Cusk describes the most elemental experiences, the liminal qualities of life. She captures with unsettling restraint and honesty the longing to both inhabit and flee one's life, and the wrenching ambivalence animating our desire to feel real.
Praise For Transit: A Novel (Outline Trilogy #2)…
"A work of stunning beauty, deep insight, and great originality . . . Transit is a slender novel that contains multitudes. It is a work of great ambition, beautifully executed, a worthy successor of the brilliant Outline." —Monica Ali, The New York Times Book Review

"Transfixing . . . A serious achievement . . . [Cusk's] writing offers the iron-rich pleasures of voice instead of style. Each sentence is drilled down, as with an auger . . . This writer never has to recover her aplomb because she never loses it." —Dwight Garner, The New York Times

"A reading journey you wish didn't have to end . . . Cusk gives us engrossing, probing conversations . . . Her prose is exquisitely precise . . . With its resonant comparisons between life and art (including literature) and its enjoyably varied, more tightly structured series of vignettes, Transit fills in the 'sketched-out form' Cusk introduced in Outline. Her narrator's ongoing odyssey toward finding her bearings in her new life is a journey worth following." —Heller McAlpin, NPR

"Alienating yet intimate, dreamlike yet grounded, slim yet substantial, delicate but fierce, Cusk's writing feels, exhilaratingly, unlike any other fiction being written these days." —Emily Donaldson, The Toronto Star

"Rachel Cusk is returning fiction to its roots in storytelling . . . Cusk's goal . . . [is] the establishment of a compelling, dreamlike language and worldview that are utterly her own." —Jamie Fisher, The Washington Post

"How much should we say, this novel asks, and when should we say it? To whom? In Cusk's case, a few words are enough to keep readers engrossed, waiting for more." —Jackie Thomas Kennedy, Minneapolis StarTribune

"Hypnotizing." —Laird Hunt, Los Angeles Times

"Arresting . . . Condensed, powerful . . . Cusk's technique is reminiscent of filmmaker Richard Linklater, who delights in showing how ordinary people talk to each other as they analyze their shared lives. Talk can have all the drama, suspense, surprise, and plot development of an action scene, but it takes skill to keep the tension high enough to make a scene in which nothing much happens, except for friends trying to manage their children long enough to have a civilized dinner, hit with the force of a car crash." —Jenny Shank, The Dallas Morning News

"Cusk writes in a cut-glass style that is elegant, austere, and disciplined . . . Yet this cool, balanced style is used to describe the hottest of feelings and the most destabilizing of experiences: moments of transit — getting divorced, renovating a house — the movement from one life to another." —Anthony Domestico, The Boston Globe

"Cusk's story-invention powers are so rich that the format feels as fresh the second time around as it did the first. It also hints at Cusk's extraordinarily precise orchestration of narrative effects." —Michael Upchurch, The Seattle Times

"In Transit, the second novel in the series, Cusk hones her new approach, which might be called stream of conversation-ness. She structures her minimalist plot as a jeweler affixes glittering gems in a necklace . . . The experience of reading Transit re-creates, with delicious adult sophistication, that wonderful sensation of being a child, staving off bedtime by requesting tale after tale . . . Cusk at her most brilliant, feminist best." —Miranda Purves, Elle

"In her effort to expose the illusions of both fiction and life, [Rachel Cusk] may have discovered the most genuine way to write a novel today." —Ruth Franklin, The Atlantic

"Outstanding . . . As always, Cusk's ear for language and dialogue is sharp; her characters speak about universal ideas, such as anxiety and lust. This marvelous novel continues the author's vivid exploration of the human condition." —Publishers Weekly, boxed, starred review

"Brave and uncompromising in its literary ambition, Transit is a work of cut-glass brilliance that quietly insists on the reader's thoughtful attention. One beautifully crafted sentence follows another." —Rebecca Abrams, The Financial Times

"Cusk is now working on a level that makes it very surprising that she has not yet won a major literary prize. Her technical originality is equaled by the compelling nature of her subject matter, and Transit is a very fine novel indeed." —Helen Dunmore, The Observer

"[Transit] is tremendous from its opening sentence . . . Cusk is always an exciting writer: striking and challenging, with a distinctive cool prose voice, and behind that coolness something untamed and full of raw force, even rash . . . she has developed a radically new novel form that works triumphantly . . . Transit steers with stylishness and grace between the low-lying truths and the significant dramas we compose for ourselves out of the accidents which befall us." —Tessa Hadley, The Guardian

"Transit is an extraordinary piece of writing—stunningly bold, original, and humane." —Joanna Kavenna, The Daily Telegraph

"Cusk's perspective on the human condition provokes and bewitches." —Sarah Begley, Time

"Cusk is one of the most lucid, powerful novelists working today, and Transit reflects her ability to make a profound impact with deceptively simple and always elegant prose." —Nylon

"[Transit] is a delightfully fun read. Cusk knows how to write a great novel, and this one satisfies on many levels . . . she is producing work that is beautifully refined." —Melissa Katsoulis, The Times (UK)

"Beneath [Transit's] placid surface, themes of displacement and the desire for transformation and authenticity rumble like small, violent earthquakes. It's also gruesomely funny: the final part, which describes a particularly poncey dinner party, is like something from a horror story. Strange, frightening and brilliant." —Clare Allfree, The Daily Mail

"Brilliantly written and structured, which is nothing new from this superlatively gifted writer." —Kirkus Reviews

"With the sparest prose, Cusk has again created an expertly crafted portrait in this distinctive novel about the fear and hope that accompany change, and one woman's quest to conquer them. A masterful second installment to a promising trilogy." —Cortney Ophoff, Booklist (starred review)
Farrar, Straus and Giroux, 9780374278625, 272pp.
Publication Date: January 17, 2017
About the Author
Rachel Cusk is the author of Outline, Transit, Kudos; the memoirs A Life's Work, The Last Supper, and Aftermath; and several other novels: Saving Agnes, winner of the Whitbread Award; The Temporary; The Country Life, which won the Somerset Maugham Award; The Lucky Ones; In the Fold; Arlington Park; and The Bradshaw Variations. She was chosen as one of Granta's 2003 Best of Young British Novelists. She lives in London.
1. Transit begins with an unnamed narrator describing an online solicitation for an astrological reading. What is her attitude toward the e-mail and the astrologer? Is it surprising that she purchases the reading? How does this turn out to be significant later in the book?
2. Transit is structured as a series of interactions between the narrator and people she comes in contact with as she transitions from a marriage and a comfortable life in a country house to life as a single mother in a rundown London flat. What do we know about her ex-husband and her marriage? How do each of the other characters contribute to her transition?
3. How would you describe the narrator? Is she compassionate? Frightened? Successful? Cruel? What kind of mother is she? Is she ready for the changes she is facing or is she in survival mode— simply doing her best to cope?
4. Who is Gerard? Do you think the narrator is fair in her description of him? Why did she leave him? How has he changed?
5. The narrator purchases a home in need of extensive renovation. Her downstairs neighbors live in squalor, while the people next door seem to be a happy family with an orderly and attractive home. What does the narrator mean when she observes: "It seemed so strange that these two extremes—the repellent and the idyllic, death and life—could stand only a few feet apart and remain mutually untransformed"? How is this motif repeated in other sections of the book—at the hair salon, the literary festival, her cousin's house in the country?
6. While the narrator is visiting Paula and John, her downstairs neighbors, she notices a large photograph of an attractive young woman, which she slowly recognizes as Paula. What possibilities might this suggest?
7. The narrator frequently describes a sense of unreality experienced by herself and others—a feeling of watching actors on a stage or of being an actor. "He knew all the actors—as soon as he went inside he became one of them," Gerard says of the people he and Diane lived with in Toronto. The narrator responds that her older son had told her that moving back to London "felt like he was acting a part in a play." What are other examples? What causes this sensation?
8. The idea of freedom comes up repeatedly. What are some of the ways freedom is described? What are its consequences? What does the narrator mean when she tells her cousin Lawrence that freedom "is a home you leave once and can never go back to"? When driving in heavy fog to visit him and his wife, why does she say that "the feeling of danger was merged with an almost pleasurable sense of anticipation, as though some constraint or obstruction was about to be finally torn down, some boundary broken on the other side of which lay release."
9. Would you describe Transit as a funny book? What are some comic elements?
10. What is the nature of the obsession the writing student Jane feels for the painter Marsden Hartley? What is it about his life that makes her identify with him and compels her to write about him? Does the narrator, her writing teacher, encourage or dissuade her?
11. What kind of person is the narrator's friend Amanda, who arrives late for coffee because her indoor sprinkler system went off and soaked everything in her house? How has her relationship with her boyfriend, Gavin, evolved? Compare her relationship with Gavin to that of other couples in the book. Does a point of view about love and commitment emerge?
12. The report the narrator receives from the online astrologer predicts that a specific day will be "of particular significance in the coming phase of transit." Does this prediction come true? What is the astrological meaning of "phase of transit"? How does it apply to the narrator's life?
13. The narrator describes several homes: her own, Amanda's, the workman Pavel's house in Poland, Paula and John's basement apartment, Gerard's flat, her cousin Lawrence's house in the country. What does each of these reveal about the people who live there? Does a nice house guarantee a good life? Why did the narrator choose to buy "a bad house in a good street"?
14. Why do we not learn the narrator's name—Faye—until late in the book? Why does it appear only once?
15. The last section is the longest and in many ways the most surreal. What are the elements that contribute to the unreality? What are the transitions, or "points of transit"? What is Faye feeling at the end?
or
Not Currently Available for Direct Purchase