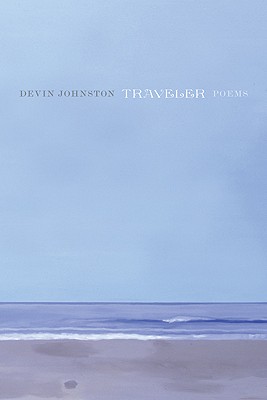 Traveler (Hardcover)
Farrar Straus Giroux, 9780374279332, 67pp.
Publication Date: August 30, 2011
Other Editions of This Title:
Paperback (2/19/2013)
* Individual store prices may vary.
Description
The poems in Devin Johnston's Traveler cross great distances, from the Red Hills of Kansas to the Rough Bounds of the Scottish Highlands, following weather patterns, bird migrations, and ocean voyages. Less literally, these poems move through translations and protean transformations. Their subjects are often next to nothing in several senses: cloud shadows racing across a valley before dusk, the predawn expectation of a child's birth, or the static-electric charge of clothing fabric. Throughout, Johnston offers vivid glimpses of the phenomenal world: "He describes objects with his hands and his eyes, noting texture, heft, and fit" (Boston Review). Equally, one finds a keen attention to sound in the patterning of subtle rhymes and rhythms, demonstrating "care and precision with line and pause" (Poetry).
About the Author
Born in 1970, Devin Johnston was raised in Winston-Salem, North Carolina. He is the author of three previous books of poetry; as well as two books of prose, including Creaturely and Other Essays, reflections on the natural world. He works as an editor for Flood Editions, a nonprofit publishing house, and teaches at Saint Louis University in Missouri.
Praise For Traveler…
Praise for Sources:

"Sparkling with energy and intelligence, these poems are like chips in a mosaic, spare, hard, precise, and with a classic humanity and grace." —David Malouf
Praise for
Traveler
:
"Traveler is Johnston's sixth book, and his fourth poetry collection, following Sources (2008), a finalist for the National Book Critics Circle award. Johnston writes in the long shadow of William Carlos Williams' dictum, "no ideas but in things," but Johnston proves words are things. He is not a dictionary poet, but readers will find that visits to the dictionary are rewarded. The title poem, about the migration of a Blackburnian warbler, includes "pinnate leaves." Pinnate means feather-shaped. So the coincidence of the bird arriving in Johnston's black walnut tree becomes consequential, an excess of meaning unearthed like a fossil from the sediments of English. Even if his subjects are prosaic, Johnston is not a poet of the quotidian: his closely observed poems find meaning at these nerve-endings of word and world. "Iona," the longest poem in the book, includes many uncommon words, as if new geography and geology opened new leaves of fine print. He is one of the finest craftsmen of verse we have." —Michael Autrey, Booklist (starred)
"Devin Johnston takes you with him when he goes down Route M or ambles along the shores of Iona, the sacred island. His anecdotal veneer is studded with a luxurious lexicon . . . Capturing the excitement of new places, Johnston paradoxically stirs up a sense of ease and belonging . . . Johnston pushes sound like few contemporary writers can or care to, producing tensile intensity in columns of lines that scan beautifully . . . Ultimately, Traveler is about life's passages and the quest for identity and community. This gifted wordsmith offers us a precious passport." —Jeffrey Cyphers Wright, The Brooklyn Rail
"This lovely book begins with a survey of land traversed then turns deftly toward the more mysterious journey of a child's birth and early years. A hospital monitor 'illuminates / the rugged range / of your estate, from deep crevasse / to trackless slopes.' Johnston's images and short lines might tempt some to label him a minimalist, but that would belie the richness of these poems' textures, their cunning rhymes and meters: 'across an ocean, / skimming foamy paragraphs of Ossian.' No matter where his gaze travels, Johnston evokes the world with the wonder it—and his book—deserves." —Dave Lucas, The Plain Dealer (Cleveland)
"There's much to delight in here . . .  The sense of reserve in Johnston's poems often serves them well: they are momentary stays against confusion, sensitive to their and our momentariness . . . Whether to ward off a psychotic trance or ride it out, they are worth following, if only to see where they may take us . . . It is good to travel with these poems." —Scott Challener, The Rumpus
or
Not Currently Available for Direct Purchase