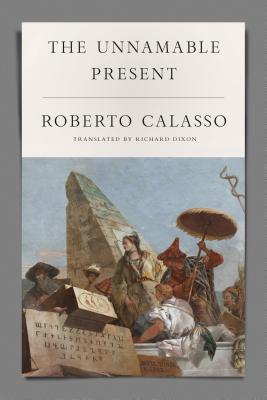 The Unnamable Present
Hardcover

* Individual store prices may vary.
Other Editions of This Title:
Paperback (7/21/2020)
Description
A decisive key to help grasp some of the essential points of what is happening around us.
The ninth part of Roberto Calasso's work in progress, The Unnamable Present, is closely connected with themes of the first book, The Ruin of Kasch (originally published in 1983, and recently reissued by FSG in a new translation). But while Kasch is an enlightened exploration of modernity, The Unnamable Present propels us into the twenty first century.
Tourists, terrorists, secularists, fundamentalists, hackers, transhumanists, algorithmicians: these are all tribes that inhabit the unnamable present and act on its nervous system. This is a world that seems to have no living past, but was foreshadowed in the period between 1933 and 1945, when everything appeared bent on self-annihilation. The Unnamable Present is a meditation on the obscure and ubiquitous process of transformation happening today in all societies, which makes so many previous names either inadequate or misleading or a parody of what they used to mean.
Translated with sensitivity by Calasso's longtime translator, Richard Dixon, The Unnamable Present is a strikingly original and provocative vision of our times, from the writer The Paris Review called "a literary institution of one."
Praise For The Unnamable Present…
"[A] tremendous achievement . . . in Mr. Calasso's kaleidoscopic series of investigations into the spiritual biography of the secular West. . . . Mr. Calasso is not a lecturer or a literalist. He does not write straightforwardly, but shuffles between ideas and episodes, treating all thought as contemporaneous. He handles the events of the past with the reverence of a priest, rather than the dispassion of a historian." --Dominic Green, The Wall Street Journal
"Deeply learned . . . a tour de force and among the most memorable things Calasso has written over the course of his series . . . Admirers of contemporary European literature and continental philosophy will find this engaging and provocative." —Kirkus
Farrar, Straus and Giroux, 9780374279479, 208pp.
Publication Date: April 9, 2019
About the Author
Roberto Calasso, publisher of Adelphi in Milan, is the author of many books, among them The Ruin of Kasch, The Marriage of Cadmus and Harmony, Ka, K., and Tiepolo Pink.