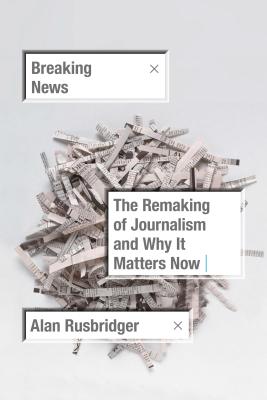 Breaking News
The Remaking of Journalism and Why It Matters Now
Hardcover

* Individual store prices may vary.
Other Editions of This Title:
Digital Audiobook (11/26/2018)
Paperback (12/31/2019)
Description
An urgent account of the revolution that has upended the news business, written by one of the most accomplished journalists of our time

Technology has radically altered the news landscape. Once-powerful newspapers have lost their clout or been purchased by owners with particular agendas. Algorithms select which stories we see. The Internet allows consequential revelations, closely guarded secrets, and dangerous misinformation to spread at the speed of a click.
In Breaking News, Alan Rusbridger demonstrates how these decisive shifts have occurred, and what they mean for the future of democracy. In the twenty years he spent editing The Guardian, Rusbridger managed the transformation of the progressive British daily into the most visited serious English-language newspaper site in the world. He oversaw an extraordinary run of world-shaking scoops, including the exposure of phone hacking by London tabloids, the Wikileaks release of U.S.diplomatic cables, and later the revelation of Edward Snowden's National Security Agency files. At the same time, Rusbridger helped The Guardian become a pioneer in Internet journalism, stressing free access and robust interactions with readers. Here, Rusbridger vividly observes the media's transformation from close range while also offering a vital assessment of the risks and rewards of practicing journalism in a high-impact, high-stress time.
Praise For Breaking News: The Remaking of Journalism and Why It Matters Now…
"The brilliant Breaking News is essential – and entertaining – reading for anyone who cares a whit about the hallmark of a democratic state being more than a lavatory wall." —Harold Evans, The Guardian
"An absorbing journalism memoir by an editor who played a role in some of the biggest investigative stories of our time, including the revelations about U.S. government surveillance disclosed by Edward Snowden . . . The portrait of Rusbridger that emerges is that of the rarest of newsroom species—someone with genuine bona fides as a journalist and an unassailable commitment to the profession's enduring values who also possesses the curiosity, nimbleness of mind, and openness to change necessary to navigate the relentless, shape-shifting challenges that lie ahead for media companies today." —Michael Luo, The New Yorker
"[Rusbridger's] painstaking account is fascinating, even for those of us who lived both the peril and the promise. The rapid technology changes, collapsing business model, 9/11, media convergence, paywall wars, dawn of social media, rise of the 'citizen journalist' and more are here valuably detailed by a gifted reporter focused on the story of his own profession . . . The confidence and skill with which Rusbridger asserted his leadership, at times under government and legal pressure, sound an almost nostalgic note for an era when the sole job of a talented editor was to be an editor." —Anne Marie Lipinski, The New York Times Book Review
"An engaging memoir . . . We love a good newspaper yarn, and Rusbridger provides a dandy." —Robert Kaiser, Financial Times
"When Rusbridger, considered by many to be the most consequential British newspaper editor of his time, chooses to share this gloomy prognosis, it seems to me it's our collective responsibility to seriously ponder his story and his conclusions . . . eloquently told." —Marvin Kalb, The Washington Post
"Through this fascinating inside account, each chapter worthy of its own book, Rusbridger discusses how [The Guardian] adopted new ways to publish to the internet and smartphones, as well as libel suits, Wikileaks, Edward Snowden and the experience of other news outlets. A must for anyone concerned with the state of journalism today. " —Library Journal
"Rusbridger . . . shows us continually in his lucid and sometimes-alarming text that technological and cultural changes have occurred so rapidly that newspapers barely had time to inhale before their centuries-old institutions began to crumble, then to reassemble into something quite unrecognizable only a generation ago. . . . He highlights the questions that the traditional media were asking themselves: Should we charge readers for online access? How much? And how? (Rusbridger tells us of plans that worked and others that failed.)" —Kirkus Reviews
"Rusbridger's Breaking News: The Remaking of Journalism and Why It Matters Now is a vivid and compelling insider's account of how he and other journalists, including those in the United States, coped with [technological] changes . . . Breaking News details how The Guardian managed to land major scoops, including the truth about phone hacking perpetrated by London tabloids and the disclosure of U.S. diplomatic cables . . . [An] important memoir of a great editor's experience." —Roger Bishop, BookPage
Farrar, Straus and Giroux, 9780374279622, 464pp.
Publication Date: November 27, 2018
About the Author
Alan Rusbridger has been the editor of The Guardian since 1995. Born in Northern Rhodesia, he was educated at Cambridge and now lives in London. New York magazine calls him a "global celebrity." He is the author of Play It Again.