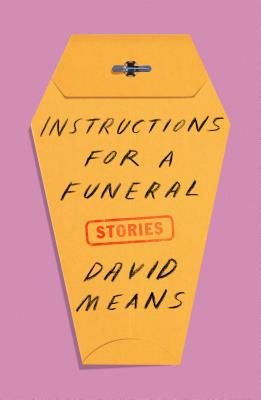 Instructions for a Funeral
Stories
Hardcover

* Individual store prices may vary.
Other Editions of This Title:
Digital Audiobook (4/22/2019)
Paperback (3/31/2020)
Description
"Poetic, insightful, and deeply moving. David Means is one of my very favorite writers." —Tara Westover, author of Educated

Following the publication of his widely acclaimed, Man Booker-nominated novel Hystopia, David Means here returns to his signature form: the short story. Thanks to his four previous story collections, Means has won himself an international reputation as one of the most innovative short fiction writers working today: an "established master of the form." (Laura Miller, The Guardian). Instructions for a Funeral—featuring work from The New Yorker, Harper's, The Paris Review, and VICE—finds Means branching out beyond the explorations of violence and trauma with which he is often identified, prominently displaying his sly humor and his inimitable way of telling tales that deliciously wind up to punch the reader in the heart. With each story Means pushes into new territory, writing with tenderness and compassion about fatherhood, marriage, a homeless brother, the nature of addiction, and the death of a friend at the hands of a serial-killer nurse. Means transmutes a fistfight in Sacramento into a tender, life-long love story; two FBI agents on a stakeout in the 1920s into a tale of predator and prey, paternal urges and loss; a man's funeral instructions into a chronicle of organized crime, real estate ventures, and the destructive force of paranoia.

Means's work has earned him comparisons to Flannery O'Connor, Alice Munro, Sherwood Anderson, Denis Johnson, Edgar Allan Poe, Anton Chekhov, and Raymond Carver but his place in the American literary landscape is fully and originally his own.

"David Means is a master of tense, distilled, quintessentially American prose. Like any artist who has finely honed his talent to its strongest expression he is a brilliant craftsman whose achievement is to appear unstudied, even casual . . . Each story by Means which I have read is unlike the others, unexpected and an unnerving delight." —Joyce Carol Oates
Praise For Instructions for a Funeral: Stories…
"[David] Means extends the profound empathy of his attention to those who need it most, even if they deserve it least, which must be why he writes so often about adulterers, criminals and teenagers. Like Flannery O'Connor, Means senses that beneath every act of violence there pulses a vein of grace, a redemptive potential yearning to be tapped . . . Instructions for a Funeral is both sweeping and narrow, panoramic and fragmentary, possessed, as Means writes in [his story] 'The Ice Committee,' by 'a gloriously full understanding, fractured to shards." —Justin Taylor, The New York Times Book Review

"Mr. Means's pared-back stories attempt to distill memory to its essence so that it recaptures the sensation of immediacy . . . cool, precise [and] expert." —Sam Sacks, The Wall Street Journal

"David Means's latest collection . . . confirms his standing as a master of the form . . . Means has established a voice—rigorous and dense and conversational by turns—that is among the most distinctive and affecting in contemporary American fiction . . . The crafted ironies of these stories often put you in mind of the modern American greats of the form, including Raymond Carver, Richard Ford and Tobias Wolff." —Tim Adams, The Observer

"It's always an event when one of the country's best short-story writers—in this case someone who took a break to write a wild, powerful novel (the Man Booker–nominated Hystopia)—returns to the form. Here, in his fifth story collection, [David] Means eases up on the violence and shock to score more intimate gut-punches, plumbing everything from parental estrangement to looming death." —Boris Kachka, Vulture

"For 30 years, Means has examined the ways in which violence embeds trauma that warps the American character. This superb new collection covers similar geographic, characterological, and thematic ground, yet finds Means at his most compassionate and mischievous . . . Means spins intricate, highly textured yarns with great artistry, care, and an acute, empathetic eye. Treasures abound." —Publishers Weekly (starred review)

"[David] Means' fifth collection cements his reputation as one of the finest, and most idiosyncratic, practitioners of short fiction in contemporary literature . . . In this magnificent book, we find the stories of every one of us: absent and present, dislocated and connected, at the mercy of our history, our narratives." —Kirkus Reviews (starred review)

"With his debut novel, Hystopia, [David] Means proved he is a gifted long-form storyteller. But his followup, his fifth story collection since 1991, affirms his position as one the best story writers of his generation. His sinewy, digressive prose moves seamlessly in and out of dreams, memories, and anticipation, defying time and forming riveting meditations on longing and regret." —Jonathan Fullmer, Booklist (starred review)

"[David] Means's last publication, Hystopia, was a Booker-nominated novel, but he is still best known for his short stories. Instructions for a Funeral is therefore a return to (the short story) form, 14 pieces, previously published in the New Yorker, Harpers, The Paris Review, and VICE, that display the intelligence and questing range for which Means is known. From a fistfight in Sacramento to a 1920s FBI stakeout in the midwest, Instructions for a Funeral invites readers on a literary journey with a master of the modern short story." —The Millions
Farrar, Straus and Giroux, 9780374279813, 208pp.
Publication Date: March 5, 2019
About the Author
David Means was born and raised in Michigan. He is the author of five short-story collections, including Instructions for a Funeral, The Spot (a New York Times notable book of the year), Assorted Fire Events (winner of the Los Angeles Times Book Prize for Fiction), and The Secret Goldfish, and of the novel Hystopia (long-listed for the Man Booker Prize). His stories have appeared in The New Yorker, Harper's Magazine, The Best American Short Stories, The Best American Mystery Stories, The O. Henry Prize Stories, and other publications. The recipient of a Guggenheim Fellowship in 2013, Means lives in Nyack, New York, and teaches at Vassar College.
or
Not Currently Available for Direct Purchase