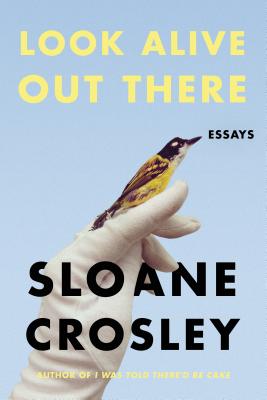 Look Alive Out There
Essays
Hardcover

* Individual store prices may vary.
Other Editions of This Title:
Digital Audiobook (4/2/2018)
Paperback (4/2/2019)
CD-Audio (4/3/2018)
Description
Named a Most Anticipated Book of 2018 by Entertainment Weekly, Glamour, Buzzfeed, Elle, Cosmopolitan, The Millions, InStyle, Bustle, BookRiot, and Southern Living

Sloane Crosley returns to the form that made her a household name in really quite a lot of households: Essays!

From the New York Times–bestselling author Sloane Crosley comes Look Alive Out There—a brand-new collection of essays filled with her trademark hilarity, wit, and charm. The characteristic heart and punch-packing observations are back, but with a newfound coat of maturity. A thin coat. More of a blazer, really.

Fans of I Was Told There'd Be Cake and How Did You Get This Number know Sloane Crosley's life as a series of relatable but madcap misadventures. In Look Alive Out There, whether it's scaling active volcanoes, crashing shivas, playing herself on Gossip Girl, befriending swingers, or staring down the barrel of the fertility gun, Crosley continues to rise to the occasion with unmatchable nerve and electric one-liners. And as her subjects become more serious, her essays deliver not just laughs but lasting emotional heft and insight. Crosley has taken up the gauntlets thrown by her predecessors—Dorothy Parker, Nora Ephron, David Sedaris—and crafted something rare, affecting, and true.

Look Alive Out There arrives on the tenth anniversary of I Was Told There'd be Cake, and Crosley's essays have managed to grow simultaneously more sophisticated and even funnier. And yet she's still very much herself, and it's great to have her back—and not a moment too soon (or late, for that matter).
Praise For Look Alive Out There: Essays…
A Washington Post Notable Nonfiction Book of 2018
A New York Public Library Best Nonfiction Book of 2018
An Esquire Best Book of 2018
A Real Simple Best Book of 2018
A Refinery29 Best Book of 2018
A Vulture Top Ten Best Comedy Book of 2018
A BookRiot Best Comedy Book of 2018
Semifinalist for Goodreads Best Humor Book Award


"Whether she's spying on a neighbor's kid, crashing a shiva, or freezing her eggs, Crosley toggles effortlessly between hilarity and heartbreak." —Glamour

"Crosley wields her wit and commands all of your attention in her third collection of insightful and hilarious personal essays." —Esquire

"Crosley's best essays combine her sparkling verbal facility with a willingness to expose and explore more personal issues...She has that rare ability to treat scrapes with sardonic humor and inject serious subjects with levity and hijinks with real feeling — a sort of unlicensed nurse to our souls." —NPR

"Crosley's third and brand-new essay collection Look Alive Out There surfaces the author's trademark propensity for fish-out-of-water knee-slappers and their concurrent interrogations of belonging." —Hazlitt

"[Crosley] offers us a must-read once more." —Timeout

"By the standards of posterity, personal essays may be the genre with the highest bar...Her third time out, after a break to write the warm and witty novel The Clasp, Crosley seems poised to make the leap...Crosley reemerges a wiser—but still often hilarious—observer of city life and human nature." —Vulture

"The brilliant and ever-relatable Sloane Crosley... is back in this new book of hilarious and heartfelt essays... Full of humor and insight, Look Alive Out There is a must-read collection from one of the true modern masters of the form." —Bustle

"For those familiar with her work, this latest collection demonstrates the same keen appreciation of the absurd; it's a welcome reminder that comedy can found in unlikely places (life lessons, too)." —Omnivoracious

"The essays [in Look Alive Out There] are notable not just for their ability to scrutinize a very micro or abstract aspect of life, but for being genuinely funny—not clever, not cute, not playful, funny. This combination of literariness and comedy makes Crosley one of the few living essayists to be designated as a humor writer." —Splitsider

"Are you biding your time, waiting for the next David Sedaris book to be released? No need. Sloane Crosley's latest collection of essays possesses the same sardonic wit and keen appreciation of the absurd; it's as good a time as any to be reminded that everyday life is full of great comedy." —Business Insider

"[S]o what if you don't read Crosley's essays for universal human truths? Read them because, when life is like a long drive on I-80 west of Omaha, you want a clever, funny friend along for the ride." —Star Tribune

"Look Alive Out There is a delightful collection of hilarious essays that manage, in some cases, to point to relatable life lessons. It's equally smart, creative and hilarious." —Associated Press

"If you love Sloane Crosley, you'll devour her new book of essays. And if you haven't read her before, well, allow us to introduce you to your new favorite writer. Look Alive Out There comes on the 10th anniversary of I Was Told There'd Be Cake and is proof that Crosley is wittier and more relatable than ever." —Hello Giggles

"Whether she's guest starring on Gossip Girl, battling loud teenaged neighbors or trespassing with newfound hippie friends in Northern California, Crosley knows how to tell a story with humor and a healthy dose of humanity." —Madewell Musings

"[Crosley]... derives thought-provoking prose and social commentary from each essay while never failing to provide her signature charm and insight. She effortlessly manages to balance both the poignant and the funny, and consistently delivers one-liners that will make you laugh out loud and think critically long after reading." —BookReporter.com

"A marvel . . . The latest collection from the Manhattan-based essayist suggests she can write engagingly about nearly anything . . . All [the essays] work on multiple levels and all are sharply written, as Crosley continues to extend her impressive range."—Kirkus (starred review)

"[Crosley] continues her tradition of hilarious insight into the human condition . . . [she] is exceedingly clever and has a witticism for all occasions, but it is her willingness to confront some of life's darker corners with honesty and vulnerability that elevates the collection." —Publishers Weekly (starred review)

"Crosley's writing crackles with wit and humanity. Look Alive Out There reaffirms her place as one of the most generous essayists writing today." —BookPage

"Laugh-out-loud funny seems too trite a phrase for a writer whose takes are so addictively original and unexpected, but it's also true: dear readers, you will laugh. Whether 2 or 20 pages in length, Crosley's essays are complete and stop-you-in-your-tracks clever." —Booklist (starred review)

"Sloane Crosley does the impossible. She stays consistently funny and delivers a book that is alive and jumping." —Steve Martin
MCD, 9780374279844, 256pp.
Publication Date: April 3, 2018
About the Author
Sloane Crosley is the author of the New York Times bestsellers I Was Told There'd Be Cake (a Thurber Prize finalist) and How Did You Get This Number. A frequent contributor to The New York Times, she lives in Manhattan.
or
Not Currently Available for Direct Purchase