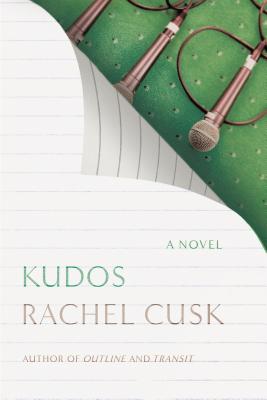 Kudos
A Novel (Outline Trilogy #3)
Hardcover

* Individual store prices may vary.
Other Editions of This Title:
Digital Audiobook (5/30/2018)
Paperback (4/2/2019)
Compact Disc (1/7/2020)
Library Binding, Large Print (9/5/2018)
MP3 CD (9/25/2018)
Description
New York Times 100 Notable Books of 2018 • Amazon Editors' Top 100 of 2018

Rachel Cusk, the award-winning and critically acclaimed author of Outline and Transit, completes the transcendent literary trilogy with Kudos, a novel of unsettling power.

A woman writer visits a Europe in flux, where questions of personal and political identity are rising to the surface and the trauma of change is opening up new possibilities of loss and renewal. Within the rituals of literary culture, Faye finds the human story in disarray amid differing attitudes toward the public performance of the creative persona. She begins to identify among the people she meets a tension between truth and representation, a fissure that accrues great dramatic force as Kudos reaches a profound and beautiful climax.

In this conclusion to her groundbreaking trilogy, Cusk unflinchingly explores the nature of family and art, justice and love, and the ultimate value of suffering. She is without question one of our most important living writers.
Praise For Kudos: A Novel (Outline Trilogy #3)…
Named a Best Book of the Year by The New York Times, The New Yorker, Vulture (New York), Bustle, Buzzfeed News, Flavorwire, The Guardian, Financial Times, the Times Literary Supplement, and The New Statesman

"Precise and haunting . . . Unforgettable." —Jenny Offill, The New York Times

"[Cusk] has achieved something both radical and beautiful . . . [Kudos is] a book about failure that is not, in itself, a failure. In fact, it is a breathtaking success." —Katy Waldman, The New Yorker

"Kudos achieves a kind of formal perfection. Rarely does a single word of its exceptionally polished prose seem out of place . . . Cusk has triumphed in the completion of this masterly trilogy." —Sally Rooney, Slate

"[Cusk] has that ability, unique to the great performers in every art form, to hold one rapt from the moment she appears . . . A stark, modern, adamantine new skyscraper on the literary horizon." —Dwight Garner, The New York Times

"This important trilogy, then, through its eloquent polyphony of voices and opinions, arrives at an idea of feminist art in opposition to the confessional mode that has long been in ascendance. Ms. Cusk's tools are ambivalence and elusiveness—or, to rearrange James Joyce's terms of independence: exile, cunning and silence." —Sam Sacks, The Wall Street Journal

"[Kudos] stayed with me long after I had finished it. Composed of a series of conversations, it is captivating and incredibly well written." —Elif Shafak, The Guardian (Best Books of 2018)

"These crystalline and exquisitely elliptical works have helped define the genre of autofiction . . . Coolly detached, narcotically gorgeous . . . Like all great art, this novel consistently eludes us in leaps of grace and daring . . . Modern life has rarely been articulated with such compression and epigrammatic precision. These are texts, finally, to read and revisit, lean, oracular, irreducible." —Dustin Illingworth, Los Angeles Times

"With the release of Kudos, these three novels can now be appreciated—and will surely be looked back on—as one of the literary masterpieces of our time." —Sebastian Smee, The Washington Post

"Every element of the [Outline] novels conveys a strenuous sense of discipline. The effect is of watching an oracle divine fearsome and inscrutable truths from on high, then render them into stories fit for mortals . . . Mesmerizing." —Jordan Larson, The Cut (New York)

"The exhilarating finale of Rachel Cusk's magnificently unclassifiable trilogy of novels . . . With her typical acerbic wit, Ms Cusk skewers the pretensions of the literary world while simultaneously upholding the intrinsic value of literature—no small feat . . . A daring bonfire of hypocrisies and emotions." —The Economist

"Cusk commandeers reality . . . An object lesson in rigor, elegance, and fury." —Merve Emre, Harper's

"High-stakes and bracingly compelling . . . Cusk's brilliantly reasoned argument against the false security of narrative continues to hit a nerve." —Megan O'Grady, Vogue

"Quietly staggering and intellectually entrancing . . . [Cusk's] writing is silvery and precise, navigated by elegant syntax that steers its speaker towards revelations of great depth . . . These novels are among the most important written in this century so far." —Martha Schabas, The Globe and Mail

"A triumphant finish to an ambitious, unconventional trilogy cements Cusk's position as one of today's most original fiction writers. The charged delicacy of these books is underpinned by what is sure to be their durability as literature." —Emily Donaldson, The Toronto Star

"The darkly stirring conclusion to the acclaimed Outline trilogy." —O Magazine

"Cusk's style—precise and unsentimental—is transfixing and consuming." —Lit Hub

"Brilliantly aware without being indulgent or preachy, this novel has the intense beauty of form that has marked Cusk's trilogy from the beginning, and the final installment does not disappoint." —Booklist (starred review)

"Cusk's final book in a trilogy (after Outline and Transit) expertly concludes the story of protagonist Faye . . . As always, Cusk's ear for dialogue and language is stunning. The author ends Faye's trilogy with yet another gem." —Publishers Weekly (starred, boxed review)

"Brilliantly accomplished and uncompromisingly dark." —Kirkus (starred review)

"Does [Kudos] live up to its title? In short, unequivocally. Despite their ostensible uniformity, each of the three volumes delights in a different way. Outline dazzled with its intrepid originality, while the low hum of violence that ran through Transit had a mesmeric quality, and now Kudos, which builds to a sparkling crescendo, thrills at its own more serene tempo. Regarded as a whole, it's a tour de force of a trilogy." —Lucy Scholes, Financial Times (London)

"Cusk has glimpsed the central truth of modern life . . . She moves through it as a blasted centre full only of instinct and superhuman hearing and hackles . . . The three novels blend together, and not to their detriment. Their of-a-wholeness is why they are so often referred to as 'a project'. And the pleasure of this project is a rare one: it is the pleasure of a person figuring out exactly what she ought to be doing." —Patricia Lockwood, London Review of Books

"Kudos is an education . . . [Cusk] has found, in this cool and collected new mode, a mature voice that looks abstract yet feels intimate and brightly present . . . Cusk has inherited the gift of holding our attention as she shows us the things that humans do." —Melissa Katsoulis, The Times (London)

"This is a novel of ideas, intelligent, original in form and content, and brilliantly engaging . . . Kudos is rich and compelling. It confirms Rachel Cusk's status as one of the most interesting contemporary writers—avant-garde, highly original, challenging but entirely accessible." —Eilis Ni Dhuibhne, The Irish Times

"[Cusks's trilogy is] likely to live on, inflecting our thoughts, offering an experience that feels closer to thinking than to reading." —Lara Feigel, The Times Literary Supplement

"Cusk has found a new way to say the things she has always said: quieter, but to devastating effect." —Katie Law, Evening Standard (London)

"The [Outline] trilogy is a bravura interrogation of the social habits and assumptions that, assembled together, start to look suspiciously like a man's world in which women just so happen to live . . . [Outline, Transit, and Kudos] stand as a landmark in 21st-century English literature, the culmination of an artist's unshakable efforts to forge her own path." —Andrew Anthony, The Guardian (London)
Farrar, Straus and Giroux, 9780374279868, 240pp.
Publication Date: June 5, 2018
About the Author
Rachel Cusk is the author of Outline, Transit, and Kudos; the memoirs A Life's Work, The Last Supper, and Aftermath; and several other novels, including Saving Agnes, winner of the Whitbread Award; The Country Life, which won the Somerset Maugham Award; Arlington Park; and The Bradshaw Variations. She was chosen as one of Granta's 2003 Best of Young British Novelists. She lives in London.
or
Not Currently Available for Direct Purchase