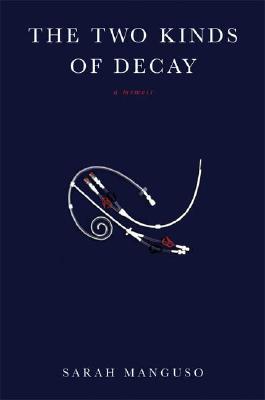 The Two Kinds of Decay (Hardcover)
A Memoir
Farrar, Straus and Giroux, 9780374280123, 192pp.
Publication Date: May 27, 2008
Other Editions of This Title:
Paperback (5/26/2009)
Hardcover (2/1/2011)
Paperback (2/1/2012)
* Individual store prices may vary.
Description
The events that began in 1995 might keep happening to me as long as things can happen to me. Think of deep space, through which heavenly bodies fly forever. They fly until they change into new forms, simpler forms, with ever fewer qualities and increasingly beautiful names.

There are names for things in spacetime that are nothing, for things that are less than nothing. White dwarfs, red giants, black holes, singularities.

But even then, in their less-than-nothing state, they keep happening.


At twenty-one, just starting to comprehend the puzzles of adulthood, Sarah Manguso was faced with another: a wildly unpredictable disease that appeared suddenly and tore through her twenties, vanishing and then returning, paralyzing her for weeks at a time, programming her first to expect nothing from life and then, furiously, to expect everything. In this captivating story, Manguso recalls her nine-year struggle: arduous blood cleansings, collapsed veins, multiple chest catheters, the deaths of friends and strangers, addiction, depression, and, worst of all for a writer, the trite metaphors that accompany prolonged illness. A book of tremendous grace and self-awareness,
The Two Kinds of Decay
transcends the very notion of what an illness story can and should be.
Praise For The Two Kinds of Decay: A Memoir…
"Here is a beautiful, brave memoir that takes us into the heart of a young woman's illness, its pains and terrors and mysteries, yet leads us somehow into brightness. For all its clinical precision of the physical, The Two Kinds of Decay is one of the most movingly humane books I have read in a long time; it is a hard-earned vision of life, every word grounded in both body and soul. Sarah Manguso is a brilliantly talented writer, and this is a book not to be missed."—John Burnham Schwartz
"If art can be described as the paths one takes toward some form of compassion, this distilled and luminous book offers us one such a map. An exploration of a body at a particular moment in its history, narrated by an unsparing yet appealing consciousness, The Two Kinds of Decay brings the reader to a place of grace and compassion that is absolutely breathtaking." —Nick Flynn
"At the white-hot center of this book burns the intelligence and wit of Sarah Manguso, one of the most brilliantly talented writers at work today. She is a clear-eyed visionary, a connoisseur of the penetrating declarative, an unsentimental chronicler of the horrifying insult of illness and of the desires that drive us headlong into adulthood. With a poet's brevity, with riveting narrative energy, with searing insight and compassion, Manguso leads us into hell and back again; every step of the way, there's the thrill of knowing we're in the hands of a new literary master." —Julie Orringer, author of How to Breathe Underwater
"In
The Two Kinds of Decay
, Sarah Manguso has miraculously elevated the act of memory. She has found honesty, fear, longing and beauty in every moment of her young life, giving this book an intensity found nowhere else. You put it down panting with wonder and grief, but never with pity. A breakthrough in the memoir, and in writing."
—
Andrew Sean Greer
or
Not Currently Available for Direct Purchase