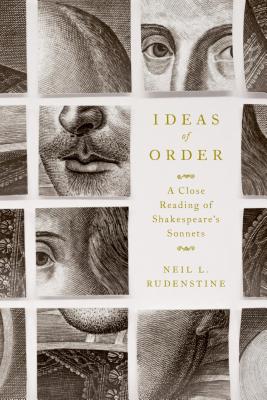 Ideas of Order (Hardcover)
A Close Reading of Shakespeare's Sonnets
Farrar, Straus and Giroux, 9780374280154, 256pp.
Publication Date: November 18, 2014
Other Editions of This Title:
Paperback (11/24/2015)
* Individual store prices may vary.
Description
Shakespeare's sonnets are the greatest single work of lyric poetry in English, as passionate and daring as any love poems we may ever encounter, and yet, they are often misunderstood. Ideas of Order: A Close Reading of Shakespeare's Sonnets reveals an underlying structure within the 154 poems that illuminates the entire work, and provides a guide—for first-time readers as well as scholars—that inspires a new understanding of this complex masterpiece. Elizabethan scholar and former Harvard University president Neil L. Rudenstine makes a compelling case for the existence of a dramatic arc within the work through an expert interpretation of distinct groups of sonnets in relationship to one another. The sonnets show us a poet in turmoil whose love for a young man—who returns his affections—is utterly transformative, binding him in such an irresistible way that it survives a number of infidelities. And the poet and the young man are drawn in to a cycle of lust and betrayal by a "dark lady," a woman with the "power to make love groan."
Rudenstine's reading unveils the relationship between major groups of poems: the expressions of love, the transgressions, the longings, the jealousies, and the reconciliations. This critical analysis is accompanied by the text of all of Shakespeare's sonnets. Accessible and thought-provoking, Ideas of Order is an invaluable companion to this cornerstone of literature.
About the Author
Neil L. Rudenstine graduated from Princeton University (1956), was a Rhodes Scholar at Oxford, earned his PhD in English Literature at Harvard, and remained on Harvard's faculty until 1968. After two decades as Professor, Dean, and Provost at Princeton, he was President of Harvard University from 1991 to 2001. He is currently a trustee of the Barnes Foundation and is chair of the boards of ARTstor, the New York Public Library, the Rockefeller Archive Center, as well as vice-chair of the board of the J. Paul Getty Trust. His several books include Sidney's Poetic Development; English Poetic Satire (with G.S. Rousseau); In Pursuit of the PhD (with W. G. Bowen); Pointing Our Thoughts; and the recently completed The House of Barnes: The Man, The Collection, The Controversy. He lives in New Jersey.
Praise For Ideas of Order: A Close Reading of Shakespeare's Sonnets…
"Ideas of Order is a superb guide to the preeminent sequence of lyric poems in the English language.Neil L. Rudenstine is a famously gifted close-reader, wonderfully alert to nuances of tone and meaning in each individual sonnet, but his great achievement in this book is to illuminate the irony, poignancy, and wisdom of Shakespeare's whole astonishing structure." —Stephen Greenblatt, author of The Swerve and Will in the World
"It would take a special skill . . . to bring this cycle of poems to life for modern readers, but Neil Rudenstine has done just that in Ideas of Order . . . Rudenstine, a professor of English and later president of Harvard University, offers sensible and engagingly written explications. " —Barton Swaim, The Wall Street Journal
"With Neil Rudenstine's extraordinarily perceptive and careful reading of Shakespeare's sonnets, we experience the immense pleasure of the poetry's drama, sequence, art, wit, and radical surprise-- and 'learn to read what silent love hath writ.' " —Jean Strouse, author of Morgan and Alice James
"With learning, sensitivity, and penetrating understanding, Neil Rudenstine has educed a credible, coherent narrative from Shakespeare's heterogeneous sonnet sequence, greatly enriching our experience of these incomparable poems. There is nothing in Shakespearean scholarship quite like it, and one can only hope that no one will henceforth teach--or read--Shakespeare's sonnets without relying on the insights of this engrossing study." —Walter Kaiser, Francis Lee Higginson Professor of English emeritus, Harvard University
"Neil Rudenstine, author of a powerful study of Sir Philip Sidney, has now written an engaging and lucidly presented overview of Shakespeare's sonnets.This book will attract and inform its intended audience, a wide swath of readers seeking an introduction to these poems." —Heather Dubrow, John D. Boyd, SJ Chair in the Poetic Imagination, Fordham University
"Inspiring and thoughtful." —Publishers Weekly
or
Not Currently Available for Direct Purchase