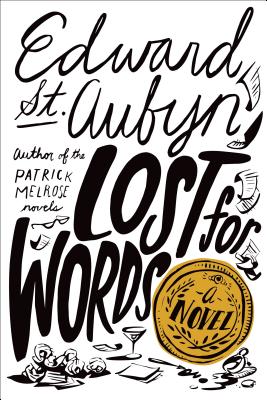 Lost for Words
A Novel
Hardcover

* Individual store prices may vary.
Other Editions of This Title:
Digital Audiobook (5/19/2014)
Paperback (5/5/2015)
CD-Audio (10/7/2014)
Description
Edward St. Aubyn is "great at dissecting an entire social world" (Michael Chabon, Los Angeles Times)
Edward St. Aubyn's Patrick Melrose novels were some of the most celebrated works of fiction of the past decade. Ecstatic praise came from a wide range of admirers, from literary superstars such as Zadie Smith, Francine Prose, Jeffrey Eugenides, and Michael Chabon to pop-culture icons such as Anthony Bourdain and January Jones. Now St. Aubyn returns with a hilariously smart send-up of a certain major British literary award.
The judges on the panel of the Elysian Prize for Literature must get through hundreds of submissions to find the best book of the year. Meanwhile, a host of writers are desperate for Elysian attention: the brilliant writer and serial heartbreaker Katherine Burns; the lovelorn debut novelist Sam Black; and Bunjee, convinced that his magnum opus, The Mulberry Elephant, will take the literary world by storm. Things go terribly wrong when Katherine's publisher accidentally submits a cookery book in place of her novel; one of the judges finds himself in the middle of a scandal; and Bunjee, aghast to learn his book isn't on the short list, seeks revenge.
Lost for Words is a witty, fabulously entertaining satire that cuts to the quick of some of the deepest questions about the place of art in our celebrity-obsessed culture, and asks how we can ever hope to recognize real talent when everyone has an agenda.
Praise For Lost for Words: A Novel…
"Everything St. Aubyn writes is worth reading for the cleansing rancor of his intelligence and the fierce elegance of his prose…" —Anne Enright, New York Times Book Review
"Lost for Words is especially witty... a hilarious commentary on the dissonance between the daily lives of authors and how they are perceived publicly." —Maddie Crum, Huffington Post
"Lost for Words is... a satirical romp that showcases... [St. Aubyn's] Waugh-like talent for comedy and his unsparing eye for people's pretensions and self-delusions." —Mikicho Kakutani, The New York Times
"Lost for Words... is an entertaining squib... [with] perfectly aimed satirical barbs." —John Banville, The New York Review of Books
"St. Aubyn… executes his irony with phlegmatic and tightly controlled prose, underneath which lurks the trenchant exasperation of a veteran." —Esther Yi, Los Angeles Review of Books
"[D]eeply eloquent writing… St. Aubyn's mastery of language--and the resonance it can hew--can't help but come through." —Brian Gallagher, The Seattle Times
"Lost for Words is a withering satire... a deliciously irreverent novel." —Jonathan Yardley
"St. Aubyn's is a subtle, dry, and often dark type of humor... [he] once again skewers privilege in a humorous way." —Jason Diamond, Flavorwire
"Lost for Words [is a] savage field report. ...The best and meanest parts of the book are its pitch-perfect parodies of fashionable genres..." —Eugenia Williamson, Boston Globe
"[Lost for Words] contains some of the best writing we're likely to read this year." —Hannah Beckerman, Huffington Post
"A light-footed romp and a notable taboo-buster… a frisky satire on modern literary manners and the funniest thing St. Aubyn has ever written." —Sunday Telegraph
"St Aubyn's powers of observation are as sharp as ever." —Henry Hitchings, Financial Times
"Lost for Words is a fizzing satire that neatly skewers all the contradictions of literary prize-giving… Lost for Words is very funny, but it also makes some serious points about what is good writing, who is best qualified to make judgments about it… [The Melrose novels] are the most extraordinary transmutation of personal horror into great art." —Telegraph magazine
"[St. Aubyn is] an adept observer of the elite with a devastating talent for dialogue…" —Chicago Tribune
"A tangy jeu d'esprit… [St. Aubyn] is such a bitchy, brilliant prose writer that any impression this book is a mere scathing divertissement is amply compensated for by nearly every sentence." —Metro
"St. Aubyn has a cut-glass prose style, a gift for unexpected metaphor, and a skewering eye… [He] is a conjurer, able to take that greasy deck of cards and make it perform tricks of a sort rarely seen anymore." —The Atlantic
"… St. Aubyn offers a hearty satire, full of laughs and groans." —Mark Levine, Booklist
"Lost for Words is a... jaunty, often hilarious farce… very, very funny." —Alexander Benaim, Bookforum
"Edward St. Aubyn is among the handful of the current giants of English fiction. He has always had an eye for the sort of satire that does not exclude compassion and understanding; now that eye is trained on the absurd world of awarding literary prizes. The results are hilarious!" —Edmund White
"A laugh-out-loud sendup of literary prizes . . . Both the author and the reader have great fun." —Kirkus
Farrar, Straus and Giroux, 9780374280291, 272pp.
Publication Date: May 20, 2014
About the Author
Edward St. Aubyn was born in London in 1960. He is the author of A Clue to the Exit and On the Edge; a series of novels about the Melrose family, including the trilogy Some Hope; and Mother's Milk, which was shortlisted for the 2006 Man Booker Prize.
Coverage from NPR
or
Not Currently Available for Direct Purchase