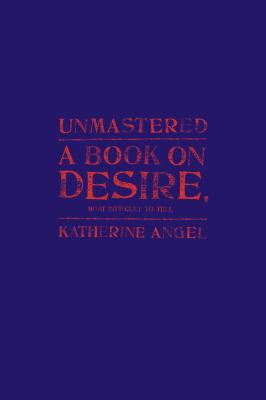 Unmastered
A Book on Desire, Most Difficult to Tell
Hardcover

* Individual store prices may vary.
Description

One of O Magazine's Must-Read Books for June 2013

A provocative and personal meditation on sex, power, and female desire

Today's women, we're told, have more options in exercising their desire than ever before in history. And yet the way we talk about desire is virtually as constrained as it was for the Victorians. There's an essential paradox at the heart of female sexuality: What we demand in our public lives is often in direct contrast to what we crave in our intimate lives.
In the tradition of Susan Sontag and Virginia Woolf, Katherine Angel has forged a path through cliché, convention, and secrecy, and the result is Unmastered, a searching and idiosyncratic account of her studies in sex as an academic and of her experiences of sex as a woman.
Unmastered isn't merely personal confession; it is also a powerful reckoning with our contradictory and deeply entrenched notions of sexuality. Angel embraces the highly charged oppositions—dominance versus submission, liberation versus dependence—and probes the porousness between masculine and feminine, thought and sensation, self and culture, power and pliancy, always reveling in the elusiveness of easy answers.
With remarkable candor, Angel reflects on the history of her encounters and beliefs, and shows how our lives are shaped by the words we use and the stories we tell. The result is a revelatory book that examines and then explodes our most deeply rooted assumptions. Lyrical, brave, and sometimes disarmingly funny, Unmastered will start a thousand debates.
Praise For Unmastered: A Book on Desire, Most Difficult to Tell…
"Offers an arresting mix of diaristic experiences with her lover . . . and heady reflections from feminist thinkers like Susan Sontag and Virginia Woolf. A genre-busting nonfiction account that reads like poetry, revels in ambiguity, and intentionally defies definition, the book explores the slippery emotions of sex in fiery, collage-like scenes intended to reconcile the contradictory 'metaphors we love by.'" —O Magazine
"Unconventional, deeply personal . . . often poetic." —The New Yorker Page Turner blog
"Angel embraces the impossibility of extricating fact from feeling." —Julia Klein, The Boston Globe
"Poetic . . . Sharply truthful, musical, and beautifully patterned . . . An act of cultural resistance, and a book you immediately start to reread." —Adam Foulds, author of The Quickening Maze
"Absorbing . . . [A] vigorous testament to a female libido undaunted by the cold shower of self-analysis." —Talitha Stevenson, The Guardian
"Ghostly and poetic . . . [A] thinking woman's meditation on sexual desire." —Publishers Weekly
"[A] provocative and profoundly personal investigation into female desire . . . It's hard to overestimate the riskiness of these passages, their courage and their exquisite sensuality . . . But the real joy lies in the artfulness with which [Angel] uses these intimate episodes as a way of unwrapping the larger issue of what it means to be a woman, both object and subject of desire . . . Unmastered is a giddily joyful book . . . Days after reading, its images linger in the mind . . . [An] elegant and uplifting journey through the labyrinth of female lust." —Olivia Laing, The Observer
"Katherine Angel's Unmastered stayed in my head for weeks after I read it. It's brave, moving, and perfectly structured." —Sam Byers, author of Idiopathy
"Unmastered is an intriguing literary and cultural study . . . Erudite and personal . . . The strength of Ms. Angel's writing . . . makes the book seem both universal and intimate at once." —The Economist
"Unmastered is one of those totally out-of-the blue, impossible-to-classify, weird and new and wonderful fiction-ish nonfiction books, which happily come along every so often and make you go, 'Whoa: this is what we need now' . . . A libidinous thrill all of its own." —Stuart Hammond, Dazed & Confused magazine
Farrar, Straus and Giroux, 9780374280406, 368pp.
Publication Date: June 4, 2013
About the Author
Katherine Angel, the author of Unmastered: A Book on Desire, Most Difficult to Tell (FSG), is a postdoctoral fellow at the Centre for the History of Medicine at Warwick University. She has written on sexuality, pornography, and the relationship between culture and desire for The Independent, Prospect, and The Observer, among others. She lives in London.
or
Not Currently Available for Direct Purchase