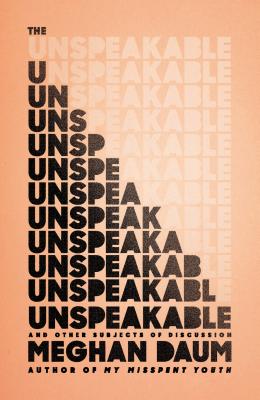 The Unspeakable
And Other Subjects of Discussion
Hardcover

* Individual store prices may vary.
Other Editions of This Title:
Digital Audiobook (11/17/2014)
Paperback (11/3/2015)
Compact Disc (11/18/2014)
MP3 CD (11/18/2014)
Description
Winner of the 2015 PEN Center USA Literary Award for Creative Nonfiction

"Daum is her generation's Joan Didion." —Nylon

Nearly fifteen years after her debut collection, My Misspent Youth, captured the ambitions and anxieties of a generation, Meghan Daum returns to the personal essay with The Unspeakable, a masterful collection of ten new works. Her old encounters with overdrawn bank accounts and oversized ambitions in the big city have given way to a new set of challenges. The first essay, "Matricide," opens without flinching:

People who weren't there like to say that my mother died at home surrounded by loving family. This is technically true, though it was just my brother and me and he was looking at Facebook and I was reading a profile of Hillary Clinton in the December 2009 issue of Vogue.

Elsewhere, she carefully weighs the decision to have children—"I simply felt no calling to be a parent. As a role, as my role, it felt inauthentic and inorganic"—and finds a more fulfilling path as a court-appointed advocate for foster children. In other essays, she skewers the marriage-industrial complex and recounts a harrowing near-death experience following a sudden illness. Throughout, Daum pushes back against the false sentimentality and shrink-wrapped platitudes that surround so much of contemporary American experience and considers the unspeakable thoughts many of us harbor—that we might not love our parents enough, that "life's pleasures" sometimes feel more like chores, that life's ultimate lesson may be that we often learn nothing.
But Daum also operates in a comic register. With perfect precision, she reveals the absurdities of the New Age search for the "Best Possible Experience," champions the merits of cream-of mushroom-soup casserole, and gleefully recounts a quintessential "only-in-L.A." story of playing charades at a famous person's home.
Combining the piercing insight of Joan Didion with humor reminiscent of Nora Ephron's, Daum dissects our culture's most dangerous illusions, blind spots, and sentimentalities while retaining her own joy and compassion. Through it all, she dramatizes the search for an authentic self in a world where achieving an identity is never simple and never complete.
Praise For The Unspeakable: And Other Subjects of Discussion…
"Meghan Daum's new book, The Unspeakable, is thrillingly good . . . Daum's powers as one of the most emotionally exacting, mercilessly candid, deeply funny and intellectually rigorous writers of our time are on glorious display." —Cheryl Strayed

"Someone (I'm never sure who) once said, "Write as if everyone you know were dead," and Meghan Daum really does write that way, by which I mean she writes what she wants to, without looking over her shoulder every second. In The Unspeakable her eyes are fixed firmly on the page, as are the reader's. Her mother's death, her own near-death experience, dogs, food, motherhood and, of course, Joni Mitchell --all are contained in a smart, strong and highly readable volume by this winning social critic." —Meg Wolitzer, The Wall Street Journal

"[The Unspeakable] is formidable, lucid and persuasive. Daum writes with confidence and an elegant defiance of expectation . . . There is no doubt Daum is a brilliant, incisive essayist. I would follow her words anywhere." —Roxane Gay, The New York Times Book Review

"When Ms. Daum is locked in like this, balancing self-analysis with observation of the outside world, she's among the best personal essayists of a searching, cynical generation that's lucky to have her." —John Williams, The New York Times

"[These essays] show an author exposing her particular being to the world, watching what happens, and coming to terms with the fallout. And they do it wonderfully, weaving a theory of identity as both unknowable and inescapable" —Katy Waldman, Slate

"I don't think of essay collections as 'unputdownable'--in fact, one of their virtues is that they can be put aside and easily revisited--and yet I couldn't stop reading Meghan Daum's The Unspeakable: And Other Subjects of Discussion. I would promise myself, just one more, only to make the same promise at the end of the next essay." —Hannah Gersen, The Millions

"I admire many things about Daum's writing -- her wit, her daring, her worldliness -- but what I value most is her deployment of the forces of aimed precision. . . Like any good personal essayist, she knows how to dive and how to surface. Even at her most serious, she's funny and au courant, and her voice is boldly casual. Conversely, in some of the collection's lighter pieces, we're nonetheless privy to the workings of her questioning mind. . . [A] delightful and radiantly intelligent collection." —Emily Fox Gordon, Los Angeles Review of Books

"One of the things I love about Daum's new collection is that it demonstrates how a talented writer gets even better, how her craft can grow along with her body of experience, how the 'vital partnership' between the 'outside world' and the 'I narrator,' like a marriage, can improve with age. . . It seems appropriate, but not quite just, that Daum should be writing profiles of today's hot young talent; as far as the essay is concerned, the younger cohort should be signing up for her master class. I know I'd like to." —Lydia Kiesling, Salon

"[Daum] is an expert at the kind of Gen-X nostalgia, California-mooning, cultural analysis that's catnip to me. I think I'll rub my face in the pages." —Sloane Crosley, Lucky

"In these fiercely intelligent personal essays, Daum explores the guilt that can follow 'when we don't feel the way we're 'supposed to feel' about the events of our lives.' . . It's impossible not to wince, laugh--and relate." —People

"Sometimes our feelings -- and our reactions to the things that happen to us -- go rogue. Emotions are the messy, unpredictable part of being human. It's those murky corners of the heart that are hardest to acknowledge, let alone talk about. That's the unnamed place where Meghan Daum's sharp collection of essays lives." —Entertainment Weekly (Rating: "A" )

"Daum is a master of the bold admission. . . she's refreshingly at peace with her idiosyncrasies and limitations, including her antipathy to food and cooking, to having children and to wandering outside her comfort zone. . . Comforting 'redemption stories' about adversity's silver lining are exactly the sort of platitudinal sentimentality that Daum has set out to counter in this deliberately provocative book." —Heller McAlpin, Los Angeles Times

"Writing smart, opinionated cultural commentary for the general reader, as Meghan Daum does for the Los Angeles Times, is like campaigning against a popular incumbent: He barely notices you, so your best hope is to make him mad. The Unspeakable, Daum's book of original, self-lacerating essays--on subjects like almost hating her mother, almost having a child, and almost dying--is a sharp reminder of what a gift to the city she is. In her unrepentant defense of not cooking, she exhibits her characteristic wisdom: 'If you're good at something, do it a lot. If you're bad at something, just don't do it.' Daum is brilliant at probing the shared taboos of a society that thinks it has none. She should trust her Times readers to appreciate the intelligence that's so robustly on display in The Unspeakable." —David Kipen, Los Angeles Magazine

"As children, we're taught to avoid certain topics in polite company. As a seasoned author, Meghan Daum knows they're the building blocks of staggeringly good essays. That said, her latest collection is no confessional. In the intro she states, 'While some of the details I include may suggest that I'm spilling my guts, I can assure you that for every one of those details, there are hundreds I've chosen to leave out.' In a post-Not That Kind of Girl world, it's a bold statement, one that's echoed in 'The Joni Mitchell Problem,' the essay that serves as the book's heart. A perfect piece of writing, it swerves between analysis and fawning and switches points of view like its subject changes time signatures. As a critic, it's best to avoid comparisons, but one is unavoidable: Daum is her generation's Joan Didion." —Melissa Giannini, Nylon

"Daum's 2001 debut, My Misspent Youth, is an essay collection that inspires awe and rabid devotion for its clear-eyed, ruthlessly funny take on life as an aspirational, self-excoriating college grad living in and ultimately leaving New York. The Unspeakable, though written with the same economy, sharpness, and swoon-worthy stylishness, is a far sadder book than its predecessor, a product of middle age and the inevitable losses that come with it. . . I realize all of the above makes The Unspeakable sound an unmitigated downer, but it is not. Daum is feisty, too . . . Futher, her prose is shot through with elegant and very funny observations: Anthropologie is 'to adult women what princesses are to little girls. . . a twirling motion in the form of an international brand'; an audience laughs 'as though davening to the ghost of Henny Youngman.' She does fun and glamorous things, too, like attending a party at Nora Ephron's house where she plays charades with Larry David and having dinner with Joni Mitchell. . . The latter incident she recalls in 'The Joni Mitchell Problem,' an essay in which Daum, a lifelong fan of the singer, writes of Mitchell's mixed reception and her predicament of 'either being not liked or being liked for the wrong reasons.' Like all of the longer pieces in this book, it traverses far greater terrain than its central question. What begins as an essay about a songwriter's divisiveness spins out into a larger meditation on the utility of art, which the reader cannot help but relate to Daum's own." —Eugenia Williamson, Boston Globe

"In a series of essays reminiscent of a slightly restrained David Sedaris, Los Angeles Times columnist Meghan Daum comes off as humorously dysfunctional and occasionally deranged as she plunges into topics best avoided . . . Reading The Unspeakable is a bit like watching Zach Galafianakis act: funny and slightly unsettling. You're not sure you like Daum, but you can't wait to see what she'll say next." —Michael Mechanic, Mother Jones

"A collection of alarmingly sharp-eyed essays." —Amanda Lovell, More

"Meghan Daum might just be the new Joan Didion: a whip-smart, incisive, and often hilarious cultural commentator whose personal essays will stand the test of time." —Refinery29

"Sharp, witty and illuminating, Daum's essays offer refreshing insight into the complexities of living an examined life in a world hostile to the multifaceted face of truth. An honest and humorously edgy collection." —Kirkus

"Engaging . . . Daum is a smart and candid writer." —Publishers Weekly

"I think it's fair to say that I can't tell you what Meghan Daum's remarkable book means to me--the exceptional often denies verbalization. Her diverse subject matter aside--Mom, Joni Mitchell, the fetishization of food--it's Daum's galvanizing energy that one finds so attractive; nowhere in her work is there evidence of the 'trance' that Virginia Woolf said characterized so many women's lives. Instead, Daum builds her various worlds out of great presence and imagination, and who wouldn't want to live in her new city?" —Hilton Als, author of White Girls

"People I know still talk about Meghan Daum's 2001 debut essay collection, My Misspent Youth. Nobody writing about her generation was more incisive or entertaining than she. Now, as incisive and entertaining as ever, and having grown in experience, knowledge, compassion, and eloquence, Daum has clearly reached a peak. The honesty with which she explores our current culture as well as her individual conscience make this book as important as it is affecting. The Unspeakable is a brave, truth-telling book, a paragon of its genre, and a triumph." —Sigrid Nunez, author of Sempre Susan: A Memoir of Susan Sontag

"Meghan Daum is the real thing: a writer whose autobiographical essays--generous, frank, and unusually hilarious--reflect a steady, unflinching gaze at the truth. While ever alert to human fatuousness and contradiction (starting with her own), Daum actually adores the world around her--its wonder and strangeness, beauty and dilapidation--and conveys that love in a way that honors the reader even as it delights." —Terry Castle, author of The Professor: A Sentimental Education

"The Unspeakable speaks with wit and warmth and artful candor, the fruits of an exuberant and consistently surprising intelligence. These are essays that dig under the surface of what we might expect to feel in order to discover what we actually feel instead. I was utterly captivated by Meghan Daum's sensitive fidelity to the complexity of lived experience." —Leslie Jamison, author of The Empathy Exams

"I loved these essays for a completely startling reason: they give voice and shape to so many of my own muddled thoughts--and to lurking sentiments I've never looked square in the face. Meghan Daum is a cultural clairvoyant: in exposing her secrets, she's listening to ours. She's also just a wonderful storyteller--funny, perceptive, and painfully wise." —Julia Glass, National Book Award–winning author of And the Dark Sacred Night

"The Unspeakable is a fantastic collection of essays: funny, clever, and moving (often at the same time), never more universal than in its most personal moments (in other words, throughout), and written with enviable subtlety, precision, and spring." —Geoff Dyer, author of Otherwise Known as the Human Condition

"Here's the skinny on Meghan Daum: she's one of the most humane, entertaining, and articulate contrarians you're likely to encounter in any book. She challenges our assumptions--and her own--in the bracing, unsentimental manner of great British essayists such as William Hazlitt and George Orwell. Her precision is Didionesque. Her humor detonates unexpectedly. In page after page, Daum pinpoints aspects of love, grief, and daily survival that you've sensed vaguely but have never found the words for. To read this book is to begin to grasp the intricacies of living in a fresh and penetrating way. I solemnly promise, lucky reader, you are about to be changed." —Bernard Cooper, author of The Bill from My Father
Farrar, Straus and Giroux, 9780374280444, 256pp.
Publication Date: November 18, 2014
About the Author
Meghan Daum is the author of the essay collection The Unspeakable: And Other Subjects of Discussion. She is also the editor of the anthology Selfish, Shallow, and Self-Absorbed: Sixteen Writers on the Decision Not to Have Kids. Her other books include the essay collection My Misspent Youth, the novel The Quality of Life Report, and Life Would Be Perfect If I Lived In That House, a memoir. Since 2005, Meghan has been an opinion columnist for The Los Angeles Times, writing on political, cultural, and social affairs. She has contributed to public radio's Morning Edition, Marketplace, and This American Life, and has written for numerous publications, including The New Yorker, Harper's Magazine, GQ, Vogue, Harper's Bazaar, and The New York Times Magazine. She lives in Los Angeles.
Coverage from NPR
or
Not Currently Available for Direct Purchase