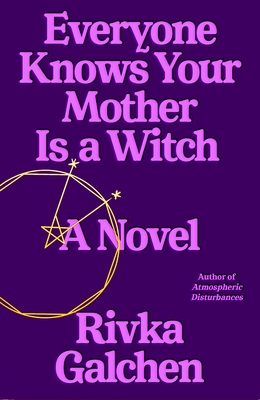 Everyone Knows Your Mother Is a Witch
A Novel
Hardcover

* Individual store prices may vary.
Description
The startling, witty, highly anticipated second novel from the critically acclaimed author of Atmospheric Disturbances.

The story begins in 1618, in the German duchy of Württemberg. Plague is spreading. The Thirty Years' War has begun, and fear and suspicion are in the air throughout the Holy Roman Empire. In the small town of Leonberg, Katharina Kepler is accused of being a witch.

Katharina is an illiterate widow, known by her neighbors for her herbal remedies and the success of her children, including her eldest, Johannes, who is the Imperial Mathematician and renowned author of the laws of planetary motion. It's enough to make anyone jealous, and Katharina has done herself no favors by being out and about and in everyone's business.

So when the deranged and insipid Ursula Reinbold (or as Katharina calls her, the Werewolf) accuses Katharina of offering her a bitter, witchy drink that has made her ill, Katharina is in trouble. Her scientist son must turn his attention from the music of the spheres to the job of defending his mother. Facing the threat of financial ruin, torture, and even execution, Katharina tells her side of the story to her friend and next-door neighbor Simon, a reclusive widower imperiled by his own secrets.

Drawing on real historical documents but infused with the intensity of imagination, sly humor, and intellectual fire for which Rivka Galchen is known, Everyone Knows Your Mother Is a Witch will both provoke and entertain. The story of how a community becomes implicated in collective aggression and hysterical fear is a tale for our time. Galchen's bold new novel touchingly illuminates a society and a family undone by superstition, the state, and the mortal convulsions of history.
Praise For Everyone Knows Your Mother Is a Witch: A Novel…
"Galchen is an inventor and fabulist of the highest order: Her narratives are rigorous, antic creations that explore deceit, misinformation, identity, and the nature of knowledge. Her latest puzzle box of a novel is a surrealist horror story set in the 17th century . . . the story is winding and hallucinatory, full of poison, gossip, and astral musings. Drawing partly from historical documents, the world Galchen creates feels more than just real. It feels haunted."
—Kevin Lozano, Vulture

"Imagine a story set in 1620 that speaks directly to your own scalded, twenty-first century heart. By Rivka Galchen's magic, Everyone Knows Your Mother is a Witch instantly became one of my favorite books. I need no witchcraft to predict it will astonish, beguile, and transform you, too."
—Karen Russell, author of Swamplandia! and Orange World

"Galchen's latest book, which is by turns witty, sly, moving, and sharp, is a marvel to behold . . . There is so much in this novel to consider—the degree to which we make monsters of one another, the way that old age can make of femininity an apparently terrifying, otherworldly thing—but it is also, at every step along the way, an entirely delicious book. Dazzling in its humor, intelligence, and the richness of its created world."
—Kirkus

"On every page of this brilliant, transporting novel are sentences of surreal poetry, of profound insight and enchanting observation, of Monty Python-like sublime nonsense and delightful fragments of fairy tale and lore. Tragic Katharina Kepler, so eccentric and misunderstood, so honest, loyal, brave, and funny, is surely one of literature's great mothers. This is a novel to keep alongside your favorite Calvino or Ishiguro, though its special genius is pure Rivka Galchen."
—Francisco Goldman, author of Monkey Boy

"Captivating . . . . Mesmerizing details abound . . . Galchen portrays her characters as complicated and full of wit . . . This is a resounding delight."
—Publishers Weekly

"I cannot think of a more singular writer than Rivka Galchen. Here, she brings her forensic intelligence and wit to a historical novel that sheds bright light on our present. Everyone Knows Your Mother is a Witch is fiercely original, a mordant and ultimately devastating portrait of loss and terror from one of the most brilliant writers at work today."
—Katie Kitamura, author of A Separation

"I love Rivka and everything she writes."
—César Aira, author of Ghosts

"This jewel of a novel is as perturbing as it is hilarious. It's also a fundamental piece of history — particularly relevant for these times— written with Rivka's unusual intelligence and her sharp eye for detail."
—Alejandro Zambra, author of Ways of Going Home
Farrar, Straus and Giroux, 9780374280468, 288pp.
Publication Date: June 8, 2021
About the Author
Rivka Galchen received her MD from the Mount Sinai School of Medicine, having spent a year in South America working on public health issues. Galchen completed her MFA at Columbia University, where she was a Robert Bingham Fellow. Her essay on the Many Worlds Interpretation of quantum mechanics was published in The Believer, and she is the recipient of a 2006 Rona Jaffe Foundation Writers' Award. Galchen lives in New York City. She is the author of the novel Atmospheric Disturbances.