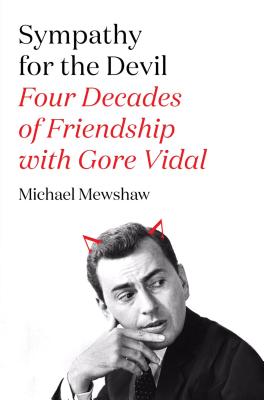 Sympathy for the Devil (Hardcover)
Four Decades of Friendship with Gore Vidal
Farrar, Straus and Giroux, 9780374280482, 224pp.
Publication Date: January 13, 2015
Other Editions of This Title:
Paperback (1/19/2016)
* Individual store prices may vary.
Description
A generous, entertaining, intimate look at Gore Vidal, a man who prided himself on being difficult to know

Detached and ironic; a master of the pointed put-down, of the cutting quip; enigmatic, impossible to truly know: This is the calcified, public image of Gore Vidal—one the man himself was fond of reinforcing. "I'm exactly as I appear," he once said of himself. "There is no warm, lovable person inside. Beneath my cold exterior, once you break the ice, you find cold water."
Michael Mewshaw's Sympathy for the Devil, a memoir of his friendship with the stubbornly iconoclastic public intellectual, is a welcome corrective to this tired received wisdom. A complex, nuanced portrait emerges in these pages—and while "Gore" can indeed be brusque, standoffish, even cruel, Mewshaw also catches him in more vulnerable moments. The Gore Vidal the reader comes to know here is generous and supportive to younger, less successful writers; he is also, especially toward the end of his life, disappointed, even lonely.
Sparkling, often hilarious, and filled with spicy anecdotes about expat life in Italy, Sympathy for the Devil is an irresistible inside account of a man who was himself—faults and all—impossible to resist. As enlightening as it is entertaining, it offers a unique look at a figure many only think they know.
About the Author
Michael Mewshaw's more-than-four-decade career spans fiction, nonfiction, literary criticism, and investigative journalism. He is the author of, among other titles, the nonfiction works Life for Death, Short Circuit, and Between Terror and Tourism: An Overland Journey Across North Africa; the novel Year of the Gun; and the memoirs Do I Owe You Something? and If You Could See Me Now. He has published hundreds of articles, reviews, and literary profiles in The New York Times, The Washington Post, The Nation, Newsweek, Harper's, Granta, and many other international outlets. During the winter he lives in Key West, Florida, with his wife, Linda, and he spends the rest of the year traveling in Europe and Africa.
Praise For Sympathy for the Devil: Four Decades of Friendship with Gore Vidal…
"Michael Mewshaw's Sympathy for the Devil, his reminiscence of Gore Vidal, proves easy to praise--swift, canny, sensitive, and unafraid." —John Domini, Bookforum
"[Mewshaw's] Vidal is brilliantly alive, raunchy, as easily offended as he is quick to give offense--and then, finally, desperately self-hating, vituperative, and alone." —Julia M. Klein, The Boston Globe
"Michael Mewshaw knew Vidal as a friend for nearly forty years, and he pays his respects to him in this affectionate, sympathetic biography. [Sympathy for the Devil is] a thoroughly entertaining, breezy and up-close memoir about a public man of 'wealth and taste' who prided himself on his pride." —Tom Lavoie, Shelf Awareness
"Fascinating . . . Sympathy for the Devil might be the perfect Vidal biography because it reveals a figure that is more human - more flawed, more interesting, more real - than the caricature that the public came to accept as the bona fide Gore." —Doug Childers, Richmond Times
"Exceptionally entertaining." —Michael Dirda, The Washington Post
"Mewshaw develops a picture of his friend as quixotic, a devoted life-mate to his companion Howard Austin, an avuncular if not fatherly figure and often a raging provocateur at dinner parties, banquets and conferences-except when he's not. Mewshaw records a lot of sharp, witty one-liners which, as he reveals, Vidal practiced and polished before he delivered them. And the vast amounts of alcohol the writer imbibed on a daily basis reveal him to be a contradictory character . . . A study of friendship with a famous man, easy to admire and difficult to love." —Alan Cheuse, NPR, All Things Considered
"In Sympathy for the Devil, Michael Mewshaw removes the mask to reveal a man much more complexand tortured than most fans of Vidal's writings might ever have dared imagine . . . The decline andfall of Gore Vidal is a painful but perversely exciting read. Behind the patrician veneer was clearly a troubled man." —Robert Collison, The Toronto Star
"A companionable account that finally succeeds in living up to its title. The reader, too, will feel sympathy for the old devil . . . there is little doubt that Mewshaw's affection for Vidal is genuine." —James Campbell, The Times Literary Supplement
Coverage from NPR
or
Not Currently Available for Direct Purchase