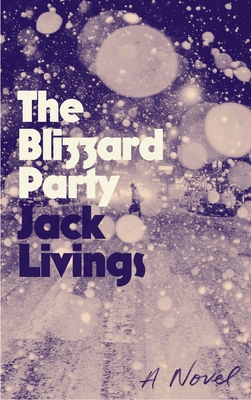 The Blizzard Party
A Novel
Hardcover

* Individual store prices may vary.
Other Editions of This Title:
Paperback (2/22/2022)
MP3 CD (2/23/2021)
Compact Disc (2/23/2021)
Description
A panoramic novel set in New York City during the catastrophic blizzard of February 1978

On the night of February 6, 1978, a catastrophic nor'easter struck the city of New York. On that night, in a penthouse in the Upper West Side's stately Apelles, a crowd gathered for a wild party. And on that night, Mr. Albert Haynes Caldwell—a partner emeritus at Swank, Brady & Plescher; Harvard class of '26; father of three; widower; atheist; and fiscal conservative—hatched a plan to fake a medical emergency and toss himself into the Hudson River, where he would drown.

In the eye of this storm: Hazel Saltwater, age six. The strange events of that night irrevocably altered many lives, but none more than hers. The Blizzard Party is Hazel's reconstruction of that night, an exploration of love, language, conspiracy, auditory time travel, and life after death.

Cinematic, with a vast cast of characters and a historical scope that spans World War II Poland, the lives of rich and powerful Manhattanites in the late 1970's, and the enduring effects of 9/11, Jack Livings's The Blizzard Party is an epic novel in the form of a final farewell.
Praise For The Blizzard Party: A Novel…
"[The Blizzard Party] is a raucously inventive tale of loss and erasure told with an authorial assurance uncommon in a first novel . . . [Livings] is a nimble wordsmith . . . This rollickingly bleak rendering of 1970s New York is well worth a visit." —JOHN FREEMAN GILL, THE NEW YORK TIMES BOOK REVIEW

"An expansive, discursive novel...That the author somehow manages to fit it all together, puzzle-like, by the end is a feat of acrobatic storytelling... [The book] explores the minutiae to get to the big questions: What do our connections and actions and words mean in the end?" —SAMANTHA SCHOECH, SAN FRANCISCO CHRONICLE

"Every so often, a novel comes along that manages to capture the glorious, demented cacophony of New York City life—one of high highs, low lows, love and paranoia and neighborly angst and bizarro weirdness—and The Blizzard Party does just that, reminding us of the strange breed of people called New Yorkers. . . Livings is a master prose stylist—his voice hilarious, playful, shouting to the rafters, blinking with ingenious descriptions." —CHRISTOPHER BOLLEN, INTERVIEW MAGAZINE


"[A] brilliant debut novel . . . Livings calls to mind the work of Michael Chabon as he brings insight into the way events and circumstances shape his characters' lives. This is one to savor." —PUBLISHERS WEEKLY (starred review)

"[A] first novel that might be called a detour de force: sprawling, discursive, loose-limbed (and impressive) . . . Livings's nearest model may be the doorstop-sized novels of Tom Wolfe . . . and this book is similarly digressive, maximalist, and prone to old-fashioned manipulations of sentiment. Livings may not quite have Wolfe's journalistic chops, but he's a far more skillful and empathetic novelist, and what seems moralistic and preening in Wolfe's books reads here mostly as playful and nimble." —KIRKUS REVIEWS (starred review)

"[An] ambitious debut . . . [The Blizzard Party] features moments of brilliance, especially in the dialogue and the surprising connections. A literary feast." —BOOKLIST


"With his merciless eye, crackling prose, and incomparable storytelling, Jack Livings casts a fictional spell from the first page of this novel to the last. Delivering a surfeit of pleasure even as it pierces the reader's heart, The Blizzard Party is a shimmering pearl formed around a heartbreaking grain of sand."
—ANTOINE WILSON, author of Panorama City

"Jack Livings' spectacular debut novel is a testament to how life, like time, can defy the convenient order of beginning, middle, and end. In these pages, characters grapple with who they were and who they might become, their lives looping back on themselves, zeroing in on chance meetings and lifelong bonds, on small victories and unspeakable loss. Like the blizzard of '78, this is an epic story that swirls and drifts, finally settling into what might well be the truth: "We do live in the past and future simultaneously, don't we?" Masterfully constructed, exquisitely written, and brought to life by unforgettable characters who will break your heart, The Blizzard Party is an absolute marvel of storytelling. "
—LYSLEY TENORIO, author of The Son of Good Fortune
Farrar, Straus and Giroux, 9780374280536, 416pp.
Publication Date: February 23, 2021
About the Author
Jack Livings is author of The Dog, which was awarded the PEN / Robert W. Bingham Prize, the Rome Prize for Literature, and was included on best book of the year lists by the Times Literary Supplement and The New York Times. His short stories have appeared in Best American Short Stories and have been awarded two Pushcart Prizes. His first novel is The Blizzard Party.