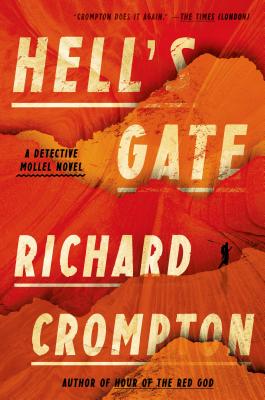 Hell's Gate (Hardcover)
A Detective Mollel Novel
Sarah Crichton Books, 9780374280581, 256pp.
Publication Date: June 2, 2015
Other Editions of This Title:
Paperback (9/6/2016)
* Individual store prices may vary.
Description
It must have been Otieno's idea of a joke. Too many offended egos back at headquarters, too many influential people unhappy with him in Nairobi. And yet, with his record, he was almost impossible to dismiss. So Otieno had sent Mollel straight to Hell.
When we first met Detective Mollel in Hour of the Red God, he was heralded as "a wonderfully complex and tragic protagonist" (Booklist), and Richard Crompton's novel called "spellbinding" (The Christian Science Monitor) and "a fantastic read" (The Plain Dealer [Cleveland]). Now Mollel returns in Hell's Gate, only this time the Maasai warrior-turned-detective has been banished from Nairobi, Kenya's bustling metropolis, to a small, fly-blown town on the edge of a national park. His career, he thinks, has taken a nosedive. His colleagues on the police force are a close-knit group and they have not taken kindly to a stranger in their midst. Mollel suspects they are guilty of the extortion and bribery that plague the force. But when the body of a flower worker turns up in the local lake, he begins to wonder if they might be involved in something even more disturbing.
For all is not as it seems in Hell's Gate. Amid rumors of a local death squad, disappearances, and blackmail, Mollel is forced not only to confront his Maasai heritage but also to ask himself where justice truly lies. In upholding the law, is he doing what is right? Crompton captures contemporary Kenya in all its complexity, and Hell's Gate is a captivating novel that you won't be able to put down.
About the Author
Richard Crompton is a former BBC journalist and producer. He moved to East Africa several years ago with his wife, a human rights lawyer who worked on the Rwanda genocide trials. Crompton won the Daily Telegraph Short Story Award in 2010, and his first novel, Hour of the Red God, was published to great popular acclaim in 2013. He lives in Nairobi.
Praise For Hell's Gate: A Detective Mollel Novel…
"Outstanding . . . Crompton effectively integrates Maasai culture into the absorbing plot." —Publishers Weekly (starred review)
"[Crompton] has done something near-miraculous and made the figure of the incorruptible loner-detective fresh again." —The Telegraph
"Can Richard Crompton repeat the excellence of last year's [Hour of the Red God] his first novel? Few would have considered a Masai warrior turned Kenyan detective as a hugely attractive crime fiction hero. But in Hell's Gate Crompton does it again . . . Mollel tackles a variety of crimes, including corruption and murder, with a beguiling blend of moroseness, honesty, confusion and astute wisdom." —The Times
"Crompton delivers a plausible and compelling tale of murder, corruption, tribal enmities, displaced persons, and poaching by small armies that outnumber and outgun the park rangers who are supposed to stop them. Additionally, he offers fascinating insights into today's Kenya, for example, the ubiquity of cell phones even in undeveloped areas and the national ban on smoking in public places. But it is the melancholic Mollel, whose resoluteness comes from the Masai culture he abandoned, who really propels Hell's Gate." —Booklist
"Mollel's second appearance is . . . as layered and involving as his first, immersing the reader in a fascinating and unfamiliar world, with a mystery heightening the tension." —Kirkus
"Hell's Gate is the second of [Crompton's] novels set in Kenya, and is every bit as good as [Hour of the Red God] . . . Crompton writes with ease about traditional customs and the impact on Kenya of globalisation, creating a vivid portrait of a country struggling to come to terms with modernity." —The Sunday Times
"Richard Crompton's second novel is a clever and frequently thrilling read . . . If Nordic noir is joined by its African equivalent at the top of the bestseller charts it may well be due to the reading public discovering Richard Crompton to be one of the most gifted crime writers of his generation." —Shots
"The struggle between the two sides of [Mollel's] nature makes him an interesting and sympathetic protagonist . . . The underlying conflicts at work in Kenyan society also become explicit through Mollel's thinking . . . The picture of Africa is not that of Alexander McCall Smith, and the lack of fairness and justice is a consistently appalling background. Mollel's humanity and touches of humour here and there do, however, lift the mood." —Crime Review
"Impressive" —The Wall Street Journal
or
Not Currently Available for Direct Purchase