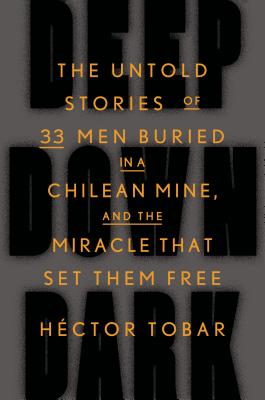 Deep Down Dark
The Untold Stories of 33 Men Buried in a Chilean Mine, and the Miracle That Set Them Free
Hardcover

* Individual store prices may vary.
Other Editions of This Title:
Digital Audiobook (10/6/2014)
Paperback (9/1/2015)
CD-Audio (10/7/2014)
Description
When the San José mine collapsed outside of Copiapó, Chile, in August 2010, it trapped thirty-three miners beneath thousands of feet of rock for a record-breaking sixty-nine days. The entire world watched what transpired above-ground during the grueling and protracted rescue, but the saga of the miners' experiences below the Earth's surface—and the lives that led them there—has never been heard until now.
For Deep Down Dark, the Pulitzer Prize–winning journalist Héctor Tobar received exclusive access to the miners and their tales. These thirty-three men came to think of the mine, a cavern inflicting constant and thundering aural torment, as a kind of coffin, and as a church where they sought redemption through prayer. Even while still buried, they all agreed that if by some miracle any of them escaped alive, they would share their story only collectively. Héctor Tobar was the person they chose to hear, and now to tell, that story.
The result is a masterwork or narrative journalism—a riveting, at times shocking, emotionally textured account of a singular human event. A New York Times bestseller, Deep Down Dark brings to haunting, tactile life the experience of being imprisoned inside a mountain of stone, the horror of being slowly consumed by hunger, and the spiritual and mystical elements that surrounded working in such a dangerous place. In its stirring final chapters, it captures the profound way in which the lives of everyone involved in the disaster were forever changed.
Praise For Deep Down Dark: The Untold Stories of 33 Men Buried in a Chilean Mine, and the Miracle That Set Them Free…
"Weaving together the drama of the miners' harrowing ordeal below ground with the anguish of families and rescuers on the surface, Tobar delivers a masterful account of exile and human longing, of triumph in the face of all odds. Taut with suspense and moments of tenderness and replete with a cast of unforgettable characters, Deep Down Dark ranks with the best of adventure literature." —Scott Wallace, The Los Angeles Times
"A riveting account of a remarkable disaster." —Larry Getlan, The New York Post
"Chiseled, brooding . . . As Tobar works his way through each miner's recovery, the TV headlines recede from our memory, and a more delicate series of portraits emerges." —Noah Gallagher Shannon, The Washington Post
"An account that brims with emotion and strength." —Ray Lockery, USA Today
"Tobar plunges the reader into this world of uncertainty with visceral, present-tense prose and careful pacing . . . Whether the story is completely new to you, or if you were one of the millions glued to the news reports and wondering, will they make it--physically, emotionally, spiritually--you'll be greatly rewarded to learn how they did." —Mac McClelland, The New York Times Book Review
"A superb book." —Steve Weinberg, Dallas Morning News
"Extraordinary . . . A novelist and Pulitzer Prize-winning reporter, [Tobar] combines a historian's eye for context with a gifted storyteller's ear for minor-key character traits . . . Though it boasts the epic sweep of a man-against-nature saga, Deep Down Dark also happens to be an endlessly satisfying ensemble drama . . . Scary, sad and, yes, even funny . . . a great book." —Kevin Canfield, San Francisco Chronicle
"Breathtaking . . . an absolute masterpiece of geological horror." —Geoff Manaugh, BLDG Blog
"A nonfiction account with the elemental heft of myth and fable." —Nick Romeo, Christian Science Monitor
"Masterful." —Wendy Smith, The Boston Globe
"A gift of a book: vivid, honest, and true." —Elisabeth Donnelly, Flavorwire
"The best book I've read all year . . . Riveting . . . A masterpiece of compassion." —Ann Patchett
"Harrowing and deeply moving." —BookPage
"A gripping narrative, taut to the point of explosion." —Kirkus Reviews (starred review)
"If Dante's Inferno was a real place, it would look and feel like the subterranean fever dream Héctor Tobar describes in Deep Down Dark. Taking us into the post-apocalyptic landscape of Chile's Atacama Desert and guiding us through the labyrinthine hell of the world's most famous mine accident, Tobar's taut narrative plumbs the depths not only of the mine itself, but of the 33 trapped miners' hearts and souls as they fight for life, and reconcile themselves--first, to death, and then to the far more challenging task of surviving. This revelatory tale of ordinary men surviving under extraordinary circumstances is further proof that we are living in a golden age of nonfiction." —John Vaillant, author of THE GOLDEN SPRUCE and THE TIGER
"Héctor Tobar takes us so far down into the story and lives of the Chilean miners that his reconstruction of a workplace disaster becomes a riveting meditation on universal human themes. Deep Down Dark is an extraordinary piece of work." —George Packer, author of THE UNWINDING: AN INNER HISTORY OF THE NEW AMERICA
"In this masterful dissection of the 2010's dramatic sixty-nine day ordeal by thirty-three trapped Chilean miners, Héctor Tobar weaves a suspenseful narrative that moves back and forth between the waking nightmares of the buried men, and those of their families on the earth's surface. In Deep Down Dark, Héctor Tobar takes us deftly to the very cliff-edge of human survival." —Jon Lee Anderson
"It's almost hard to believe that Héctor Tobar wasn't himself one of the trapped Chilean miners, so vivid, immediate, terrifying, emotional, and convincing is his Homeric narration of this extraordinary incident. Deep Down Dark is a literary masterpiece of narrative journalism, surgical in its reconstruction, novelistic in its explorations of human personality and nuance. In a manner that feels spiritual, Tobar puts himself at the service of his story, and his fidelity to and unquenchable curiosity about every fact and detail generates unforgettable wonderment and awe." —Francisco Goldman
"Before Karen and I opened Parnassus, I read a lot of Henry James. Now, thanks in large part to the First Editions Club and the fact that we're always reading like mad trying to find the best book to pick every month, I am reading all over the place. I am especially grateful to the First Editions Club for bringing me to the best book I've read all year. I know 2014 still has three months left to go, but I don't expect to find anything I liked better than Héctor Tobar's Deep Down Dark: The Untold Stories of 33 Men Buried in a Chilean Mine, and the Miracle That Set Them Free. It is a masterpiece of compassion. I read it on vacation and I kept pacing around wishing that there was someone I could talk to about this book. I seriously considered trying to track down Héctor Tobar, whom I don't know, just to tell him how extraordinary I thought it was. (Does Héctor Tobar need to hear this from me? No, no he does not.) You know the story - 33 men were buried in a spectacular mine collapse, stayed underground for two months, and then were rescued, all of them unharmed. But how do you write that book? We know what happens in the end and not much happens in the interim, and yet somehow Tobar makes the story riveting. He puts us down there with those men. He examines all the big questions: the value of life, faith, hope, despair, and resurrection. This is a quieter, deeper book than Laura Hillenbrand's Unbroken, but it is a more than worthy successor. It happens a lot in the bookstore, someone comes in and says, "My dad loved Unbroken. What should I get him next?" As of October 7, the answer is going to be Deep Down Dark." —Ann Patchett, Musings
Farrar, Straus and Giroux, 9780374280604, 320pp.
Publication Date: October 7, 2014
About the Author
Héctor Tobar, now a weekly columnist for the Los Angeles Times, is a Pulitzer Prize–winning journalist and a novelist. He is the author of The Barbarian Nurseries, Translation Nation and The Tattooed Soldier. The son of Guatemalan immigrants, he is a native of the city of Los Angeles, where he lives with his wife and three children.
Coverage from NPR