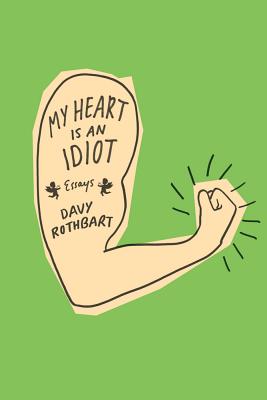 My Heart Is an Idiot
Essays
Hardcover

* Individual store prices may vary.
Other Editions of This Title:
Digital Audiobook (9/3/2012)
Paperback (9/3/2013)
Description
Davy Rothbart is looking for love in all the wrong places. Constantly. He falls helplessly in love with pretty much every girl he meets—and rarely is the feeling reciprocated. Time after time, he hops in a car and tears across half of America with his heart on his sleeve. He's continually coming up with outrageous schemes, which he always manages to pull off. Well, almost always. But even when things don't work out, Rothbart finds meaning and humor in every moment. Whether it's humiliating a scammer who takes money from aspiring writers or playing harmless (but side-splitting) goofs on his deaf mother, nothing and no one is off-limits.
But as much as Rothbart is a tragically lovable, irresistibly brokenhearted hero, it's his prose that's the star of the book. In the tradition of David Sedaris and Sloane Crosley but going places very much his own, his essays show how things that are seemingly so wrong can be so, so right.
Praise For My Heart Is an Idiot: Essays…
"THIS BOOK IS F---ING GREAT! Nobody writes quite like Davy Rothbart, because nobody lives quite like Davy Rothbart--a true and funny ragged-hearted seeker of ecstasy, mystery, and human connection. My Heart Is an Idiot contains some of the most perfect and heartbreaking writing that I have ever read." —Elizabeth Gilbert
"Welcome to the newly remodeled Heartbreak Hotel, where Davy Rothbart is concierge. He'll also unpack your underwear, restock your minibar, and do stand-up comedy in the lounge." —Tom Robbins
"In Davy Rothbart's essays on heartache, mad love, the low life, and the high life, everybody is fascinating; everybody has something to say. The sentences speed you along down one narrative highway after another, and your tour guide is smart and funny and a real democrat: he has a sweet-tempered openness to experience that wins you over. This book breathes new life back into the personal essay, and these essays are a trip. Take that trip." —Charles Baxter
"Tender, cool, funny, and utterly engaging, Davy Rothbart writes with a kind of warmth and cockeyed energy that make you love him. This book is marvelous." —Susan Orlean
"An intriguing hybrid of timeless Midwestern warmth and newfangled jive talk." —Sarah Vowell
"Davy Rothbart has the humor and purity of heart you want and need in an observer of contemporary American life. Without guile and with a belief in small towns, underdogs, love at first sight, the pull of the road, and the soulfulness of strangers, Rothbart is a kind of new-styled Bill Moyers--genuine, wide-eyed, and hopeful." —Dave Eggers
"I believe in Davy. He's a force to be reckoned with." —Ira Glass
"Davy's as real as it gets. This is a badass book." —Kid Rock
"Davy's my kind of storyteller--honest, hilarious, deeply feeling, and slightly cracked. This is the fresh voice we've been looking for." —Jim Carroll, author of The Basketball Diaries
"Davy writes with his whole heart. These stories are crushing." —Arthur Miller on The Lone Surfer of Montana, Kansas
"It's always exciting to discover a talented new writer. Davy writes with such energy, wit, and heart." —Judy Blume on The Lone Surfer of Montana, Kansas
"Like Kerouac's best novels, these stories are breezy and energetic dispatches from obscure corners of the country... Rothbart mines his material to heartbreaking effect." —The Washington Post on The Lone Surfer of Montana, Kansas
Farrar, Straus and Giroux, 9780374280840, 320pp.
Publication Date: September 4, 2012
About the Author
Davy Rothbart is a frequent contributor to This American Life and a variety of magazines, the founder of Found Magazine and the editor of its various bestselling anthologies, and the author of The Lone Surfer of Montana, Kansas. He was born and raised in Ann Arbor, Michigan, where he still lives.
or
Not Currently Available for Direct Purchase