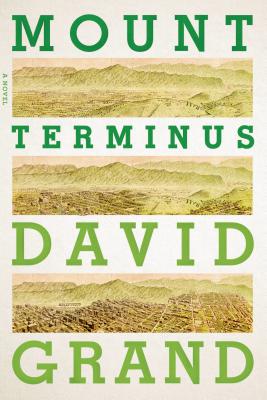 Mount Terminus (Hardcover)
Farrar Straus Giroux, 9780374280888, 368pp.
Publication Date: March 4, 2014
* Individual store prices may vary.
Description
David Grand's "Mount Terminus" is a dark, majestic novel about art, family, overwhelming love, and the birth of Los Angeles

After his mother's death, young Bloom boards a train with his bereaved father, Jacob, to travel west across mountains and deserts to California: Mount Terminus, their new home at the desolate end of the world. There, in a villa built atop a rare desert spring, they live apart from society, supported by the income from Jacob's invention, the Rosenbloom Loop, a piece of technology that has revolutionized the nascent art of filmmaking. There, Bloom grows up in the shadow of his father's grief, with only a pair of servants, the house's ghosts, and his own artistic muse for company.
But Jacob can't forever protect his family from his past the dramatic series of events that has taken him from the Hebrew Orphan Asylum on New York City's Lower East Side and into the graces of beautiful twin girls, and finally to this fragile refuge in pre-Hollywood Los Angeles. And Bloom, now an eccentric dark genius, can't live alone at the top of the mountain forever. Prodded by his newly discovered half brother, in every way his opposite, Bloom will have to come down to meet the world. Otherwise the orange farmers and the vaqueros, the speculators and the developers, the artists and the barons of the silver screen, will surely come up the mountain to meet him.
Triumphant and enthralling, "Mount Terminus "marks a magnificent return for David Grand; it's the novel he was born to write.
About the Author
David Grand is the author of Louse and The Disappearing Body. He lives in Brooklyn with his wife and twin sons.
Praise For Mount Terminus…
"Mount Terminus is serious and funny, singular and rousing: a strange and memorable American monument in prose. It begins formidably and keeps growing. Best of all, it will bring David Grand into full recognition as one of the major writers working today." —Darin Strauss, author of Chang and Eng and Half a Life
"
Mount Terminus
is a spellbinding, atmospheric epic from a writer at the top of his game. It's a story layered with transformations: Bloom's blossoming into an artist, the California desert's urbanization, and, brilliantly, the photograph's development into the moving image.
Mount Terminus
is cinematic in scope and narrative: a richly imagined masterpiece brought to you in GRANDVISION™." —Wesley Stace, author of
Misfortune
and
Charles Jessold, Considered as a Murderer
"Few novels set in motion an entire world, as this one does an imagined Los Angeles.
Mount Terminus
is as mercurial, witty, and sad as the best silent film. With his beautifully measured and stylish prose, David Grand has managed to create a rare story that is both epic and intimate, both intelligent and full of heart. I won't ever forget the pure joy of Bloom the artist, alone as he is in this lost, majestic landscape." —Rene Steinke, author of
The Fires
and
Holy Skirts
"I look to David Grand not just as a fellow writer but as a master of his craft.
Mount Terminus
is dark, elegant, and rich, his best book to date. It is also one of the finest, most elegiac novels about California I've ever read." —Gary Shteyngart, author of
The Russian Debutante's Handbook
and
Super Sad True Love Story
or
Not Currently Available for Direct Purchase