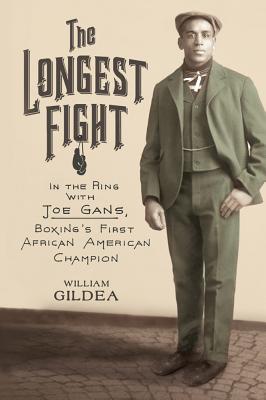 The Longest Fight (Hardcover)
In the Ring with Joe Gans, Boxing's First African American Champion
Farrar, Straus and Giroux, 9780374280970, 256pp.
Publication Date: June 19, 2012
* Individual store prices may vary.
Description
Many people came to Goldfield, Nevada, America's last gold-rush town, to seek their fortune. However, on a searing summer day in September 1906, they came not to strike it rich but to watch what would become the longest boxing match of the twentieth century--between Joe Gans, the first African American boxing champion, and "Battling" Nelson, a vicious and dirty brawler. It was a match billed as the battle of the races.
In "The Longest Fight," the longtime "Washington Post "sports correspondent William Gildea tells the story of this epic match, which would stretch to forty-two rounds and last two hours and forty-eight minutes. A new rail line brought spectators from around the country, dozens of reporters came to file blow-by-blow accounts, and an entrepreneurial crew's film of the fight, shown in theaters shortly afterward, endures to this day.
" The Longest Fight "also recounts something much greater--the longer battle that Gans fought against prejudice as the premier black athlete of his time. It is a portrait of life in black America at the turn of the twentieth century, of what it was like to be the first black athlete to successfully cross the nation's gaping racial divide. Gans was smart, witty, trim, and handsome--with one-punch knockout power and groundbreaking defensive skills--and his courage despite discrimination prefigured the strife faced by many of America's finest athletes, including Jesse Owens, Jackie Robinson, and Muhammad Ali.
Inside the ring and out, Gans took the first steps for the African American athletes who would follow, and yet his role in history was largely forgotten until now. "The Longest Fight "is a reminder of the damage caused by the bigotry that long outlived Gans, and the strength, courage, and will of those who fought to rise above.
About the Author
William Gildea was a writer for "The Washington Post "from 1965 through 2005. He has covered the Olympic Games (four times), the World Cup (four times), and about fifty championship or major fights, principally in Las Vegas. Many of his pieces have appeared in "Best Sports Stories "and "The Best American Sports Writing." He lives in Bethesda, Maryland, with his wife, Mary Fran.
Praise For The Longest Fight: In the Ring with Joe Gans, Boxing's First African American Champion…
"A gem of a book . . . In lean prose, Gildea gives us a blow-by-blow account of Gans's career. He pivots from describing the fight to exploring his subject's life to examining the racism of the age and the contradictions of 'sportsmanship' that belittled blacks while making money off them." —The Washington Post Book World
"A biography of a champion who faced racial challenges at the turn of the 20th century that would presage those of a coming generation of athletic color-barrier breakers . . . Gildea makes a strong case for Gans as the pride of Black American before Johnson threw a punch." —The Boston Globe
"A memorable book about a time that should not be forgotten." —The Economist
"Knowledgeable fight fans know that Gans was the first American-born black champion and perhaps the most technically advanced fighter of his time . . . Now, thanks to The Longest Fight, by William Gildea, Gans comes to life again. The Longest Fight will enhance any reader's appreciation and understanding of Gans. Gildea crafts a sense of time and place and a moving personal portrait of his subject." —The Sweet Science
"With fascinating period detail and skillful writing, the author highlights his subject's considerable appeal and symbolic significance." —Kirkus Reviews
"Gildea gives full measure of Gans' remarkable accomplishments as an athlete—Gans fought 196 matches while Tyson, for example, fought 58—while also showing Gans' equally remarkable poise in the face of horrific prejudice, officially sanctioned or not, during his entire career. A strong title for any boxing collection." —Alan Moores, Booklist
"I vaguely knew the name Joe Gans, but Gildea introduces us to the man and the era, the early twentieth century. Gans was so good and so dignified that some white boxing fans of that time actually managed to get past their blatant prejudices and detect his humanity. Gildea has done masterful research and writing, recalling a gold-rush outpost in rural Nevada, where in 1906 Gans staged an epic fight-to-the-finish with Battling Nelson. The match itself is re-created excellently, but I liked even better the way Gildea presents the details of the time—what people ate, how they traveled, how whites and blacks interacted in daily life." —George Vecsey, author of Stan Musial: An Americal Life
"Before Jack Johnson, there was Joe Gans. William Gildea's deep knowledge of boxing, his wonderful storytelling skills, and his love of Baltimore and of unappreciated characters make The Longest Fight a terrific read. It's a championship book." —David Maraniss, Pulitzer Prize–winning author of When Pride Still Mattered: A Life of Vince Lombardi
"William Gildea has written a touching tribute to a boxer from long ago who's largely been forgotten. Anybody who reads this fine book, though, will always remember Joe Gans." —Frank Deford, author of Over Time: My Life as a Sportswriter
"William Gildea's The Longest Fight is a nifty and informative biography of one of the most important fighters of early-twentieth-century America: Joe Gans. A story of race, the sporting world, and masculinity in the Progressive Era, The Longest Fight will be of interest not only to boxing devotees but to students of African American studies, American studies, and American industrialism." —Gerald Early, Merle Kling Professor of Modern Letters, Washington University in St. Louis, and editor of The Muhammad Ali Reader
or
Not Currently Available for Direct Purchase