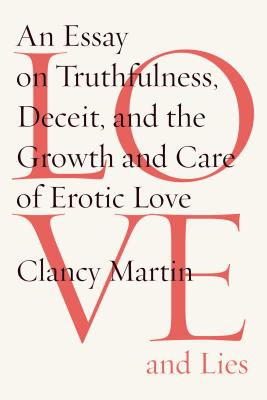 Love and Lies (Hardcover)
An Essay on Truthfulness, Deceit, and the Growth and Care of Erotic Love
Farrar, Straus and Giroux, 9780374281069, 272pp.
Publication Date: February 3, 2015
Other Editions of This Title:
Paperback (2/9/2016)
* Individual store prices may vary.
Description
A provocative and unsettling look at the nature of love and deception

Is it possible to love well without lying? At least since Socrates's discourse on love in Plato's Symposium, philosophers have argued that love can lead us to the truth—about ourselves and the ones we love. But in the practical experience of erotic love—and perhaps especially in marriage—we find that love and lies often work hand in hand, and that it may be difficult to sustain long-term romantic love without deception, both of oneself and of others.
Drawing on contemporary philosophy, psychoanalysis and cognitive neuroscience, his own personal experience, and such famed and diverse writers on love as Shakespeare, Stendhal, Proust, Adrienne Rich, and Raymond Carver, Clancy Martin—himself divorced twice and married three times—explores how love, truthfulness, and deception work together in contemporary life and society. He concludes that learning how to love and loving well inevitably requires lying, but also argues that the best love relationships draw us slowly and with difficulty toward honesty and trust.
Love and Lies is a relentlessly honest book about the difficulty of love, which is certain to both provoke and entertain.
About the Author
Clancy Martin worked for many years in the fine jewelry business. He is an associate professor of philosophy at the University of Missouri. He has translated works by Friedrich Nietzsche and Søren Kierkegaard and is the author of How to Sell.
Praise For Love and Lies: An Essay on Truthfulness, Deceit, and the Growth and Care of Erotic Love…
"A philosophical memoir with juicy details and an aching sense of loss and yearning--in other words, something entirely strange and new from a wounded lover of the truth." —Walter Kirn, author of Up in the Air and Blood Will Out
"Oh no! Someone has finally told the truth about love. Run for cover! With scary but very funny candor, Clancy Martin has explained why love may survive well into the 21st century." —Gary Shteyngart, author of Super Sad True Love Story
"With engaging prose, genuine insight and often hilarious stories, Clancy Martin uses the best writers among philosophers--like Plato, Kierkegaard, Nietzsche and Bonhoeffer--and the best philosophers among writers--like Shakespeare, Proust and Adrienne Rich--to show us that intimacy and eros are much more complex and deceptive than most of us would like to admit. Perhaps paradoxically, this is one of the most honest books I have read about love." —Simon Critchley, author of The Book of Dead Philosophers
"In this book, Clancy Martin presents some truths about love and marriage that do not pertain to me, as I have never told a lie--especially not to my wife! However, frightening truths must be confronted by others, and it is a thrill and guilty pleasure to watch Clancy Martin question his life, loves, conscience and marriage. Read this book if you really want to know some of the scary truths about love--or even if, like me, you have attained the ideal of pure, truthful, transparent love. Maybe this book will make you a better lover? Strangely, my wife says I've improved tremendously since I read it. Martin writes philosophy the way I wish all philosophers would: with humor, wit, and style." —Akhil Sharma, author of Family Life: A Novel
or
Not Currently Available for Direct Purchase