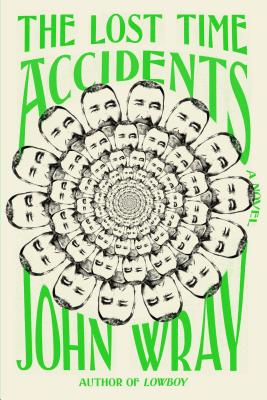 The Lost Time Accidents
A Novel
Hardcover

* Individual store prices may vary.
Other Editions of This Title:
Digital Audiobook (2/8/2016)
Paperback (2/14/2017)
CD-Audio (2/9/2016)
Description
In his ambitious and fiercely inventive new novel, The Lost Time Accidents, John Wray takes us from turn-of-the-century Viennese salons buzzing with rumors about Einstein's radical new theory to the death camps of World War Two, from the golden age of postwar pulp science fiction to a startling discovery in a Manhattan apartment packed to the ceiling with artifacts of modern life.

Haunted by a failed love affair and the darkest of family secrets, Waldemar 'Waldy' Tolliver wakes one morning to discover that he has been exiled from the flow of time. The world continues to turn, and Waldy is desperate to find his way back-a journey that forces him to reckon not only with the betrayal at the heart of his doomed romance but also the legacy of his great-grandfather's fatal pursuit of the hidden nature of time itself.

Part madcap adventure, part harrowing family drama, part scientific mystery--and never less than wildly entertaining--The Lost Time Accidents is a bold and epic saga set against the greatest upheavals of the twentieth century.
Praise For The Lost Time Accidents: A Novel…
"For this reader, at least, a novel is a success if it causes time to warp, to bend and deform, if it breaks time apart and puts it back together again in an interesting way. John Wray does all of the above, with wide-ranging intelligence and boundless verbal energy. Any experiment that Wray conducts is likely to be worth a reader's time, and The Lost Time Accidents is certainly no exception." —Charles Wu, The New York Times Book Review

"The Lost Time Accidents is a wonderful, delirious, layered confection . . . It is a conga line of a novel, a full brass band of a novel, an epic: not only because of its scale . . . but also because it samples wildly from other genres, and contains smaller universes within itself, studded like chocolate chips within the larger story." —Annalisa Quinn, NPR

"On the sentence level, the book is absolutely delightful . . . The Lost Time Accidents crackles with exquisite impressions of eras long gone and close to home and is so immersive that it's sometimes difficult to pull yourself back to the real world." —Josh Cook, Minneapolis Star-Tribune

"Everything is here in The Lost Time Accidents: science, religion, family, history, sexism, literature, cinema, World War II, pickles, and pulps. And seeded among the cycles and mutations is the essence of relativity: Here's the world in entirety. What will you make of it?" —Samantha Hunt, The Washington Post

"The Lost Time Accidents is a full-dress symphony . . . an uncanny blend of science fiction, theoretical physics, historical drama, and what may well be the oddest coming-of-age story we see this year." —Steven Donoghue, The National (UAE)

"A big, enveloping story that's also tenderly wrought, The Lost Time Accidents whips through Viennese pastry shops, cluttered libraries, and the chambers of its narrator's sentimental heart." —Maddie Crum, The Huffington Post

"[A] sweeping historical novel that's also a love story but is rooted in time-travel science fiction and takes on as its subject the meaning of time itself. This is no small endeavor. It's hard not to admire this book, the mass and richness of which is a testament to the meticulous, dedicated work of its talented author . . . Wray's prose is breathtakingly evocative . . . [D]elightfully ridiculous, reminiscent of Michael Chabon at his madcap best." —Janelle Brown, The Los Angeles Times

"[A]n arresting mosaic of science fiction, history, and philosophy which proves Wray's (Lowboy, 2010) remarkable malleability and talent." —Booklist (starred review)

"With this darkly playful chronicle of three generations of crackpots and criminals, losers and visionaries, John Wray has written a book of eerie magic: Waldy Tolliver's love letter to the mysterious Mrs. Haven is a secret love letter to fiction itself. A mischievous epic, luminous and strange." —Kiran Desai
"For a while now, John Wray has been writing as if let in on the secret history of the world, paying attention to moments we all know, but at the point where we've stopped looking. So of course only he would find the crazy quilt universe of sci-fi, war, mystery, doomed love and eerie foresight that was always lurking deep in the grand old novel in letters. This is literature as high wire act without the net; epic in scale, even bigger in heart." —Marlon James

"John Wray gets his Calvino on, his Mitchell on, his Murakami on, and even his Joyce on in this spectacular rattlebag of a novel. The Lost Time Accidents circulates through time and geography--from New York to outer space to Central Europe--and eventually ebbs eloquently back to the essential questions of who we are and why we're here. Who says the novel is dead? Just smash the clocks and open this book." —Colum McCann

"John Wray is the next wave of American fiction." —Jonathan Lethem
Farrar, Straus and Giroux, 9780374281137, 512pp.
Publication Date: February 9, 2016
About the Author
John Wray is the author of critically acclaimed novels including Lowboy, The Right Hand of Sleep and Canaan's Tongue. He was named one of Granta magazine's Best of Young American Novelists in 2007. The recipient of a Whiting Award, he lives in Brooklyn, New York.
or
Not Currently Available for Direct Purchase