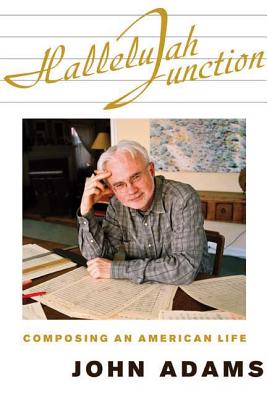 Hallelujah Junction: Composing an American Life (Hardcover)
Composing an American Life
Farrar Straus Giroux, 9780374281151, 340pp.
Publication Date: September 30, 2008
* Individual store prices may vary.
or
Not Currently Available for Direct Purchase
Description
John Adams is one of the most respected and loved of contemporary composers, and "he has won his eminence fair and square: he has aimed high, he has addressed life as it is lived now, and he has found a language that makes sense to a wide audience" (Alex Ross, "The New Yorker"). Now, in "Hallelujah Junction," he incisively relates his life story, from his childhood to his early studies in classical composition amid the musical and social ferment of the 1960s, from his landmark minimalist innovations to his controversial "docu-operas." Adams offers a no-holds-barred portrait of the rich musical scene of 1970s California, and of his contemporaries and colleagues, including John Cage, Steve Reich, and Philip Glass. He describes the process of writing, rehearsing, and performing his renowned works, as well as both the pleasures and the challenges of writing serious music in a country and a time largely preoccupied with pop culture.
"Hallelujah Junction "is a thoughtful and original memoir that will appeal to both longtime Adams fans and newcomers to contemporary music. Not since Leonard Bernstein's "Findings "has an eminent composer so candidly and accessibly explored his life and work. This searching self-portrait offers not only a glimpse into the work and world of one of our leading artists, but also an intimate look at one of the most exciting chapters in contemporary culture.
About the Author
John Adams was born in Massachusetts in 1947. He is the composer of such acclaimed works as Harmonielehre, Nixon in China, Naive and Sentimental Music, El Nino, and On the Transmigration of Souls, which won the Pulitzer Prize in 2003. He lives in Berkeley, California.
Praise For Hallelujah Junction: Composing an American Life…
"What a wonderful book! Entertaining, touching and revealing. Like Berlioz's memoirs, it gives us a glimpse into the life and times of a great composer. Not to be missed." —Emanuel Ax
"John Adams's memoir is elegant, hilarious, humble, sophisticated, touching, and enormously enlightening about a whole era. It is a remarkable demystification of what it means to be a composer. Adams is a philosopher/craftsman, attempting to reflect and render the truth as he observes and feels it, in all its complexity and its simplicity. His book is a testimony that is equally emotional and intellectual, refreshing and comprehensible to anyone who has ever built or created something with care and attention, whether it be a piece of music, a table, a business, or a family." —Derek Bermel
"Hallelujah Junction is one of the best and most important composer autobiographies next to those of Berlioz and Wagner. A fascinating picture of John Adams the man unfolds with the same directness, precision, and passion as his music. What impresses me most is the sense of absolute honesty in the narrative: a quality exceedingly rare in composers' writings about themselves and their work." —Esa-Pekka Salonen, Music Director of the Los Angeles Philharmonic
"John Adams's memoir is exuberant, opinionated, and vastly informative.  Like a renegade tour guide, he takes us on several trips at once.  In recounting his own story, he shows us the inner workings of his own creative process and simultaneously illuminates the recent history of music-making. His learned, witty, self-mocking voice is both subjective and objective, telling us all about him and all about the music around us. Amazingly, you can almost hear it." —John Lithgow
"Charming and illuminating . . .
Hallelujah Junction
stands with books by Hector Berlioz and Louis Armstrong among the most readably incisive autobiographies of major musical figures."—David Hajdu
,
The New York Times Book Review
 "Thoughtful, amusing, analytical . . . Hallelujah Junction offers the voice of America straight from the horse's mouth, and to read something so intelligent, reasoned and caring sure feels good these days."—
Los Angeles Times
 "In the classical-music world, Adams is seen as a sort of late-career Picasso: a star, a standby, a one-man manufactory of brilliant, audience-friendly work.
Hallelujah Junction
doesn't overturn these perceptions, but it adds a surprising hue of restlessness and uncertainty to the portrait. One of America's most accessible living composers turns out to be one of the hardest to pin down."—
Slate
Advertisement